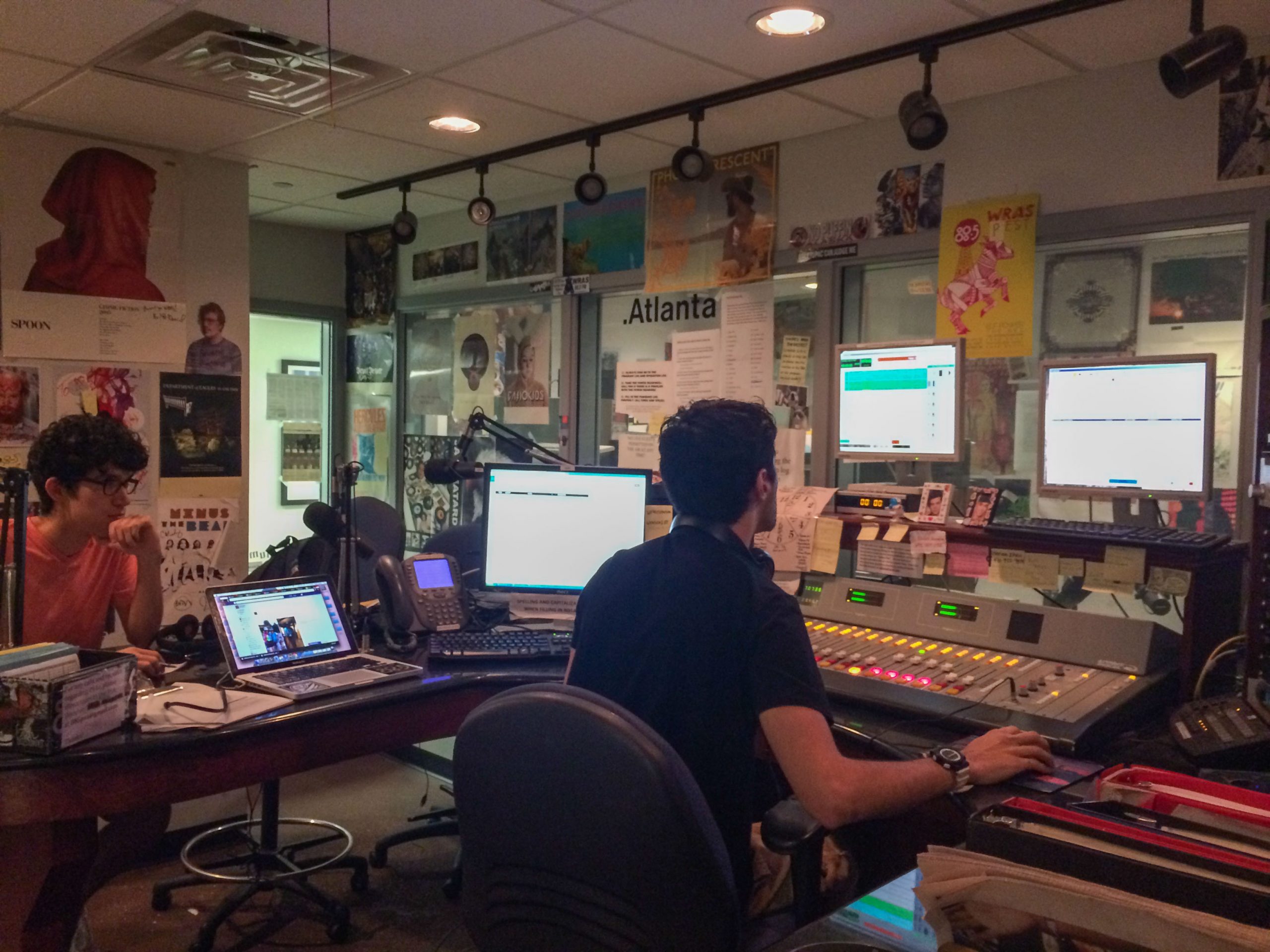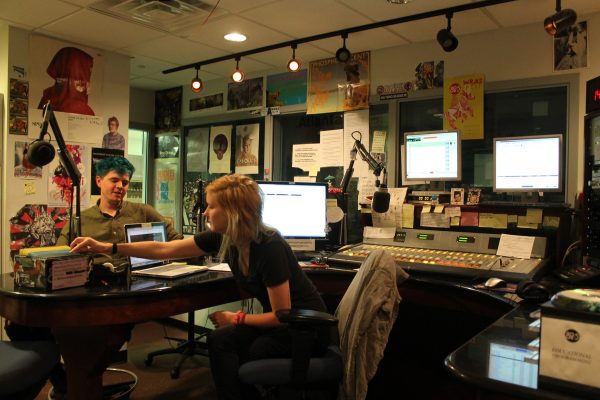 When members of WRAS 88.5 FM rolled out of bed on May 6 they had no idea the face of the student-run radio station they dedicated their time to would be drastically changed.
Turning back the dials: The history of Album 88
Mid '60s: WRAS broadcasts from a small studio in a former classroom in Sparks Hall using the frequency of 103.3. FM (V103). Georgia State is known as Georgia State College.
Feb. 1970: FCC grants Georgia State a construction permit to operate at 19,500 watts in two small studios in the current University Center (then called the Student Center). Georgia State files for the permit on Nov. 12, 1969.
March 1987: Album 88's power increases to 100,00 watts and becomes the analog station Georgia State students, alumni and Atlanta citizens tune into today.
Historical information provided by WRAS's website.
The day WRAS 88.5 FM changed:
Student leaders and other members of WRAS gathered for a meeting in the University Center with Georgia State officials at 10:30 a.m. on May 6.
Douglas Covey, Vice President for Student Affairs, informed the students the university entered a two-year partnership with GPB after signing a contract on May 5.
WRAS would be required to free 14 hours of analog air-time (5 a.m. to 7 p.m.) in June to broadcast GPB exclusive content, moving their analog programming to online streaming, according to the GSU-GPB contract.
Retiring Operations Manager of WRAS, Jeff Walker, was present during the meeting with students according to Assistant Director for Student Media Bryce McNeil, who was also present.
Georgia State's announcement of the GSU-GPB partnership:
Georgia State published a University press release the same day the partnership was announced to WRAS members.
"Georgia Public Broadcasting (GPB) will make its long-awaited debut on the Atlanta radio airwaves this June through a programming partnership with Georgia State University station WRAS 88.5 FM. The new alliance was announced today (May 6) at GPB's Atlanta headquarters by GPB President and CEO Teya Ryan," the release states.
The release also says opportunities offered through the partnership include Georgia State having access to GPB resources though a GPB digitial TV station digital to show student productions and other university content from 6 p.m. – 6 a.m.
Students would also have the ability to create a weekly half-hour radio magazine program and university games would continue to be broadcasted live on the station.
"The daily public radio programming on WRAS marks the first time in GPB's 54-year history the network has been able to enter the Atlanta radio market…" the release states.
Details of the GSU-GPB contract:
GSU-GPB's contract states the university would be paid $150,000 for the first initial two years of the partnership for station costs by the Georgia Public Telecommunications Commission (GPTC).
Georgia State and GPB were still negotiating terms at the time, delaying the contract signing until May 5 and informing students the next day, according to university attorney Kerry Heyward on May 12.
GSU-GPB's partnership would continue two years after the commencement date and automatically renew until April 1, 2020, at the same time the university's FCC license would be renewed, according to Heyward. The university would be paid up to $100,000 for costs each year after the initial agreement unless either or both parties terminate the agreement.
WRAS students, DJs and leaders react:
Ana Zimitravich, former general manager of WRAS, said she was one of the student leaders who attended the announcement meeting with Walker, Covey and McNeil.
Many of the students were confused, upset and astonished by the university's decision, according to Zimitravich.
"It [the partnership] is taking independence away from independent music," she said in aMay 6 interview with The Signal.
Marvin Evangelista, volunteer DJ and former productions director for WRAS, said he is an active member and assists other students with online content and equipment training.
"My emotions went from shock to anger. How do you comment on a move like that? I am still without words…I am saddened through the fact that the university can take this approach without actually informing us," he said in a May 6 interview with The Signal."This kind of move makes me want to reevaluate the university and my faith in it."
Listen to the full interview with Evangelista in the podcast below:
Jenny Nesvetailova is the urban music director and host of Album 88's Saturday hip-hop program "The Message."
Nesvetailova said WRAS was a reason she attended Georgia State and has always loved listening to the station in a May 6 interview with The Signal. She attended the meeting with Walker, Covey and McNeil about the partnership.
"… Shock–I couldn't believe it. When they first said it… I couldn't believe they did this," she said.
As Urban Music Director, Nesvetailova is in charge of regular analog rotations, music submissions and checking on listener feedback. She said the partnership would make regular WRAS' rotations obsolete.
"We are pretty much going to lose that whole part of our radio station which is like a big part of it so I am really disappointed," she said. "We all love music and can all get along with regards to that. Like we are all passionate about our shows that we do and just music in general, and I feel like this is going to tear us apart obviously because they're just coming in here and ruining what we've had for so long."
Listen to the full interview with Nesvetailova in the podcast below:
What open records revealed:
Students and active listeners of WRAS said they scrutinized the university for its decision and for being uninformed of the partnership before the contract was signed May 5.
Documents obtained by The Signal through open records requests (ORR) revealed GPB approached Georgia State about the channel in 2008 and Covey, Walker and Heyward discussed the current partnership starting on Oct. 24, 2012.
ORR documentation also revealed Walker spoke with Robert Butler, vice president of engineering services for GPB, via email about the partnership starting on Nov. 26, 2013. This documentation included a detailed table timeline titled "Project Task" and the emails ended on May 8, 2014.
President Mark Becker, Covey and Walker responded to ORR documentation in an article published by The Signal on June 5.
Covey said given the complexity of the partnership, extended discussions dating back to 2012 and planning beginning in 2013 were required. Walker did not comment.
Becker responds to negative feedback:
Andrea Jones, associate vice president for university public relations, and President Becker sat down in a Q&A; session with The Signal on May 8. Becker said that to his knowledge, GPB had approached Georgia State for many years about a possible partnership.
"The real approaches before were not as substantive as what we've reached as an agreement. The previous approaches included things like 'Would you sell us the antenna?' Literally–Would you sell us the license?' because the license is what controls access to 100,000 watt antenna," he said. "I've probably been approached two or three times before, but what actually materialized and what has now become a realized agreement is much a much more substantive partnership that just GPB would like that license."
Petitions were created and reached over 10,000 signatures. A boycott GPB Facebook page was also created and individuals asked: "Under what circumstances could the contract be voided?"
"It's not going to happen. This is a signed agreement. The agreement was signed because even though its not being recognized by some people right now it creates new opportunities for students," Becker said.
He also said Georgia State entered the partnership because it was good for the university and students.
"It raises the university's profile while it raises WRAS's profile. Even though they don't see it that way right now, it is an opportunity. If they seize the opportunity, it will raise their profile," Becker said.
Don't touch that dial: Formation of advocacy groups, fundraising and community support
As soon as the partnership was announced, members within the community spoke out on social media websites and began forming advocacy groups, fundraising events and showing support for Album 88.
The #SaveWRAS campaign, made by a community member, officially began after the university's May 6 announcement and has been run in cooperation with Album 88 Alumni (A88A) to organize community events.
A88A formed as a non-profit organization in June in response to the actions of Georgia State in relation to WRAS. A88A is headed by Zachary Lancaster (the board's president), Lee Morin (secretary) and Victoria Rey (treasurer). Jez de Wolff, Gail Harris and Reid Laurens are also board members. A88A created a counter-proposal in June, organized July protests at GPB and facilitated WRAS's meeting with Mayor Reed in August.
Timeline of events and support:
Aug. 7: Mayor Reed meets with leaders of WRAS.
July 30: Athens-based rock band, The Whigs, cancel an in-studio live performance at GPB after #SaveWRAS Facebook page founder, Mikey Johnson, posted a call to action.
June 29:GPB begins airing on WRAS; Album 88 supporters and alumni form a peaceful protest in Hurt Park at 2:30 p.m. It ends outside of the station's office.
June 27: Georgia State announces it is pursuing alternative translator frequency for WRAS 88.5 FM.
June 25: Album 88 Alumni (A88A) announces alternative proposal to the GSU-GPB partnership to Georgia State administration at 10 a.m.
June 19: A coalition of organizations within the music industry and A88A launches advocacy effort for WRAS for musicians to submit testimonials of how the station impacted their careers.
June 11: WRAS supporters express concern over Georgia State's improper FCC filings for WRAS 88.5 FM.
June 4: Student Press Law Center (SPLC) attorney, Adam Goldstein, questions the ownership of WRAS 88.5 FM FCC license.
June 2: WRAS does not send appeal to the Board of Regents regarding the GSU-GPB partnership.
May 30: GPB programming is postponed to June 29 after Covey meets with leaders of Album 88.
May 26: Album 88 hosts WRAStravaganza concert in support of the station. The event raises approximately $2,000 in support of #SaveWRAS.
May 24: WRAS wins the 2014 Soundtrap Madness tournament after 18 days of competing. Album 88's streaming was a total of 88 days, nine hours and 27.13 minutes.
May 16: President Becker meets with WRAS 88.5 FM in the Golden Key room in University Center at 9 a.m. to explore options for the station.
May 15: #SaveWRAS raises over $2,000 at a benefit concert hosted at The Drunken Unicorn at 8 p.m. Bands included Twin Studies, Imagination Head and The Marrows. The Book of Colors also performed.
May 10: Support is shown for WRAS 88.5 FM at Georgia State's 99th commencement graduation ceremony. More than 1,000 #SaveWRAS stickers were handed out.
May 8: President Becker and Andrea Jones sit down in a Q&A; session with The Signal about the changes to WRAS 88.5 FM.
May 8: Various social media sites create petitions to protest against the GSU-GPB partnership, including the "Stop Georgia Broadcasting's Takeover of Iconic Radio Station Album 88 (WRAS 88.5 FM)."
May 6: GSU-GPB partnership announced after signing the contract on May 5.
Programming Changes: Postponement of GPB airing on Album 88:
GPB was set to air content on June 2; however, on May 30 programming was postponed to June 29 after an additional meeting was held by Covey with the WRAS students.
"As it now stands, the agreement will go into effect June, the 29th, but it gives us time to look at how we'll operationalize some of the student's concerns," Covey said.
DJs flipped the switch on WRAS and GPB began broadcasting at 5 a.m. on June 29. A peaceful protest began in Hurt Park and ended in front of the WRAS office that day.
"You're listening to Album 88": The future of WRAS
It has been approximately 57 days after GPB began airing on WRAS and advocacy efforts and support continue.
"We are going to keep working, diligently and tirelessly, to get them to repeal this disastrous agreement and restore student-controlled content to WRAS's broadcast signal 24 hours a day, seven days a week," Laurens, board member of A88A, said.
The next #SaveWRAS rally will be held on Aug. 28 in Hurt Park at 4 p.m. and end at 7 p.m. at Georgia State's capitol, according to #SaveWRAS's Facebook page.