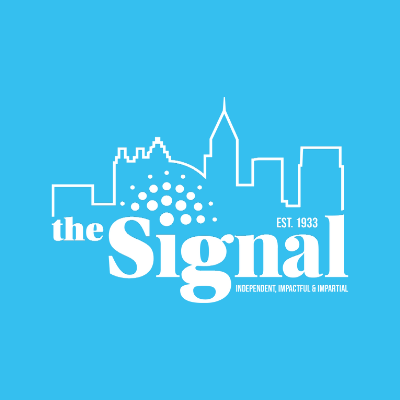 "…It's not going to happen. This is a signed agreement. The agreement was signed, because even though its not being recognized by some people right now, it creates new opportunities for students."

-President Becker's response to online petitions and boycotts.
President Mark Becker sat down with The Signal on May 8 to answer questions about the upcoming changes to WRAS 88.5 FM, which will occur on June 2.
Andrea Jones, assistant associate vice president for public relations and marketing communications, was also present during the interview.
Q: In an interview with the AJC on May 7 you stated that there had been on and off conversations for years before your arrival at Georgia State, about WRAS and GPB partnering together. Could you provide any more information about the commentary?

Becker: To my knowledge, based on what people have told me, GPB for a number of years has approached Georgia State about the possibility of partnering. The real approaches before were not as substantive as what we've reached as an agreement. The previous approaches included things like 'Would you sell us the antenna?' – Literally – 'Would you sell you us the license?', because the license is what controls access to 100,000 watt antenna. The university had been approached from time to time. I've probably been approached two or three times before, but what actually materialized and what has now become a realized agreement is much a much more substantive partnership that just GPB would like that license. Let me say GPB is not the only one that's approached Georgia State about that license or the antenna. There are companies that are in the business of buying access to antennas. We have been approached by others before too. In fact, one of the misconceptions that have come out from some of the media is that this was a deal about money. Well if it was a deal about money, we would've actually sold the license, because that's where the money would've been. This is really a deal about providing students access and opportunity."
Q: How do you see switching Album 88's content from antenna analog to live streaming online beneficial to a radio station?
Becker: First off, I see the contract as being beneficial to the radio station. The student-run station is not only a student-run station – it is one of the best in the country. They are great at what they do, they enjoy a wonderful reputation. What this allows them to do is above and beyond what they already do, they get to do all of that. When the switch flips, the shows don't change, the programming doesn't change and the editorial management doesn't change. All of that stays there. On top of that, they now have an opportunity to produce a show that will actually go out on GPB network statewide. That is the only piece where GPB will have editorial oversight on what the students are producing, because that will be a piece produced for their network. If WRAS produces something of high quality, which we certainty hope and expect they will, that will not only go on the statewide network, but then we have the opportunity to look into the syndication, which then can actually push it out nationally. So now WRAS has the opportunity to not only have the following it has, which is a great following of avid listeners, but as the opportunity to grow them. What I would hope and expect will happen over time is the students involved with WRAS are going to realize that they've got opportunities now that they could actually even enhance their profile even further and create actually new and more exciting opportunities. What they do is great, there's the chance here to do much more.
Q: Why was there a final decision to give GPB more hours than Album 88?
Becker: In the agreement with GPB, 5 a.m. to 7 p.m. was the time that was of most interest from them, so there was a negotiation back and forth on many parts. Realizing that WRAS is going to still be on 24/7. They're still accessible – from this wonderful device [a cell phone] you can still listen to them 24/7.
"You would have to refer that question to Covey, he was the person in the room at that time."

– President Becker's response to why WRAS 88.5 FM members were not provided with documents during the initial meeting they had on May 6 regarding the GPB partnership.
Q: According to WRAS members, during the meeting that took place on May 6, in room 300 of the student center at 10:30 a.m. they were not given the contract to see after being informed of this decision. Could you explain why the radio station was not provided with the documents initially?
Becker: You would have to refer that question to Covey, he was the person in the room at that time.
Jones: I can tell you that as soon as the media asked us for the contract, it [was] available. We made it public as soon as we were asked for the documents.
Q: In the official press release provided by the university, it mentions that Georgia State football games will still be broadcasted, but it never mentions anything about basketball games. Is the university planning on pursing other sports as well, why or why not?
Becker: First off, basketball week night games are after 7, so it would still be on the usual live-time – both digital and analog, so WRAS would be digital in the full-time. Basketball is also carried on a commercial channel, I believe. It may be that it's only going to carried on there during the daytime hours. Additional sports carriage on WRAS. It's not something I've actually thought about. There may be other people thinking about it, but it's not something I think about. It's really the athletics department.
Jones: I had a conversation with the public relations person in athletics yesterday and we were talking about some of the sports broadcasting, so I know there's some stuff to still be worked out.
Becker: But a question that has been asked, and it's an enticing question, is with the introduction of giving Georgia State University students the opportunity to provide programming for video, is if we have the opportunity to do video recording of athletics events and push them out through the GPB digital TV channel. So that's something we will be looking at. It's not a detail in the agreement, because we got a 12 hour window 6 p.m. to 6 a.m., where on video now Georgia State students and the video side get to do what students in radio have been doing for more than four decades, which is student produced content. The department of communications, which is where the video programs are, now has this great opportunity for student-produced content in there. We got a year to figure out exactly how that's going to managed etcetera. David Cheshier, the chair of that department is very much aware of this. They'd been looking for an opportunity like this. I think it was a year and a half ago that they approached me about if we could find some ways for the students that are in that major to produce content that could go out through a channel like this. So there are potentials here in this contract to give students the opportunity, both in the world of sports and otherwise to do things we've not been able to do before.
Q: After reviewing documentation, there is a possibility that despite what administration has said about WRAS hearing about the news as soon as everyone else knew about the partnership agreement, WRAS's permit for their tower was canceled with the FCC as signed by GSU one month ago. This indicates a breach of contract with the station by not including them in funding allocating discussions, and by not having to purchase a new transmitter and antenna, because GPB would essentially pick up the costs. Is there anything you would like to say about the possible breach of contract?
Becker: I've never heard this before.
Jones: I will follow up with the attorney. I've never heard that either, but I can follow-up with that particular question.
Q: The Commencement date and Term of Agreement in the contract states: The initial agreement of 2 years will become effective upon its execution by the parties. It then states that it shall automatically renew at the end of the initial term of two years, and at the end of each subsequent Renewal Term until April 1, 2020 – when the agreement shall automatically renew for successive eight years, unless either party terminates the Agreement in accordance with section 3. Can you explain what this essentially means for WRAS, GPB and the university?
Becker: Refer that to Kerry Heyward. If you send her that question we will get you the … [answer].
Jones: The specifics of the contract and the language that in the contract are better for the university attorney to answer, but the broader and bigger questions as to why this decision was made, that's probably more for Dr. Becker.
Q: With the contract it also states that Georgia State will be allowed two public service announcements (PSAs), that's 10 seconds each daily. Do you have any commentary as far as that is concerned, such as what that would include?
Becker: Those will change over time, but those will be used to get the Georgia State message out on the GPB network.
Jones: It's statewide, which is something we never had before.
Q: There have been petitions that have been made online and a boycott Facebook page. Under what circumstances could or would the contract be voided? For example there were 10,000 people that put their names on the petition.
Becker: It's not going to happen. This is a signed agreement. The agreement was signed, because even though its not being recognized by some people right now, it creates new opportunities for students. This contract, the reason it was entered in to, was because it's good for the students. It is good for Georgia State University. It raises the university's profile, while it raises WRAS's profile, even though they don't see it that way right now, it is an opportunity if they seize the opportunity; it will raise their profile. It will also give students on the video side the opportunity in television that they've not had. You know students have had an opportunity in radio and now students will have an opportunity in television. It's not exactly the same, but it's something they haven't had before. This was about creating opportunity. We're not backing out on that.
Jones: Somebody specifically asked me yesterday about the boycott, and I think what I told her was that obviously the sites are a statement on the success of WRAS and all of the passionate group of listeners that follow. So we're responding. I have been getting emails, I've been responding to emails. Dr. Covey has been responding to emails, we have been fielding phone calls. We are happy to have those discussions. We are definitely hearing from folks out, so every call I get I am working on those.
Becker: The fundamental issue is it's [WRAS] not going to be available analog during these hours [5 a.m. – 7 p.m.]. What that means is for people that really care and really want to listen to WRAS, they need to find another way to listen to them. Smart phone, tablet, a computer… there's many ways to access WRAS. If they [WRAS] are so passionate and so important to them [the audience], which music is important to all of us, in fact much of the WRAS demographic looks like me. A large percentage of the demographic is my age and actually listens to the same music I listen to. There are ways to get to it. I get to music all sorts of ways and they have the same opportunity. It's just you can no longer get television through an antenna, but everybody still gets access to television. In fact, people get access to television through their computers, through their iPads, through their iPhones as well as through television. The same opportunities are here now. This is not as big of a shock as it is made out to be.
Q: Do you know approximately when the resources to the television to use through GPB will be available to the university?

Becker: I think it's in the agreement. One year.
Jones: June 1, 2015. So we are going to take a year to determine the programming plan.
"…They can now think about very real-world situations of programming and how you position programming. At 7 p.m. they go back out over the antenna. There's going to be a whole bunch of people who had been listening to GPB up to 7 p.m. They now have an opportunity by what they but at 7 p.m., 8 p.m., 9 p.m., to grab more listeners…"
– President Becker in response to the GPB-GSU contract, student reactions and the overall situation.
Q: How do you feel about the overall contract, student reactions and overall situation?

Becker: The overall contract, again I think is a good one for Georgia State. It is a good one for the students. I'm sorry that not everybody recognizes that in that way right now, that is somewhat predictable. Anytime you have a major change, particularly with something as well established as WRAS, there is going to be concern. Whether it's big change, there's always going to be concern. So that doesn't surprise me, but at the same time if you [those upset] get past of the emotion of somebody's changed something, and look at what the real issues are, the real issues point to, the question becomes 'How do I access WRAS?' – it's still going to be there. It is still going to be there with everything it's had before, but it wont be available on analog between certain hours. It is still reachable. It's the same content, the same students [and] the same student-run radio station. It has the same hours, the same rotation and the same shows. The students manage what those will be. That's not going away. At the end of the day, actually beginning of June when this switches, you're still going to be able to get WRAS day-in and day-out all the time. In addition, students now have new opportunities to produce new content, to attract new listeners. I can't think of anybody that who would be in any sort of media that doesn't want to attract more listeners, and this provides that opportunity. I hope that at some point people would accept that this contract is going forward. They will decide how they are going to access WRAS and if the students within WRAS will realize that 'Okay we're getting another show, and we are getting another show with new listening audience. Let's embrace them; let's work with GPB to produce that show, so that we bring new listeners to us'. That's an opportunity right there. They can now think about very real-world situations of programming and how you position programming. At 7 p.m. they go back out over the antenna. There's going to be a whole bunch of people who had been listening to GPB up to 7 p.m. They now have an opportunity by what they but at 7 p.m., 8 p.m., 9 p.m., to grab more listeners. This is an exciting opportunity. I understand that there's frustration, concern and anger that something has changed, but long term I am absolutely convinced that this is going to be good for the students, It's going to be good for WRAS and we will get to that day.