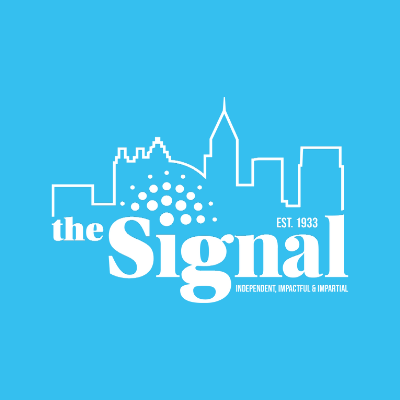 It smelled like patchouli incense. A pink and yellow zigzag paint scheme covered the walls. A few lamps that sat on a pool table created a mellowed atmosphere for attendees who mingled in pods before the music started. Lighting that looked like exploding fireworks speckled the stage as the bands rocked to their tunes.

The student crew of WRAS 88.5 FM wrapped up their final analog shows on Saturday and headed to The Mammal Gallery for a self-titled WRAStravaganza benefit concert to raise awareness and money for the "#SaveWRAS" campaign.
The WRAS alumni event raised about $2,000—excluding expenses, according to Chris Shattuck, an alum and former editor-in-chief of The Signal.
Upon procuring a blue wrist band—with #SaveWRAS scrawled on the front—and walking past the table and stained-glass windows where WRAS alums and friends of Album 88 collected donations, an attendee walks through a small door into the open expanse of the venue.
Thomas Martino, drummer for the band Pretty Please, said he heard about the #SaveWRAS commotion online before his band committed to the show.
"We heard about what was going on with 88.5—that the students were losing control," Martino said. "It's going to affect the music that they play, and I thought 'that really sucks,' because 88.5 was the only station that would play my band or the other local bands."
Georgia State alum and friends of WRAS weren't the only people to attend the event. David Tatum, a Massachusetts native who moved to Atlanta in 2008, wasn't even aware of the controversy surrounding the student station and has never been to Georgia State. He said he came just to have a good time.
"I sometimes listened to Album 88 because it was on the radio." Tatum said. "I came because it's Saturday night, it looked interesting and it's kind of got that 'art' aspect to it because it's in The Mammal Gallery. I guess the fact that there was a show in support of WRAS was just a bonus."
The event featured several local bands including Dog Bite, Wire Method and Pretty Please, Organizers laid out #SaveWRAS stickers, t-shirts and other merchandise for sale. King of Pops cart (complete with umbrella) and two bartenders who served alcoholic libations for a price.
And though Zach Lancaster, a former WRAS production director and on-staff security for the night, said this benefit concert was a sort of "last hurrah," Hannah Frank, WRAS' current promotions director chose to see things differently.
"We're trying to keep the hype up," Frank said. "And since the alumni are presenting this, they're trying to raise money for the #SaveWRAS campaign, the money for that will go toward promotional materials we've been buying—like flyers, stickers and t-shirts—to, you know, save WRAS."