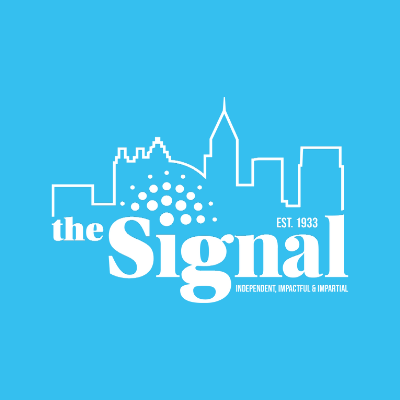 Jeff Walker was in contact with Georgia Public Broadcasting's (GPB's) vice president of engineering services, Robert Butler, months before Georgia State announced the new GSU-GPB partnership, according to emails obtained through an open records request (ORR).
Walker is the retiring Operations Manager for WRAS 88.5 and was also in contact with Jim Connon from Level 3 Communications , Greg Weot and Thomas Taylor, chief engineer at Georgia state, according to the emails.
Butler and Taylor could not be reached to comment by press time. Numerous attempts to contact Walker were unsuccessful.
Below is a condensed chronological timeline of emails found in the obtained ORR documents, Nov. 26, 2013 – May 8, 2014.
November:
Butler contacted Walker on Nov. 26, 2013 about following up on a voicemail he left Walker concerning the joint project between GSU and GPB, according to the emails provided through the ORR request. See linked documented email.

December:
Butler again contacted Walker on Dec. 2, 2013 through email to discuss the Georgia State and GPB project, according to emails.
"Jeff, I would like to chat with you today to kick off the joint project between GSU and GPB. I am open and available for the rest of today. Please call me at your earliest convenience."

– Butler to Walker (Dec. 2, 2013).
On Dec. 3, 2013, Butler asked Walker if they were to meet at 2:00 p.m. with Walker's chief engineer, Thomas Taylor. Both Taylor and Walker agreed they would be available at 4 p.m. that afternoon.
Other emails were sent from Weot to Butler on Dec. 20.
January 2014:

Butler emailed Walker and Taylor about quotes for radio broadcasting engineering equipment.
"…I have received some quotes from Harris for two different Intraplex devices. They suggested the IX-IPL-100 for the GPB end and either the same for the GSU end or the IX-IPL-200 for the auto failure feature…"

– Butler to Walker and Taylor (Jan. 7, 2014)
The email also included a table with a list of equipment choice between GPB and Georgia State.

Butler also sent another email to Walker and Taylor on Jan. 15, 2014 stating he was creating a list of individuals authorized to report service issues to Level 3 line provider.
On Jan. 27, Butler again made contact with Walker and Taylor about the installation of a Ethernet Virtual Private Line (EVPL).
"…I thought I would touch basis with you to make sure we are on track and to make sure I have the correct contact information for the installation of the EVPL from Level 3," Butler's email says. "Please send me the name of the contact information for whom Level 3 should coordinate the installation. I need this before I can place the order, I am up against the clock."

– Butler to Walker and Taylor (Jan. 27, 2014)
Walker responded on Jan. 30, 2014 telling Robert not to leak the information out about the installation.
"For the purposes of the installation, I'd be the most logical choice. My contact information is below. If there is a way to do it, it would be good to tell them not to contact anyone else at GSU due to avoid a leak of information. The questions you had about the cost of equipment were supposedly answered by those above my paygrade."

– Walker to Butler (Jan. 30, 2014).
February:

Butler, Walker and Taylor were all in contact again on Feb. 6, 2014.
Walker sent Butler and Taylor an email that day, discussing delays with purchasing departments and a bid for a new Nautel transmitter.
"We had some delays with our Purchasing department, so the only thing we know for sure is that our bid for a Nautel transmitter is out for the 10 day comment period," Walker's email states.
Walker then tells Butler and Taylor:
"..We hope to have the Nautel in by late April and that will become our main transmitter at our current site. The new site wont be up until later in the year. The last I heard was that the launch date is in the first week of June. The ordering of the line from your studio to ours can be on your schedule and we'll be ready to assist in testing it as soon as it is installed. I also understand that it has been agreed that GPB is purchasing the gear to get the signal to our studio. The new transmitter will be nice to have but wont delay the planned switch in June even if there are unforeseen delays, as GPB won't be using the extra HD channels."

– Walker to Butler and Taylor (Feb. 6, 2014).
Butler then responded to the email with a table-timeline titled Project Task, including start and end dates of the installation of GPB equipment and project plan. The timeline begins with Sept. 15, 2013 for an estimated start date.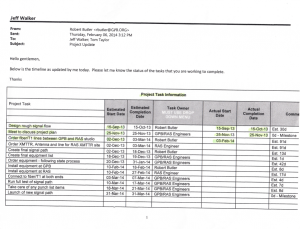 March:
Jim Connon, Customer Care manager for Level 3 Communications sent an email to Butler and Walker about a provisioning team asking about the location of the University Center.
April:
On April 30, 2014 Taylor sent an email to Butler asking if he had any information about configuring a Tieline Genie.
Butler responded saying the Tieline came with information on which ports were to be open.


"…By the way, the Level 3 tech stopped by our place today. All we need to do now, is run the CAT5 cable and terminate (and do the configuration). We should already have the audio input connected to the Tieline."
– Butler to Taylor (April 30, 2014)

May:
On May 7, 2014, Connon contacted Butler and Walker to discuss a VPN-activation for Georgia Public television.

"… We will need 3 business days to schedule this, so the best we could schedule these for would be 5/13/14…."
– Connon to Butler and Walker (May 7, 2014)
Walker responded on May 8, 2014 to Butler and Connon saying they could go at any time they needed to.
Ana Zimitravich, former general manager of WRAS 88.5 FM has been at the radio station for two years. She said Walker never mentioned he was in contact with GPB, but was in the May 6 meeting announcing the GSU-GPB partnership.
"I spoke with him afterwards about ratings, demographics and how to change the schedule to accommodate GPB," Zimitravich said. "He said we would need to focus on marketing our programming like other radio stations in the industry. That this is a real world experience and our ratings will matter in the partnership."

Embedded below is a PDF of the emails requested through the ORR.
[scribd id=223835443 key=key-nt49TQqb1B5YL1K4nqYr mode=scroll]