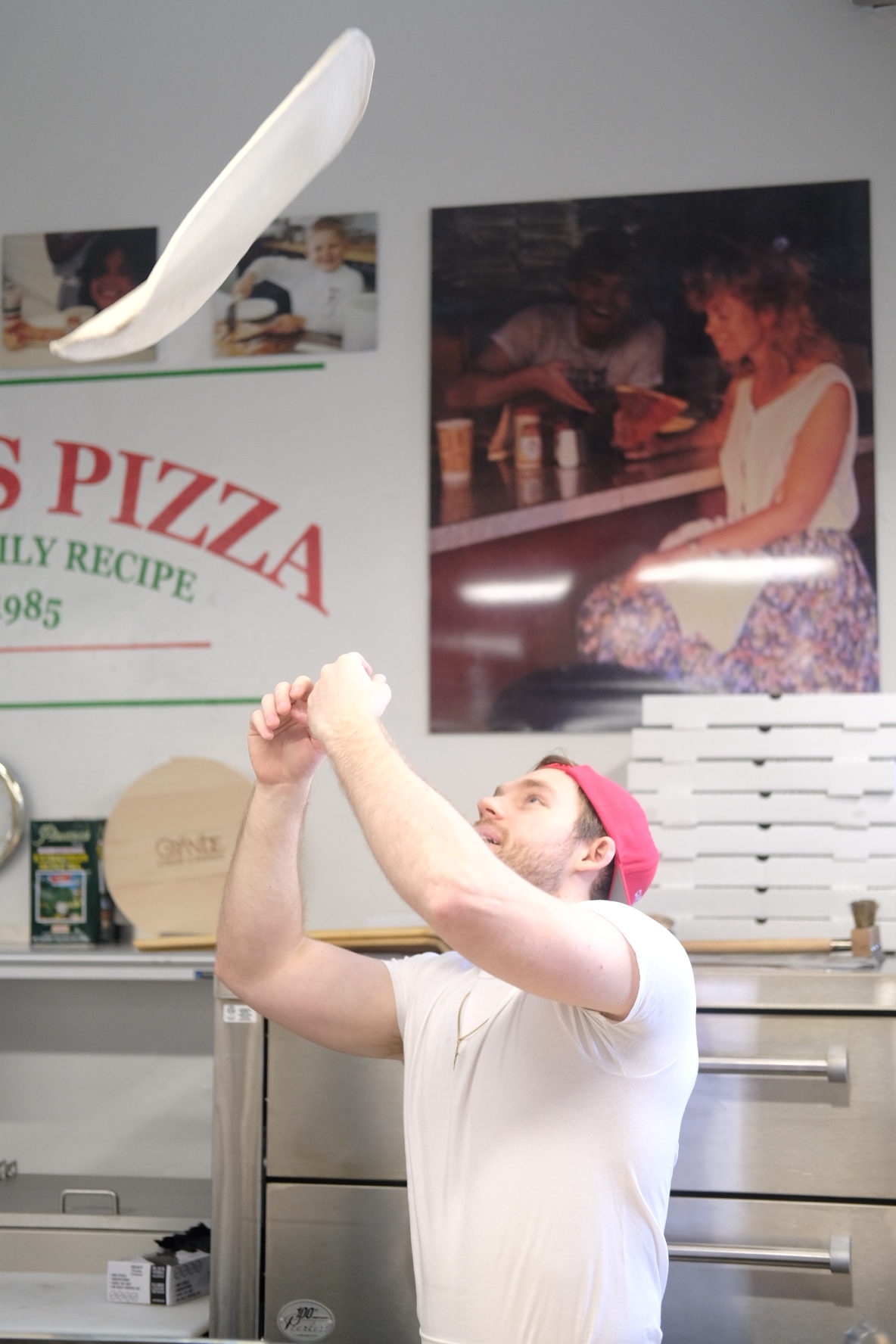 Broad Street, where students, city and state government employees, professors and business people all gather to enjoy a wide variety of food along the street's outdoor seating. It is well known to most Atlanta residents acquainted with the downtown area — but even more so to Georgia State students. 
It's unclear who's blessed more by whom, Georgia State by Broad Street or vice-versa. 
"Georgia State is my biggest customer," JoJo Aronstein, who doesn't own but has managed Ali Baba since 2011, said. 
Ali Baba is a small hole-in-the-wall joint tucked into a corner. It is so small that it does not have any indoor seating. Customers are instead directed outdoors or to seating within the Healey Building. The restaurant specializes in Mediterranean staples with falafel, hummus and gyros all finding a place on its menu.
The establishment has been nourishing Atlanta and Georgia State affiliates since 1999. 
"It's healthy fast food, and I think that's what people are looking for," Aronstein said. 
Though Ali Baba is available only for lunch, Aronstein's typical routine is to arrive at 8:30 a.m. and prepare the restaurant to open by 10:30 a.m. Chefs prepare the food while Aronstein arranges the outdoor seating, restocks the drink coolers and tidies up for business, from 10:30 a.m. to 5 p.m., Monday through Friday. 
Ali Baba has a second location, set up in Little Five Points on Euclid Avenue, which is open for longer hours and on weekends. 
Aronstein's favorite menu item is the open-faced lamb plate, but she also enjoys other restaurants on Broad Street as well, Ruebens and Dua specifically. 
Rueben's Deli is fast-paced, rowdy and patrons are encouraged to be loud and assertive while ordering. To get a sandwich, you must yell across the counter over the clamour of a full restaurant, packed with a line out the door.
Established in 1996, Claudio Furgiuele has owned and operated it since 2001. 
"I got fired and I needed a job, so I bought the place," Furgiuele said. "I had been wanting to own and run a place like this since I was 14." 
He was drawn to running a New York-style deli because he'd lived in New York for eight years after he had immigrated there. Furgiuele finds that feeding his patrons and running his business is very fulfilling. 
"I love it. I wouldn't do it if I didn't," he said.
Furgiuele comes in around 6:30 to 7 in the morning and starts by making coffee, tea, having breakfast and taking a look at his to-do list for the day.
Rueben's is one of the few restaurants on Broad Street that serves breakfast, and is open from 8 a.m. to 4 p.m. on Monday through Friday and 10:30 a.m. to 4 p.m. on Saturday. 
Furgiuele's favorite menu item is honey maple turkey on a white sub roll with munster cheese, greek mayo and the works —  the recommended toppings. 
"[On Broad Street, I like] Rosa's, the Vietnamese places on both sides of me … the Blossom Tree behind me and Ali Baba for their falafel," Furgiuele said. "That's my circle."
Just across the street from Rueben's is another classic eatery on Broad Street: Rosa's Pizza, opened by John Rosa and his brother in 1990. John Rosa has been operating it ever since.

"My brother was in the pizza business, and we decided to go in together," Rosa said. 
Though Rosa's only serves lunch, there is plenty of prep work that begins in the morning. Like the other restaurant owners, Rosa gets there early to prep for lunch and make the slice pies, arriving at 8 a.m. to be ready by opening at 11 a.m. 
Rosa's is known for their delicious pizza by the slice. Of all the various toppings, John Rosa cites the the basics as being the most popular. 
"Pepperoni … that's number one. There's a lot of toppings, but if you want to count slices and what goes on 'em, that's number one," he said.
Ordering at Rosa's also requires a certain amount of assertiveness and willingness to stand among a crowd of hungry patrons to get the slice, but it is all part of experience. 
The New York-style pizza by the slice is known for drawing a crowd and filling the small restaurant. It's not uncommon to encounter business people and students both lining the walls, waiting to order.
"I serve about 70% business people, 30% students," Rosa said. 
All of the shop owners have encountered bizarre characters and witnessed weird occurrences on Broad Street over the years. It's hard not to witness something strange on the colorful street every now and then. 
"I've seen people naked on Broad," Aronstein said. 
Fugiuele has had similar experience looking through the window. 
"A girl stripped … right in front of my window, thinking it was a mirror, I guess. That was probably the craziest thing I've seen in 20 years," he said. "Funny thing is, I know the people that were sitting right in front of her, and they said, 'Is she going to take all of her clothes off?' and I said, 'I'm thinking she is.'" 
In Rosa's 29 years on Broad, he's witnessed some interesting events. 
"We had the Olympics. I was here in '96. A lot of people were here. The Olympic teams, boxers, wrestlers, stuff like that," he said. "[There once was] a guy running down the street with blue dye coming out of his pockets; he'd just robbed a bank."
Whether it's for a quick meal or a spot to study, Broad Street is home to a perfect weekday lunch for many students.