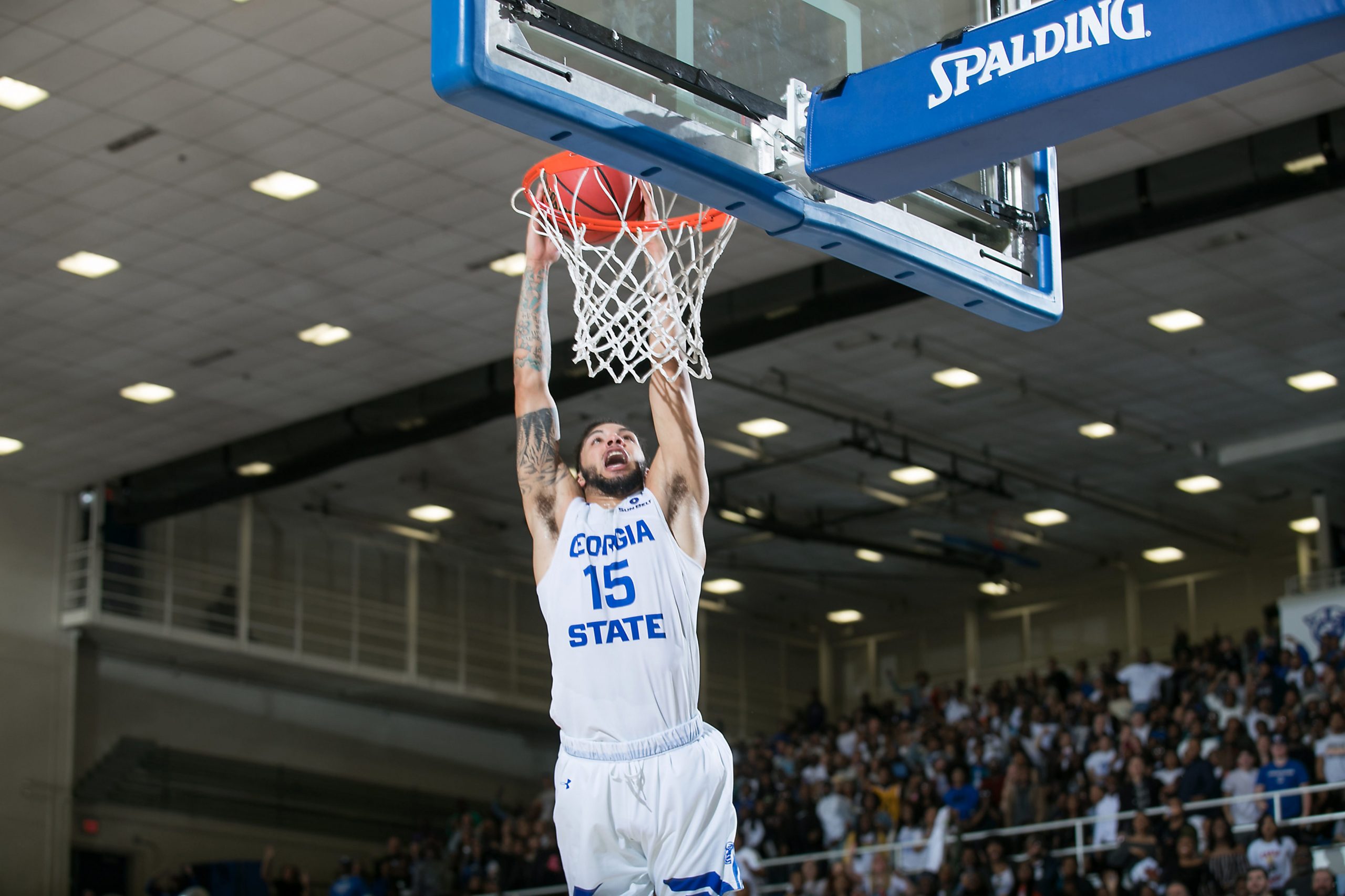 Junior guard D'Marcus Simonds looks to lead the Panthers' basketball team while they aim for a second consecutive Sun Belt Conference title and an NCAA Tournament appearance. The junior from Gainesville, Georgia, was selected as the Preseason Sun Belt Player of the Year. He is ready for the challenges that his final collegiate season will bring him before he enters the 2019 NBA Draft.
The Signal sat down with him for a Q&A ahead of the regular season opening game on Nov. 7 at the GSU Sports Arena.
The Signal: I've heard you've been working on your 3-pointer before this interview. Is that what you want to improve the most?
Simonds: I'm really just trying to get my all-around game right. The threes will come. Everything will come in my game as I progress as a player, so I'm not really focusing on one thing, just everything in my game.
The Signal: What's your mindset when you put on that Panther uniform every night, playing against other teams?
Simonds: [My mindset is] straight dog, you know? I'm better than you, you're not better than me. You can't beat us. We're going to beat you and we're going to keep beating you.
The Signal: You have a decorated college career from Sun Belt Freshman of the Year to All-Sun Belt First Team. What's the next step?
Simonds: I'm looking forward to the NBA this year, but not really thinking about it. [I've] got a whole season to think about, but I'm probably going to enter the draft and just let it all play out.
The Signal: The team has three freshmen coming in. How are you gelling with them on the court?
Simonds: We get along great. They're really good teammates, and I'm just trying to show them what I've learned since I've been here. They're all really good players and they'll be great for Georgia State.
The Signal: You were ranked 60th in the CBS Sports' Top 100 NCAA 2018-2019 players going into this season. Is that a big accomplishment? What do you think of that?
Simonds: That's terrible. I'm easily top 10, top 15. Like, what? You can't name 15 players better than me, like come on now. I've gone against the No. 2 defense in the country (Cincinnati in the 2018 NCAA Tournament), gave them 16 straight, like come on man. Half of the Top 60 was not in the tournament. Who are these dudes? I don't care. I really don't care. That's their business. Half of these analysts don't even play. They don't coach. Like, who cares? I don't care about Frankie Vision. Like, come on man, get out my face. I don't care about ESPN. I don't even watch ESPN.
The Signal: You've been gradually improving on your scoring since your freshman year. You averaged 13.4 points your freshman year and 21.2 points last year which was the best in the Sun Belt. Are you trying to go for 30 points per game this year?
Simonds: We'll see. But, I'm definitely going to have some big ones.
The Signal: What's the big vision? I know you talked about going into the NBA Draft and letting things play out, but what's the vision for the team this season?
Simonds: Sun Belt Championship and at least Sweet 16. We got a lot to bring back to the city, and we just want to play hard.
Simonds was voted unanimously to repeat as conference player of the year by every Sun Belt head coach. He was also voted to the Preseason All-Sun Belt First Team for the second straight year.