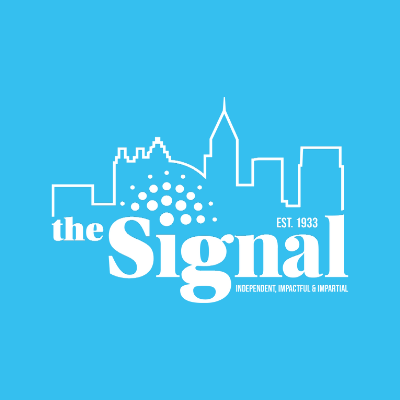 Adjunct Professor Mausiki Scales—researcher, historian and musician—can add another title to his profile: comedian.
Borrowing from funnyman Dave Chappelle, Scales tells his African-American Studies Class that they "speak two languages: Ebonics and job interview; we'll speak the latter in this class."
His students erupted in laughter.
This studious, serious-looking, second-generation teacher is comfortable hiding behind a computer reviewing notes, preparing class visuals and stacking books and reading materials to be presented in a near-capacity student-filled classroom.
But he is just as comfortable jamming in West Africa with Stevie Wonder while celebrating the 50th anniversary of Ghana's independence.
Word has been circulating around campus that this dynamo "prof" has an uncanny ability to bedazzle student with lectures, poetry, rap, music, visuals aids and guest speakers that leave "shipmates" (students who voluntarily sign-up for social media blogs and communications) wanting to learn more about the dynamics that delivered blacks to The Americas.
During a lecture, the slightly graying Chris Rock look-alike vaults from his reading, transitioning like Clark Kent to Superman, and bursts forth with his family genealogy. After "talkin 'bout his mama," he ends with his great-great-great-grandmother, who was captured and enslaved on the shores of West Africa.
In this monologue—half-homage to his ancestors and half-ode to present scholars—the mix of graduate and undergraduate students in the room are riveted. Some have their mouths gaped wide-open while others are merely smiling and nodding. But everyone is captured by the knowledge, articulation, infectious smile and sense of importance represented by time, place, being and history as shared by this gifted communicator.
"How do Africans think of the former enslaved people in the Americas?" Scales asks. He entertains a handful of student comments and then decides to teach above the curriculum.
"Those who were captured in the North Atlanta Slave Trade had a home were put in chains and bound for port cities in the Western Hemisphere. They were always thinking they would return home someday,
"Today, as you left your home, your thoughts were of returning later today. Our (African-American's) point of origin and cultural identity is of Africa, a return to home. When we leave home, it's normal and natural to want to return," Scales said.
And that's when all hell broke loose. There was a rush to be among the first to respond. Few demonstrated the patience to wait their turn to opine. The style of this professor is to welcome different points of view that—for the most part—go unchallenged but promote independent thinking and analysis. Scales was about to receive a modern-day attempted "beat-down" by mostly 20-something students who needed to let him know that Africa was not their home.
"I love it, it's great, it's very informative," says Jasmine Bryant, a junior, describing her class of "Slavery in The Americas" with Scales. "The degree of interaction is not something I've experience before. He listens and cares about what we think."
Freshman Brittney Walton calls Scales' class "her most interesting and enjoyable this semester."
"He is very detailed about the topics that he covers," Walton said.
"He is real cool, smooth, energetic, relatable and has been through things and been places," says Victor Ozieh. "He has actual experiences related to our studies, not just the book knowledge. It's a good class; I learned a lot. He brings up new information that we haven't ever thought about before."
Scales' classroom success may have related to the fact that he is a scholar/musician who has appropriately infused hip hop, jazz and what's trending among young people into the classroom.
He has been student-selected "Teacher-of-the-Year" several times and is the leader of an Afrobeat band that has performed with Wonder, jazz legend Roy Ayers and other notables.
With deep roots in the South—his parents are from Sally, S.C. (the Chitterling Capital of the World) and Smackover, Ark.—Scales has a sense of rhythm and historic scholarship that intersects successfully with the contemporary lifestyles of college students.
"But, let's not forget about activism; Service Learning is an important element of our African American Studies Department," said Scales, who has conducted field cultural research in small villages in Ghana.
"My students are required to perform 15 hours service education (volunteer work) as part of their academic study. That's an important legacy of our history, as well as allowing our students to leave behind footprints of their activism," Scales said.
"Classes are interesting, but what Professor Scales teaches is more than just academic study. Honestly, I've learned a lot. My perspective about black people has changed. I've changed over the semester. It is not just about the information he presents, but how it was delivered. He's convincing, I am considering changing my major," senior Kahlil Driddie said.
Scales teaches Intro to African-American Studies, Intro to African-American History, Slavery in The Americas and The History of African-American Music.