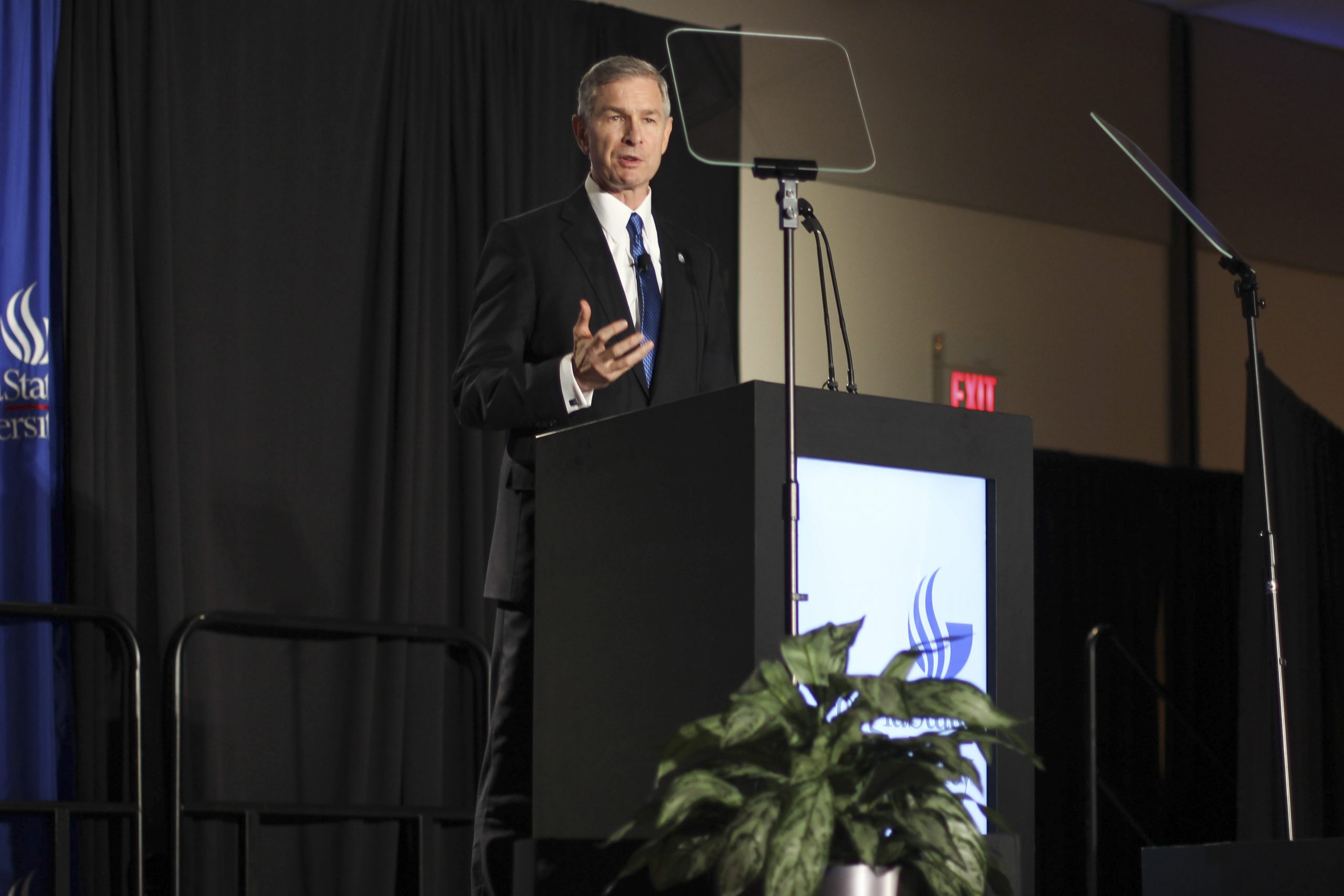 Georgia State President Mark Becker recapped last year's achievements and foretold future enactments during the annual State of the University Address held in the Student Center Ballroom on Oct. 15.
Achievements highlighted by Becker included increasing the bachelor's degree graduation rate, Georgia State gaining the first Most Visible Progress (MVP) Trailblazer award and the enrollment of the largest freshman class this fall.
The MVP Trailblazer award was given to Georgia State because of increased graduation rates and was bestowed by the Association of Pubic and Land Grant Universities (APLU), according to APLU's website.
Becker said that the university's goal was to establish itself as a national model for undergraduate students.
"Goal number one in our plan is to establish a national model for undergraduate education by demonstrating that students from all backgrounds can achieve academic and career success at high rates," he said. "I am pleased and proud to tell you today we have made enormous strides in our pursuit of this goal."
Initiatives already executed
University Innovation Alliance (UIA), a consortium of 11 research universities, has the goal to increase graduation rates for those who have historically graduated at low rates.
Graduation and Progression Success Advising System, a large scale predictive analysis system, monitors students and notifies advisors when a student is going off track.
A new clinic for veterans was started this fall by Georgia State's ROTC, College of Law and representatives of the State Bar of Georgia's Military and Veterans Law Section.
55 Park Place was recently purchased by the university and will have two elevators and atriums to give the College of Business and School of Policy Studies distinct areas.
Future plans
The College of Law will be ready for move-in May 2015 to its new location at the corner of Park Place and John Wesley Dobbs.
On Dec. 1, Georgia State will break ground on a second tower next to the Petit Science Center and is projected to be completed in early 2016.
If the university receives funding, Kell Hall will be demolished from 2017 to 2018 to create a campus greenway.
Becker also noted that the plans for Turner Field have not been decided upon.
Becker did not address Georgia State and Georgia Public Broadcasting's recent partnership affecting WRAS 88.5 FM and the university's plan to create more student housing facilities.
"We are continuing to create new and better ways to do what is at the core of our mission, provide an outstanding education to a diverse body of students with all of the benefits of learning from leading faculty at a modern research university," he said.