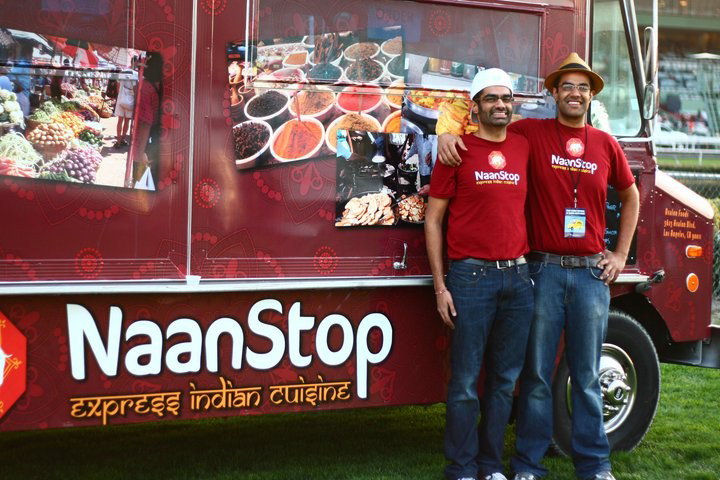 Vibrant hues, relaxed atmosphere and the eye-popping wall trimmings draw in the culturally curious foodie, but the flavorful menu of easy-to-eat, freshly made traditional Indian food keeps customers coming back for more.
Naanstop, tucked away in Atlanta's historic Fairlie-Poplar commercial business district with buildings that date back as far as the 1880s, is the new kid on the block. The mashup of architectural design from Victorian Eclectic to Gothic Revival styles give testament to the changing times and styles this space has harbored.
"Normally when you go to an Indian restaurant it's a dimly lit, sit down restaurant, with a really long menu that's difficult to understand." Co-Owner Neal Idnani said.
The vibe in Naanstop is far from your typical formal sit down Indian restaurant. The relaxed familial vibe has been called the "Moes of Indian Food" in recent reviews. While the burrito franchise does offer a similar option to choose your preferred ingredients, it doesn't compare to the homegrown authenticity dished out at NaanStop
Owners Samir and Neal Idnani are not only brothers, but have created the menu from comfort food recipes perfected and passed down from their mother.
A rice bowl with white or brown basmati rice or salad can serve as the base of a quick meal. Topped with your choice of meat like Chicken Tikka Masala, Kabob (an Indian turkey sausage), and lamb. There are even vegetarian friendly options like paneer, a grilled and seasoned Indian cheese, that is both filling and really tasty. Vegans may fall in love with the chola, garbanzo beans in a tomato, garlic, onion and ginger stew, great for dipping fresh baked naan.
Naan, a traditional Indian bread, is kneaded, pressed and rolled out from scratch, and cooked in a traditional tandoor oven right there in the restaurant.
The soft, hot, made from scratch bread is wrapped with patrons favorite fillings, grilled vegetables and topped with freshly made sauces, called chutneys, to create Naanstop's fast food staple, the "Naanwhich".
"We wanted our take on Indian cuisine to be quick and easy to eat." Samir said.
The in and out relaxed, fast food vibe nicely married with fresh ingredients and skillfully prepared dishes puts you in the mood of the quick culinary treats discovered on food trucks.
NaanStop originated as a food truck based in Los Angeles, Calif back in 2010 with of course the "Naanwhich" as its signature dish.
The brick and mortar reincarnation of the food truck success is conveniently placed in downtown Atlanta, nestled in the breezy one way, spackled with a diverse array of food choices on Broad St
Six months at the Atlanta location, just next door to Georgia States Aderhold Learning center, have been successful for the family owned business. With weekday hours Monday through Thursday now extended until 8 p.m. the authentic grab and go style cuisine is available for night students and the dinner crowd, of young and seasoned professionals of the historic Fairlie-Poplar business district.