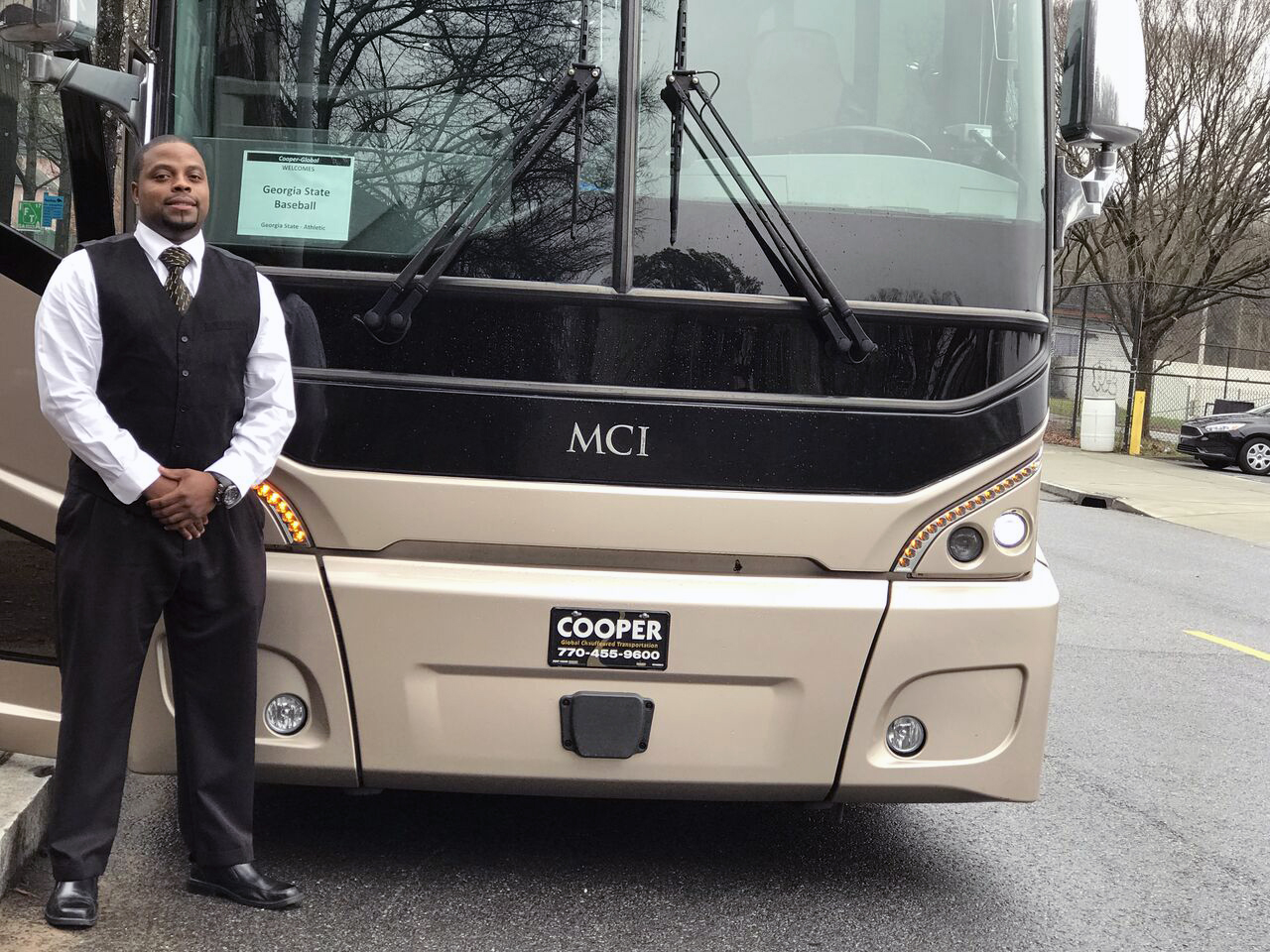 When Tramonty Washington moved from Winter Haven, Florida, to Atlanta at the age of 7, he went on to drive similar distances with no problems. Currently, he drives professionally and consistently takes Georgia State athletic teams to and from competitions.
Teams obviously travel to compete, but how they get there isn't always appreciated or recognized. Lots of people mispronounce his first name, so he simply goes by Washington.
At 36 years old, Washington is one of Cooper Global's chauffeurs that help them own Atlanta's No. 1 ranked limousine company.
"I really like driving for Georgia State. Sometimes I'll give up other trips if it's one of the teams I drive," Washington said. "Sometimes you give up good trips, but I'll come and drive for them because in my mind, I kind of want them to get there safe and get back safe. I trust me more than anybody else to do it."
After graduating from Douglas County High School, Washington spent over 11 years inspecting bridges and roads as a civil engineer with the Georgia Department of Transportation.
He then moved on to Cooper Global, where he's been for just over four years. Georgia State athletic squads and Washington have been happy partners since fall 2015.
Washington estimates that he drives Georgia State teams 10 times per month. With the level of respect he sees between the players and coaches, he's only had great experiences traveling with them. The usual suspects that request Washington are the beach volleyball, football, men's basketball, women's basketball and men's soccer teams.
Head coach Brett Surrency and the men's soccer team was Washington's first gig with Georgia State– they simply hit it off. Both the student-athletes and coaches interact with Washington with ease and comfortability.
"They relax and all of that, but they're just real cool. Going out and watching the games, they like to cut up going to the games. If they win, they like to talk. They interact with me, too, so it's cool," Washington said. "It's almost like we're friends, and we're just kicking it. It's real cool driving for not just them, but for all the teams."
The relationships aren't strictly business. He watches the team play from the bus when he's not resting. When Washington is on campus with another team and sees the men's soccer team leaving the GSU Sports Arena, they'll stop for a second to catch up.
Washington can't remember all the names of the 100-plus football players, but they remember his, and they'll throw up the deuces to one another. He drove for the 2015 AutoNation Cure Bowl and the 21-17 comeback win at Georgia Southern in 2017.
With the amount of time Washington spends on the road, many would have a tough time getting a hang of the new lifestyle. Washington thinks driving doesn't phase him because after he and his mother moved from Florida, they drove back every month to visit family. Occasionally, he'd go, stay an hour and head right back to Atlanta as long as he got the correct amount of sleep.
"I wouldn't want to say it's relaxing because you don't really want to relax when you're driving, but it kind of is," Washington said.
Even when passengers don't want to make conversation during the rides, he remain unbothered, knowing they may be busy or need rest before catching flights. Celebrities Washington has chauffeured over the years include Condoleezza Rice, Baron Davis, Rick Fox and Muhtar Kent.
Georgia State always books nice hotels, but his favorite trips land him on the beach. The 2017 Men's Soccer Sun Belt Conference Championship was hosted by Coastal Carolina. The team and Washington stayed on Myrtle Beach. Washington hasn't learned how to turn down any offer that gets him to the shores. He isn't planning to either.