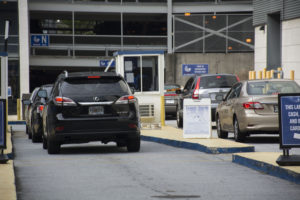 As the first semester since Georgia State's consolidation with Georgia Perimeter College is starting out, some students feel the Atlanta campus has gotten a little overcrowded. Parking in the downtown area is hard enough without the stress of making it to class on time. With the student population slightly up from last year, the parking has become unusually disorderly.
According to Campus Services, there are over 32,289 Panthers clawing their way on the Atlanta campus and parking decks are falling short.
Chris Connelly, Director of Marketing and Administration Support at Campus Services, provided a statement to The Signal about the situation via email.
"[During] the first two weeks of every fall semester, the turnover rate for parking is affected dramatically due to the fact that students are staying on campus longer due to activities such as purchasing textbooks, and other activities that will cease once the semester gets going," the statement said.
The university provides six student parking decks, G, K, M, N, S, and T for students who choose to pay for parking. If students choose the free parking pass option, they may use Turner Field or pay to park in a Georgia State deck at a discounted price.

However, students registered for a semester permit are always guaranteed a parking spot, according to Campus Services.
As of August 2016, 8,820 students are registered for a semester permit with only 5,015 guaranteed parking spots available. That's in addition to the 23,469 students unregistered and potentially looking for one of the 1,700 free parking spots at Turner Field.
Georgia State student Amy Stearns said the parking situation has only been getting worse.
"It was chaos, [that's] the only term I can use to describe the parking situation at this school," she said.
Stearns said on one occasion she drove around probably twenty-five to thirty minutes on the same four main parking decks around the school. She said she was late for class after having to leave campus to drive to Turner Field in hopes of finding a spot there.
Students have mentioned seeing available parking spots in some of the decks while staff did not allow other student commuters to enter.
Jessie Bosley, a Georgia State student, claimed she experienced staff blocking the entrance for parking while there were free spots.
"My sister took pictures of fifteen available spots and as she was leaving they [the parking staff were] not letting people in and there was no one driving around [the parking deck] looking for spots."
With the lack of guaranteed parking, Campus Services is currently trying to increase the number of parking spaces available to students at T-Deck, according to the statement provided by Connelly.
Another student, Bria Jackson, said she deals with parking problems every day.
"Turner Field is a great alternative for most days but even they don't allow parking on certain days. On those days, I'm either forced to pay to park or I'm late and miss class."
Fellow Panther Alicia King, who commutes, said she missed class after not finding parking on campus.
"During the lunchtime rush hour, all parking decks were full. Forcing me to drive around for thirty to forty-five minutes before finding a parking space on campus, and missing my first class as a result," she said.
The statement from Campus Services said, "We are currently working toward the creation of a parking app that will allow the [Georgia State] community to see how many parking spots are available [on campus] in affiliated parking decks in real time. We are also always looking for opportunities for ways to increase parking capacity to our downtown campus."
Zachariah Vincent, Georgia State student and Customer Service Assistant with Campus Services, said there has been an "abnormal amount of complaints" this year compared to previous years. The biggest issue, according to Vincent, is that there not enough parking spots to go around for commuter students.