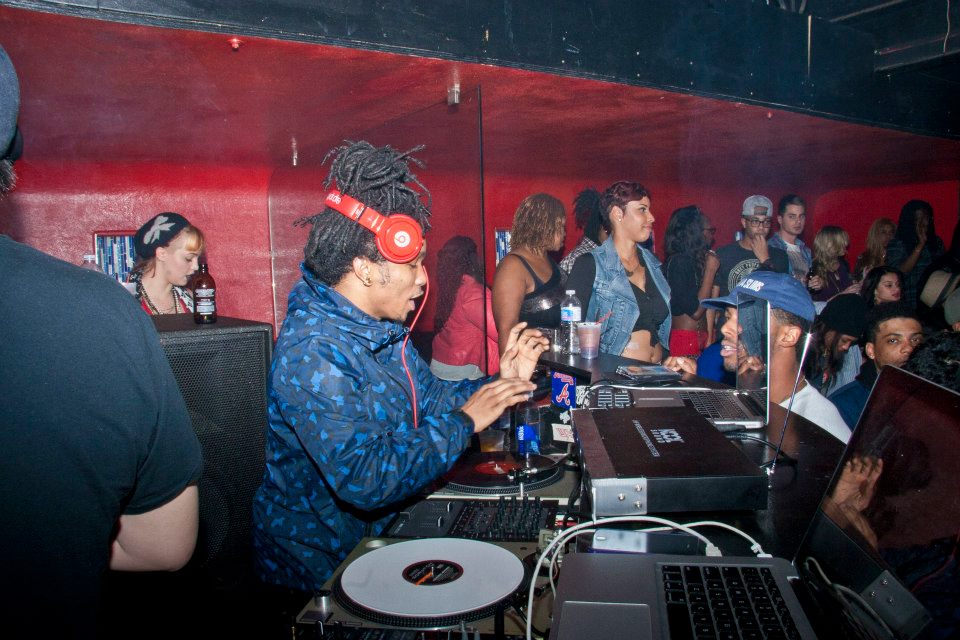 Atlanta is notorious for its wide array of musical styles. Anyone who has listened to Atlanta radio in the last several months is familiar with the catchy, head-bobbing, one verse mantra that is "All Gold Everything" by Trinidad James. Locals have even gone to see James perform at Downtown venues, watching him hang from ceilings and bounce around stage. Throughout all of the pandemonium and energy, one of the most important coordinators of the show often goes unnoticed; James's turntablist, Disk Jockey Brent "Genesis" Phillip.
With a closer look, its almost impossible to not notice the short man rocking from left to right. Motionless, tighly bound locks juxtapose the tortuous hand movement below them. D.J. Genesis works his magic mixing and mastering the sounds of the live performance. Shouting out an ad-lib every now and then, the former Georgia State student looks down at the crowd, a smile on his face as he realizes how far he's come. Phillip says it was all a part of his plan, and remembers his early days learning the art of music.
"I've had a passion for music since I was born" Phillip said.  "I'm of Trinidadian descent, so my mom would always have me in Carnival, where I got my first taste of real music. I used to skate a lot too, so that put me in touch with house music. Moving to Atlanta really put me in touch with the hip-hop side of music, so everywhere I've been in life reflects through my music."
Phillip said although he's always loved music, he's only recently begun spinning professionally.
"I've been playing around with turntables since high school," he said. "But I've been spinning professionally since 2011 at the A3C meet and greet at New Era. That was my first paid gig, and where I first met Tuki Carter."
Phillip explained how he was once a college student with real world aspirations, just like everyone else.
"I went to Georgia State for about a year and a half," Phillip said. "I was spinning and studying business for an accounting degree. I'm really good at managing money and numbers, so I was definitely interested in that as my career path."
Phillip said that although he started off balancing both tasks, eventually turntabling took on a life of its own.
"I was trying to do both equally, but one just took over the other and my schedules started conflicting" Phillip said. "I'd be leaving class for weeks at a time doing shows. It really got crazy when I began touring with CyHi the Prince and Big Sean on the Finally Famous Tour; I was gone for so long, I ended up failing completely. When I came back home I realized I wasn't really into it."
Phillip said he knew the risk involved with leaving school, but knew it would be worth it.
"I'm very calculated in everything I do," Phillip said. "It didn't make sense to me to leave school to be a DJ. The smart side of me was really against it, but the creative side of me really wanted to take that chance. I knew I would be broke at first, but I also knew there would be a brighter day."
Phillip's longtime friend and business manager, Cam Bankhead, confirmed that it was a tough process getting Phillip to take the craft seriously.
"I had to really push him hard at first," Bankhead said. "He doubted himself a lot. He really didn't want to take that chance. He's never been one to give himself credit for his skills."
Bankhead also attended Georgia State, often accompanying Phillip in the Plaza and at his first shows.
"I was studying Marketing, with a minor in music management. Back then, he was just spinning in the Plaza on Tuesdays and Thursdays, hardly getting recognized."
Bankhead assured that even then, he knew Phillip would prevail musically.
"I just knew, because he's always been successful at everything he does," Bankhead said. "Even in high school when he was running track, he always went to state; when he was speed skating, he always went to nationals. Growing up where we did, we had a different understanding of things. The diversity he was raised with makes him unable to lose musically, because he's so well rounded. He can play to any crowd."
Phillip has a quirky taste in music, often juxtaposing completely unrelated genres and tempos to perfection. The mixes on his Soundcloud account emphasize seamless transition between various styles and artists, from Maroon 5 to Gucci Mane.
"I've always been experimental, even since my first mix, 'Tribal Warfare'," Phillip said. "It's all intentional. All of my music is ahead of its time, and it opens people's ears when they hear it. Some people don't like it, but there's a technique to it. People always end up dancing to my sets, and I've never heard a single 'boo' during a show."
Co-manager and Creative Director Mike Merlot agreed that Phillip's style of mix receives mixed reactions.
"People react in a tentative way when they hear the meshing of styles," Merlot said. "It sounds familiar, but it's still something you've never quite heard of."
Phillip also explained that although he enjoys the energetic environment that accompanies his shows with Trinidad James, he prefers alternative styles of music in his leisure time.
"I honestly prefer hearing Chillwave and House music," Phillip said. "I listen to less 'ratchet' music in my spare time than you'd think. I play that style and 'turn up' so much when I'm performing, I need the balance. Sade, Empire of the Sun, and Toro Y Moi are definitely my favorite artists. My personal favorites in terms of my own mixes are either 'High Noon 2' or 'Tribal Warfare'"
Phillip expressed the importance of balance in his music and life, and Merlot explained how it relates directly to the movement of their brand and lifestyle, "Full Time Levitators."
"The core of our brand is a three primed base; Balance, Progression, and Separation," Merlot said. "Balance can be seen in Genesis's music, our style, and where we're from. Progression can be seen every day with how our lifestyle spreads throughout Atlanta, and the way Genesis's musical sets build up sonically. Separation is within how we look, and our choice to move differently from everyone else. We promote our lifestyle through everything we do."
Bankhead agreed that the lifestyle reflects more than just music.
"We all want to help people and raise the consciousness of everyone," Bankhead said. "Music is the easiest platform for that because it's a universal language. It's a lot bigger than music, though. Our clothing line is our next official move. We're looking to create our own merchandise and start planning our own events. We like to send subliminal messages through artistry, and make people think a bit more."
Phillip also confirmed that the movement goes beyond music.
"We're trying to influence people in a low-key way,"  Phillip said. "People look to show their power too much around this city. We want to emulate other great Atlanta artists like Chilly-O with how we influence people and move under the radar, while still shifting society."
Phillip also said he has his preferences of where he works the turntables, accrediting the eclectic MJQ Concourse as his preferred place to spin.
"MJQ is my favorite," Phillip said. "You can do so much with it, especially on Thursday nights when I can really play whatever I want."
Phillip also reminisced jokingly on the days when he struggled to find work, often having to beg club owners to let him play just one set.
"When I was first starting at MJQ, I kind of struggled. I would do too much of one genre" Phillip said. "It's a lot different now than back then. They used to make me spin from 10:30 to 11:30 when there's literally nobody in the club at all. Right when people arrived they pulled me off the tables. It was extremely frustrating, but I understand why they did it now. They have to learn to trust you."
Bankhead noted that although it was a lengthy process establishing a name for themselves, the Levitators have mastered the hustle of doing shows.
"At this point, he can spin pretty much anywhere in the city on any night he wants," Bankhead said. "But you can't oversaturate yourself in the market. It's the balance, again. You need to preserve the brand, or you'll wear yourself out. He could easily DJ five nights a week, but he still needs to rest and keep his schedule open in case he has to go back on the road with Trinidad James."
Although Phillip is now Trinidad James's full time turntablist, he still remembers last year when he was touring with Wiz Khalifa and the Taylor Gang, acting as Tuki Carter's personal DJ.
"The 2050 tour was when things started getting real for me," Phillip said. "I was the opening act for crowds of 5,000 people, so I had to step up to the plate. Wiz is a really cool guy, and takes care of everyone around him. He's on a different level than Trinidad James at the moment, so me touring with Trindidad is actually an easier process."
Phillip explained how his strong bond with Trinidad James began, citing a random encounter at a tattoo parlor as their first meeting.
"I met Trinidad James at the City of Ink tattoo parlor one day," Phillip said. "He saw I had a Trinidadian hair pin in, and he had the ring on, so there was an instant connection. This was way before he was even rapping, so we already had a great friendship established before we began working together. He told me he was about to start rapping, dropped 'All Gold Everything', and the rest is history. When he got on, he reached out to me and offered the position. It's probably the most fun touring with him, because it's a truly organic relationship between us."
Phillip explained that although being a turntablist is fun, it is a stressful career, and many people don't understand the craft.
"I hate when people come to me with song requests, or ask me to play a popular song super early into the night," said Phillip.  "I never play the same song twice, so me playing 'Karate Chop' at 10:45 doesn't make much sense. Song selection is a big issue, as well as musical EQs and gains. DJ's like to take the easy way out with the technique, but being a DJ isn't easy, man. Playing music at home in front your friends is way different from a party with hundreds of people you don't know."
Phillip also had a few words of advice to anyone considering pursuing turntabling as a career.
"Any DJ with aspirations needs to study the game," said Phillip. "Study your peers' mistakes, their successes, and everything in between. You need to think, plan, and progress. And know that you will be very, very, very broke at first. I can't stress that enough. Nobody will believe in you, so you have to believe in yourself to succeed."
Follow Genesis on twitter at @GenesisHTX
Hear Genesis's sounds on Soundcloud here.

Story idea submitted by Michael Weldon, Sophomore