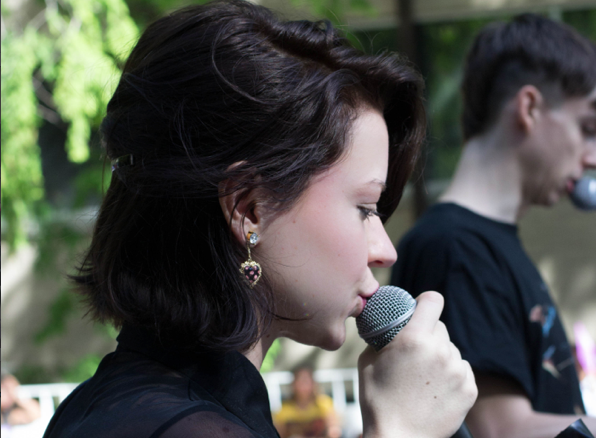 Every Thursday, the Georgia State courtyard comes alive with music blasting, student organizations making their presence known, and the diverse faces of the Georgia State population taking in the lax atmosphere for a short social hour.
Student Health Promotion hydrated the crowd with lemonade and fitted interested passersby with vision-impairing goggles to show students how your vision is affected when the blood alcohol level is two-times the legal limit. While students had fun taking the mock field sobriety test, the message Student Health Promotion was trying to make was clear: it's dangerous to drink and drive.
Masked men also haunted the courtyard, already in the Halloween spirit, announcing the Cinefest screening of Batman: The Dark Knight.
Live vocals and industrial synth music from Featureless Ghost were this Thursday's courtyard music series highlight. The girl /guy duo is made up of Matt Weiner and Elise Tippins, who relocated from Brooklyn to Atlanta in 2010.
Sadly, the PA system was not up to the strength needed for the electronic sound Weiner and Tippins are used to bumping. But the courtyard wasn't silenced. The two still rocked the courtyard with Tippins on the tables and Weiner on vocals.
WRAS radio DJs are fans of the band and brought them in to play tunes for Thursday. You may have also seen Featureless Ghost this summer at WRASFEST at the Goat Farm.
The band released its debut LP "Personality Matrix" this month. You can check out more about the band and listen to their music at www.featurelessghost.com.