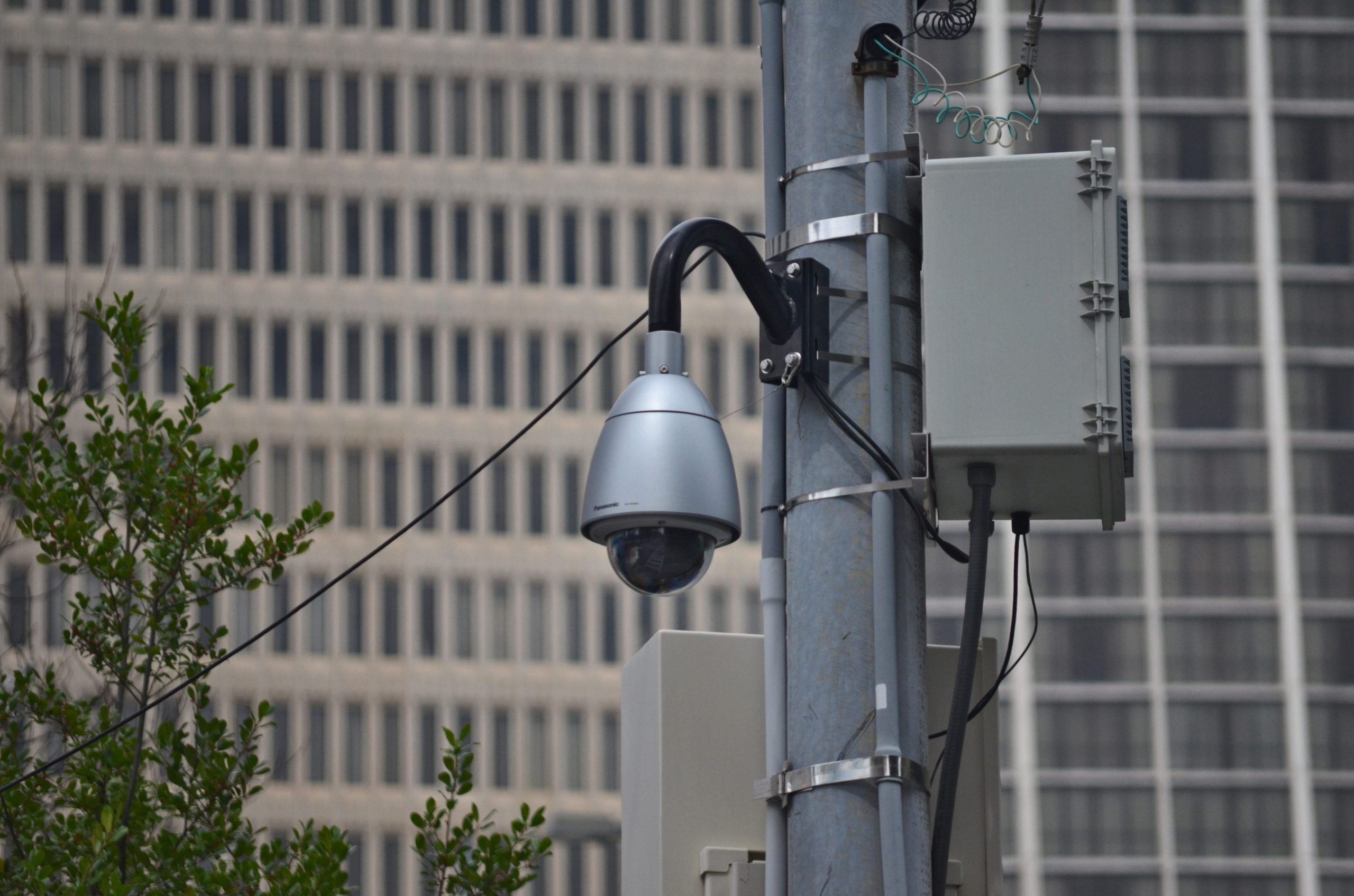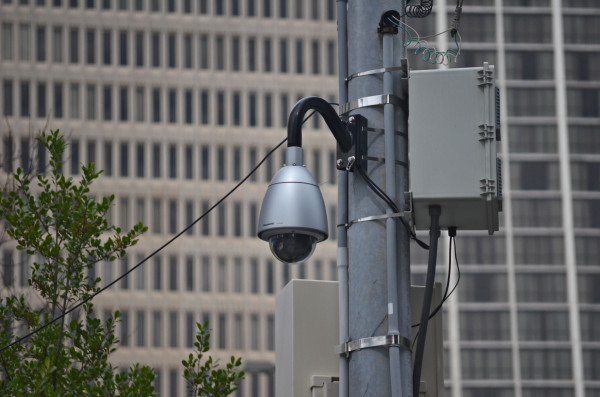 Georgia State student Kaitlyn Winey was ticketed on Jan. 26 for running a red light at the corner of John Portman Boulevard North East and Courtland Street North East. However, for Winey this was unacceptable.
"I got pulled over and I was told that I had run a red light, and me, I'm not like that. I'm not a crazy driver. I don't run red lights. I don't run yellow lights," she said.
Assuming there were street cameras, Winey began calling local businesses surrounding the intersection in an attempt to gain footage of the incident.
"I was doing some research and I realized there were cameras at the corner of John Portman and Courtland. I found it through Google Maps actually," she said. "Because I was trying to figure out – there has to be surveillance cameras from parking decks around the corner or different lots or the hotels."
By using Google Maps, Winey was able to locate a camera on the corner of John Portman Boulevard North East and proceeded to call government offices until she reached someone who could answer her questions.
"I called the courthouse and they directed me to the police department who [then] directed me to Zone five which covers that zone [street where she was ticketed]. [An officer] told me they were active cameras, that the footage stays for 14 days," she said.
Interim Director for the Atlanta Police Department (APD) Elizabeth Epsy confirmed the surveillance cameras located around the city retain footage up to two weeks within the Video Integration Center (VIC).
Winey was told in order to access the footage she had to file an Open Records Request (ORR) but her request was denied.
"I filed an open records report like I was told to do but then my request got denied because that information has to be subpoenaed by a judge or I can view it after my court date," she said.
Winey also said she did not understand why only a judge had access to the documentation, so she called the records office back and found that the original person she had spoken with misinformed her.
"I called the open records department once again and this time I was informed that there should have been no reason that I couldn't receive the footage, the first person I talked to was apparently mistaken," she said.
By the time she learned she could have access to the footage; it had been deleted. This resulted in Winey being unable to move her court date and choosing to pay the ticket for the traffic violation.
"I found myself walking in circles, getting absolutely no where," she said. "This whole process involving the traffic lights honestly pissed me off."
The VIC and Operation Shield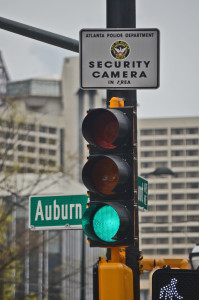 The surveillance camera Winey attempted to gain access to is part of an integrated network of 4,600 private and public cameras owned and operated by private and other governmental agencies located throughout Atlanta, according to Epsy.
However, Epsy also said the VIC only records video feed from public cameras and not private sector camera feeds.
Vice President of Communications and Programs of the Atlanta Police Foundation (APF) Amy Cornell said surveillance cameras are integral to Operation Shield, a program facilitated by the APD and the APF serving as the home base for connecting the cameras of Atlanta.
"Operation Shield is a program facilitated by the Atlanta Police Department that includes the integration of video surveillance cameras from both the public and private sector into the APD's Video Integration Center," she said.
Operation Shield also acts as a security system connecting law enforcement and businesses to better protect the community, according to Cornell.
"Operation Shield is a three-pronged security communications program designed to positively impact crime prevention and emergency preparedness between the Atlanta Police Department, the Atlanta business community and surrounding law enforcement jurisdictions," she said.
Cornell also said Operation Shield connects private security systems with the APD for quicker response times to public emergencies.
"Operation Shield also consists of a mass communication network that connects private security firms with the Atlanta Police Department to improve public safety efforts and communications during responses to public emergencies. This system is called COMNET and it is conducted over a private, secure digital communication network," she said.
The cameras are part of the APD's VIC are different from other cameras in that their function focuses on public safety, according to Cornell.
"There are a number of different cameras integrated into the VIC, and integrated cameras differ in that their specific public safety function is to increase the efficacy of emergency response and to deter crime in integrated areas," she said.
Cornell also said the cameras enable officers to assess a situation before arriving on the scene.
They can assist public safety efforts and ultimately emergency management and responses during times of need. They allow emergency managers to quickly assess an area and develop a response even before an officer of first responder arrives on scene," she said.
Epsy said surveillance cameras also assist the APD with emergency responses by providing real-time footage and connecting the dispatch units with the officer manning the VIC.
"As 911 calls are received, cameras that are near or at the location of a crime can be viewed in real time. The VIC operator viewing the camera can speak directly with officers dispatched to the scene and offer information pertinent to the call," she said.
Surveillance cameras are an essential element to improve the pubic safety of Atlanta's citizens, according to Cornell.
"These cameras are used as extensions of the Atlanta Police Department's public safety efforts and the APF's and APD's goal to improve the safety of residents and visitors in Atlanta," she said.
Cornell said Atlanta is a model of private and public sectors working together for the betterment of the community.
"The City of Atlanta is the model for public/private sector partnerships to provide significant benefits to the city and its citizens," she said.
More cameras to come
With the infrastructure bond that Atlanta voted to pass on March 17, an additional $3 million could be allocated to APD to expand its surveillance system, according to Creative Loafing.
The new surveillance cameras would be installed in areas of the city with higher crime statistics and that do not have enough 'eyes,' according to Epsy.
"The locations for camera installation are based on crime numbers. Surveillance cameras are installed in areas where additional 'eyes' are needed, i.e. crime hot spot areas, locations that host large volumes of citizens and visitors and heavily trafficked areas," she said.
Epsy also said the cameras are beneficial for high crime areas because they aid officers on and off the street.
"These surveillance cameras are used to watch for suspicious activity, assist officers on the ground, collect video evidence and assist as an investigative tool," she said. "These cameras… assist in real-time monitoring of hot spots and to collect evidence of a crime."
The additional surveillance would expand the APD's ability to supervise larger areas of Atlanta simultaneously, according to Epsy.
"Additional cameras give the Atlanta Police Department greater domain awareness. Every camera that is ingested in the VIC can act as an officer on the street; therefore the cameras are a force multiplier for the department," she said.
Epsy also said along with the cameras, signs communicating to citizens the area is being monitored are also beneficial in preventing crime.
"There is no requirement by law to have signage accompany surveillance camera deployment. [But] Signage can act as an additional deterrence factor which is why signs indicating the presence of cameras have been installed downtown," she said.
The money from the bond would propel the APD toward its goal of securing 10,000 surveillance cameras, according to Cornell.
"In the next several years, the goal is to integrate more than 10,000 cameras citywide," she said.
However, the installation of the new cameras and mounts cannot commence until the money is appropriated to the APD, according to Epsy.
"Funding allocation of the bond must occur first before a date can be determined for camera installation," she said.
While APD and APF say the surveillance cameras are to improve safety for citizens, Winey said she doesn't agree.
"I feel like with the research I've done and how difficult it's been to get in contact with someone to actually view the footage, I feel like it's more for the police officers."