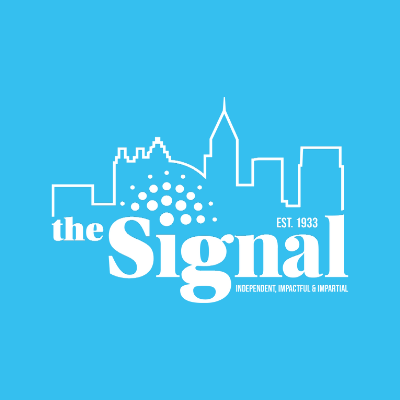 "You're Dead!" is certainly a pointed title for an album. Equally morbid and humorous, the title strikes a razor's balance between a slammed door and a warm welcome.
It's a sickly, alluring duality that's only emboldened by the album's flamboyant cover. The gaping hole fixed center hasn't just erased the central figure's identity – it's a reminder that death can come for anyone at any time. But even so, the bright reds, yellows and golds suggest something far less sinister than the reaper's touch.
This is to say that Flying Lotus mastermind Steven Ellison knows how to grab the listener's attention, a skill that's thoroughly demonstrated throughout the record as well. Much more than just an eye-catcher, "You're Dead!" is a clear statement of intent from one of electronica's most revered experimentalists.
Whereas Flying Lotus's previous album dabbled in pastoral psychedelics and serene electronics, "You're Dead!" quickly works to shed any illusions of intangible restraint. Much like the specter of death itself, the record flows freely, seemingly without mortal handicaps, running the gamut from free-form jazz to straight-edged rap.
Incorporating such wildly varying styles so thoroughly into the record's genetics could have threatened to unravel the album at its seams, but Ellison's trademarked, quirk-riddled production forms the rock-solid foundation that holds the immense sonic canvas together.
Case in point, the album's opening six tracks shouldn't work together on paper, but FlyLo's arrangement keeps the record on a surprisingly sturdy set of rails. Charging straight through the gates with a massive orchestral swell, "Theme" quickly transitions between explosive surges of bass and electronics before it shifts into a series of jazz-fusion excursions in "Tesla" and "Cold Dead." Moments later, Kendrick Lamar bursts through the plaintive keys of "Never Catch Me" to deliver the record's first jaw-dropping moment in his stunning verse, only for Snoop Dogg and Ellison to brilliantly counterpoint it moments later with the humorous tongue-in-cheek lyricism of "Dead Man's Tetris."
Sure, it's a lot to take in over a mere ten minutes, but that's an integral part of what makes "You're Dead!" such an engrossing sonic experience. Always turning, moving and transforming, Ellison's beast refuses to stagnate, and the audience consistently reaps the rewards. From the blissed-out, soulful croons of "Coronus, the Terminator" to the cinematic sweep of "Obligatory Cadence," "You're Dead!" constantly churns out new idea after new idea, forming a kaleidoscopic collage of permutations.
Of course, none of this aural liberty would matter if Ellison's music couldn't stand up on its own terms, but it does. With his latest release, Flying Lotus hasn't just bounced back from an underwhelming fourth album – he's exceeded expectations. Journeying to the afterlife never sounded so good.
Verdict: Inspired by the afterlife, "You're Dead!" finds Flying Lotus at a creative peak and releasing one of the year's finest albums in the process.
Grade: A