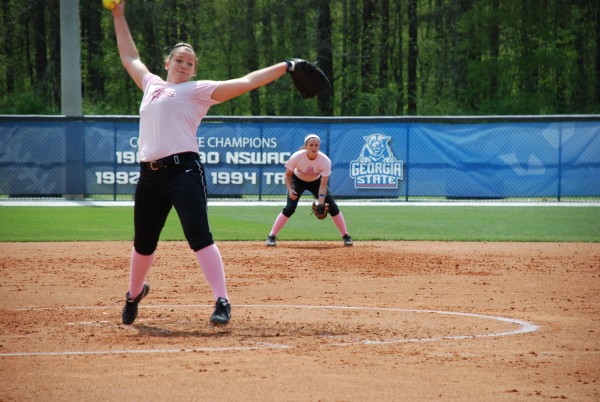 In this lovely city we call Seattle. . . wait, this is Atlanta, right?
Then, why the hell have we had so much rain lately?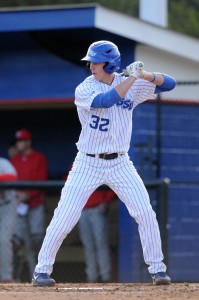 For athletes, rain results in two words that every player, coach and fan hate to hear over the grandstand speakers: "Rain delay."
The diamond sports are most susceptible to rain delays because of the outdoor venues, the infield getting muddy and the frequent number of games played during the rainy late winter and spring months.
So on game day, while the fans sit in the rain waiting for any nuance of sunshine, the players have their own little games they play to pass the time.
Baseball outfielder Chase Raffield explained a couple of games he and the team like to play while in delay.
The first game is "Two Ball."
It involves everyone in a circle with one person holding two baseballs. That person throws both balls up into the air and then has to catch both of them. If he is unsuccessful, it's an out. You get three outs.
The second game Raffield explained is "Speed Ball."
Speed Ball consists of everyone in a circle having a baseball, while one person has two. The person with two throws one to someone and whomever he throws it to has to throw his ball to someone before catching the one thrown at him. If you're unsuccessful, it's an out.
"Coach is always telling us to stay loose," Raffield said, justifying the pur- pose of the games.
Sometimes teams are stuck at a hotel if it has been raining all day. Raffield said those are the toughest delays to get through.
"We have to stay mentally in it [and] make sure we get the food we need so our bodies are still ready," he said.
The other diamond sport, softball, also has its fair share of rain delays, and the women aren't all that different in how they pass the time.
The women, however, have a lot more games they like to play while waiting.
Infielder Whitney Phillips listed football, wall ball, foosball and ping- pong as some of the games the team likes to play if they're stuck inside waiting for the clouds to clear.
"Some people just sit around and chill or do each other's hair," Phillips said. "A lot of hair braiding going on. I personally am a foosball player. Undefeated on the table."
These games can't be played in the dugout, though.
The game everyone turns to when trapped in the dugout is hacky sack.
Phillips said that there are always a couple of hacky sack groups battling it out in the dugout.
Kaitlyn Medlam, a starting pitcher for the Panthers, loves hacky sack and it is her automatic go-to when it rains.
Medlam, however, is a little bit more serious when those dreadful downpours come to an end and she has to go back out to pitch.
"I have to focus more . . . on my body, where my feet are on the rubber, spinning the ball, [and] the rotation," Medlam said.
So the next time your stuck waiting for a rain delay, bored and wet, may- be take a peak into the dugout because what's going on in there is probably a whole lot more fun than what you're doing.
Maybe even bring your own hacky sack and try to join the fun.