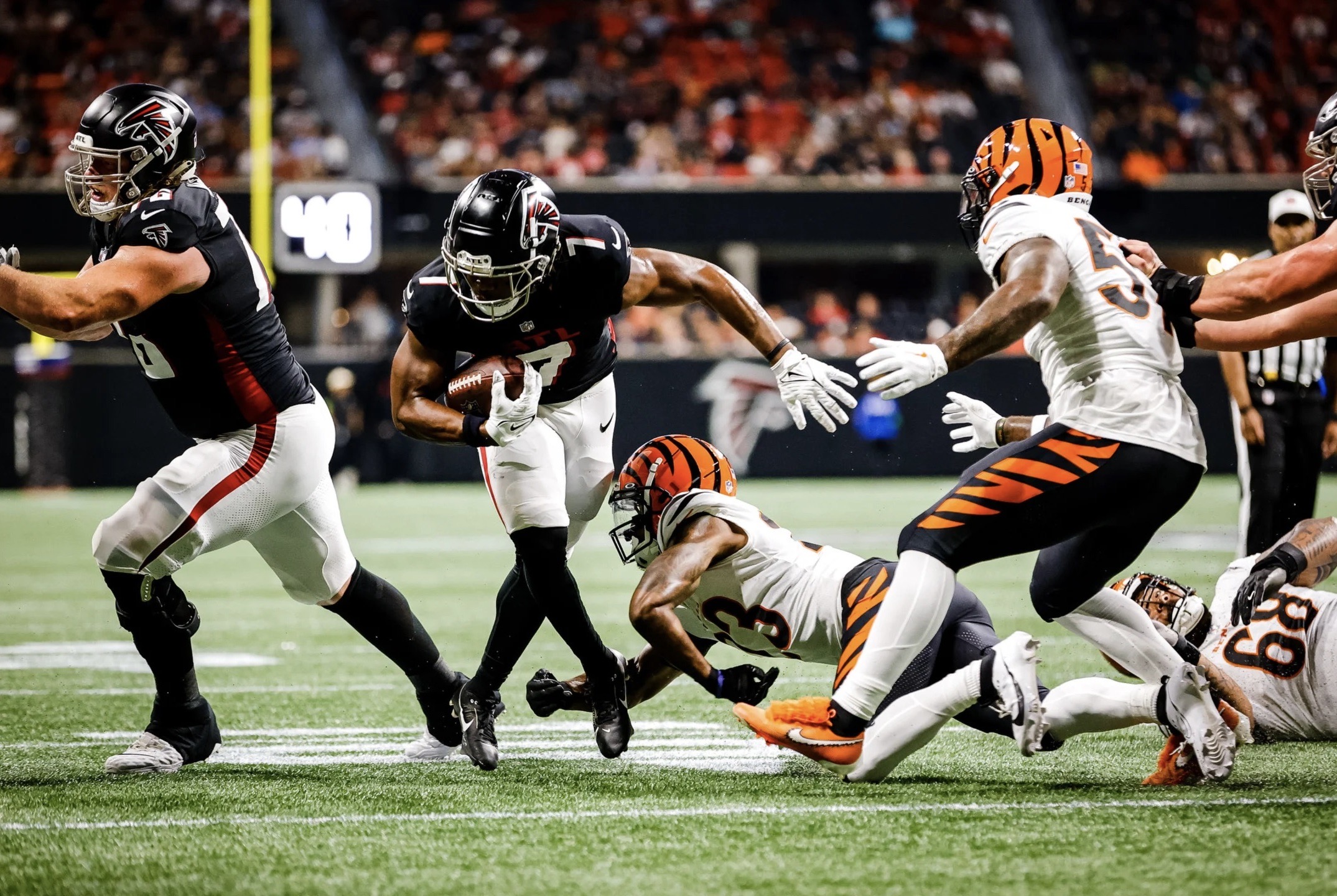 In the 2023 NFL Draft, the Atlanta Falcons surprised many by selecting Texas running back Bijan Robinson with the eighth overall pick. This decision marks the highest a running back has been drafted since 2018 when the New York Giants chose Saquon Barkley as the second overall pick. Given the extreme devaluation of the running back market, some fans and analysts have raised many doubts about the Falcons' choice to draft Robinson at such a high position, questioning why Atlanta would pick him. 
In his final year at Texas, Robinson rushed for 1,580 yards, 18 touchdowns and averaged 6.1 yards per carry. He showed his versatility by making 19 receptions for 314 yards and a pair of touchdowns. This led to him securing first-team All-Big 12 honors, as well as the Doak Walker Award, given to the best running back in college football, and named a unanimous All-American making him the fourth Texas running back to receive the honor. His decorated final year in college had many scouts claiming Robinson was the best athlete in the 2023 draft with CBS ranking him fifth overall.
Despite all this, fans and experts question the pick due to the lack of longevity at the position due to major injuries. They feel Atlanta could have received more value as many of the premier running backs in the league were selected late in the draft. Atlanta seems to recognize this problem as Bijan also shares a backfield with second-year running back Tyler Allgeier and veteran Cordarrelle Patterson, taking the workload off of the star running back with hopes of extending his career.
According to coaches, the surrounding doubt has proven not to affect the 21-year-old rookie. He has been showing out in training camp with head coach Arthur Smith telling reporters he's "Pretty damn pleased with Bijan so far, the way we use him, I think, is different than most, just philosophically with guys all over." Videos showing his versatility have gone viral as Robison has been seen beating linebackers and cornerbacks in one on one drills.
Robison was later asked about this as he told Michael Rothstein of ESPN "Obviously, I do a lot of different things that maybe a lot of running backs are starting to do. For me, I'm a player that loves to give an opportunity to my offense, whether it's me lining up out wide or me lining up in the slot or trying to it off to get an opportunity to maximize ourselves." This positionless mindset in the Falcons' running back room is not new as Cordarrelle Patterson has been seen not only lining up in the backfield but out wide as well as returning kicks. 
Atlanta has much to look forward to this upcoming season, with Bijan Robinson poised to make an impact on the NFL and prove doubters wrong. The sports world awaits to watch the rookie running back make his debut against the Carolina Panthers in week one of the new season.