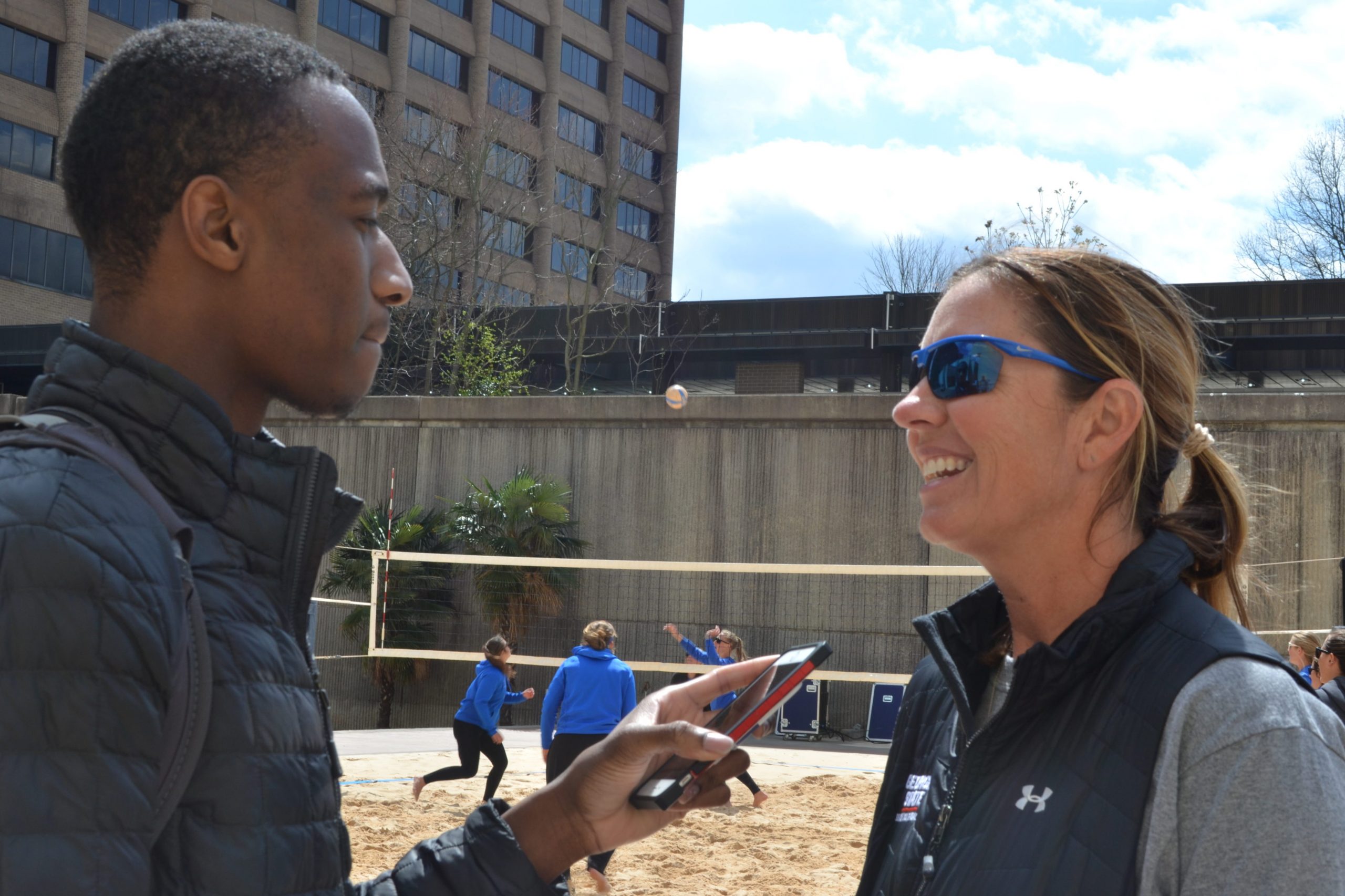 Women's beach volleyball head coach Beth Van Fleet is now in her fourth season at the helm of the Georgia State program. She is very familiar with the school as she played her college career at Georgia State. Van Fleet recorded incredible numbers for digs and kills. Before she became the head coach, she was an assistant on the inaugural beach volleyball team at Georgia State.
The Signal: What is like being able to coach at your alma mater?
Coach Van Fleet: It's near and dear and something that's very special to my heart. I think that's a huge reason that I got into coaching at all because I had the opportunity to come back to Georgia State to get started.
The Signal: In your short time here, all of your teams have had over a .500 record. What do you think are some of the reasons behind that? Also, how have you been able to translate your success as a player into being a coach?
Van Fleet: First of all, it's incredible that we've had over .500 seasons, and I think a lot of that is because of the support that the administration has given us since day one. They've built an incredible facility for the athletes. It's very intriguing when recruits come on campus to be able to see themselves playing in our three-court facility, so the support from administration has been monumental in our success. Beyond that, from a coach's perspective, I think especially early on I relied heavily on my playing experience professionally, and used a lot of that information and what I had learned struggling through eight years on the pro tour myself and trying to improve the learning curve of out athletes here. But most importantly I think we're successful because we're gritty, because we're hungry and we work very hard.
The Signal: Did you play for Team USA?
Van Fleet: I got to represent the USA in the NORCECA games.
The Signal: How was that experience?
Van Fleet: Being able to travel at all to represent your country is just such an incredible honor. So I was able to play on the NORCECA tour, and I think I played in four or five different stops. You would go compete against other athletes from North America, Canada and the Caribbean. But just getting to see the game from different perspectives, from strengths that different countries had and trying to learn how to play to that, just helped us all to become better athletes.
The Signal: Which do you enjoy more? Playing or coaching?
Van Fleet: I think I probably like coaching more now, but I loved playing. I absolutely loved going through the workouts and feeling terrible so that you could feel great in competition, but I'm really loving the coaching space. I feel like I'm able to impact and help a lot more athletes than just myself.
The Signal: What is your favorite moment from your playing career?
Van Fleet: My favorite moment from my playing career is the time that I got into the top-10. My partner got six-packed, her glasses flew off and ended up changing the momentum of the game from that play on, and ended up getting into the top-10, which for me was like winning a gold medal. It was a really special time.