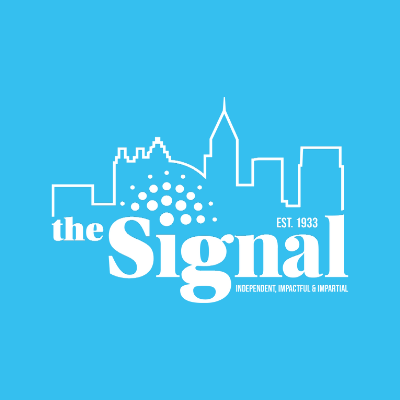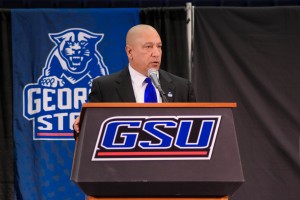 Trent Miles, Georgia State's new head football coach was officially introduced during a press conference at the GSU Sports Arena on Monday, Dec. 3.
"As Georgia State Football enters its next chapter with the move to FBS (Football Bowl Subdivision) and the Sun Belt Conference, we need a program-builder, and that's exactly what we have in Trent Miles," Director of Athletics Cheryl Levick told Georgia State athletics. "He is a dynamic leader, a tireless recruiter, and a talented coach who will take this program to the next level."
Miles, who was the head coach of Indiana State University the last five seasons, becomes just the second head coach in school history, replacing Bill Curry who recently retired from coaching.
"We look forward to building upon what Coach Bill Curry has started," Miles said. "He is truly a legend in this profession, and his efforts are greatly appreciated. We are ready and focused to begin the process of taking Panther Football to the next level."
Indiana State gave Miles his first opportunity to be a head coach in 2008.  He inherited a program that registered a single victory in the three seasons before his arrival.
Miles' first two seasons at Indiana State were much of the same as the Sycamores went 0-12 in 2008 and 1-10 in 2009.
The next three seasons saw Miles and the Indiana State post records of 6-5, 6-5, and 7-4.
The 7-4 record in 2012 featured an upset of top-ranked and defending national champion North Dakota State in Fargo, N.D.
Miles showed the ability to adapt to his personnel and get the most out of his team while at Indiana State.  The Sycamores offense was highly ranked in 2010 while scoring over 30 points per game.  Their defense was third in the nation this past season as they gave up an average of 14 points per game.
The 49-year-old Indiana native played college football at Indiana State from 1982-1986 and immediately entered the coaching world following his time there.
He has made stops as an assistant and position coach at several universities, including Oklahoma, Stanford, Notre Dame, and Washington.  He also spent the 2000 season on the staff of the Green Bay Packers.
Miles and his coaching staff will look to steer the Georgia State football program in the right direction following 3-8 and 1-10 records the last two seasons.  The challenge will be daunting as the Panthers will move into the Sun Belt Conference and the FBS next season.