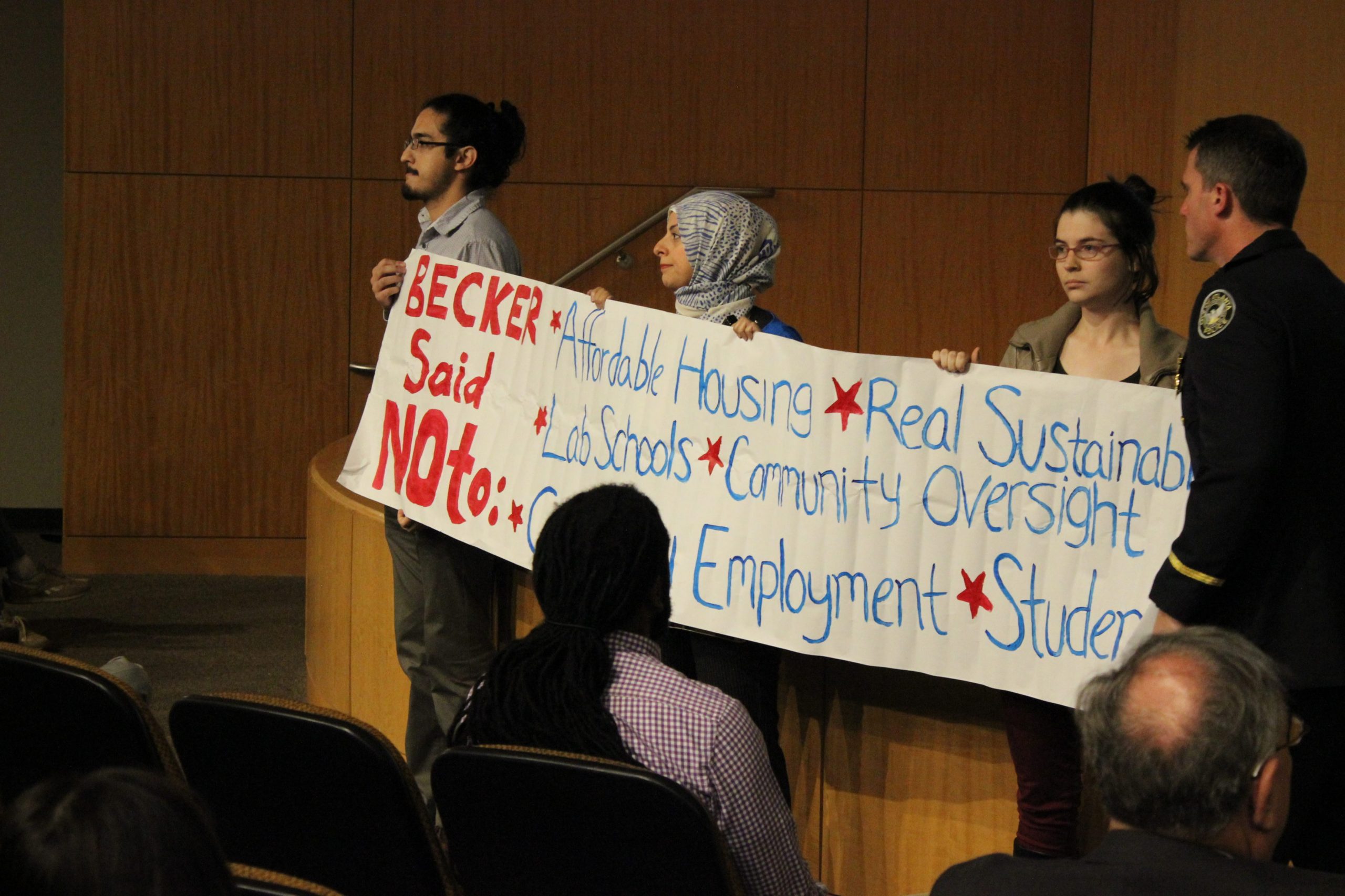 By Dominique Times and Wesley Dunkirk
Central Atlanta Progress (CAP) and the Atlanta Downtown Improvement District (ADID) held their first town hall meeting of 2017 on Jan. 26 in Student Center East, to update residents about public safety, current construction projects and potential developments including a Downtown casino and bright lights district.
The meeting featured a safety briefing from the new Atlanta Police Department (APD) Chief of Police Erika Shields, who was sworn into the position on Jan. 10. Shields said APD has identified two specific groups they want to target to prevent crime – adult and juvenile repeat offenders — and use a more community-oriented approach in doing so.
"These issues are really pounding us day in and day out. It's a relatively small number of individuals driving a disproportionate amount of crime," Shields said. "I don't need an abundance of traffic stops so we can get weed. I want to see all of our departments focused on these two areas."
Shields added that APD is currently working with city hall to develop an outreach that brings in juvenile offenders and their parent or guardian to offer social services and connect them as a family unit, which Shields said could provide a source of hope.
"If you ask the young folks we're arresting 'who lends you a hand?', it's the gangs," Shields said. "We need to insert ourselves as a community so that is not their only lifeline. We may not be well-received, but that's okay because I'd rather these folks saw us in the capacity other than the bad cop patrol car."
Downtown Atlanta's Zone Five won the 2016 Crime Reduction Award with an 11 percent reduction in crime. Major Scott Kreher, Zone Five Commander, said he wants to see similar numbers again this year. Car thefts still remain a major problem in the area, and APD is promoting a Clean Car Initiative to remind residents and visitors to keep valuables out of plain sight.
The town hall meeting also addressed the possibility of a casino coming to Downtown Atlanta. The controversial topic has been under the city's consideration, since MGM Resorts International proposed a $1 billion gambling complex in 2015.
CAP conducted a year-long, independent study entitled Casino Gaming in Georgia that compared Atlanta to similar cities with casinos– New Orleans, Detroit and Pittsburgh – to determine the impact of casino gaming at both the state and local levels. The research found that although casinos can generate additional state revenue, the money primarily comes from residents, not tourists, and local communities are likely to see negative social impacts including increased crime, drug and sex trafficking and problem gambling.
Project Manager of Economic Development for CAP, Alena Green, said the actual reason behind building a casino downtown is the most important matter to consider.
"Given these pros and cons, really taking a look at what is your compelling reason for wanting to bring a casino to your community," Green said. "Without those objectives, without negotiations with a casino developer, we're unlikely to see a positive impact from gaming going forward."
Casinos are currently illegal in Georgia, but a bill that would allow the state to issue two casino licenses was filed on Jan 25.
In the midst of the presentation, Georgia State students in the group United Students Against Sweatshops (USAS) strode to the front of the Speaker's Auditorium and stood before the stage holding a banner that read "Becker said NO to:" followed by a list of items related to the Community Benefits Agreement (CBA) that the group has long been campaigning for.
Police officers present at the meeting immediately escorted the group out of the auditorium.
USAS members who were not removed from the premises continued to ask about the CBA, when CAP/ADID president, A.J. Robinson began the meeting's question and answer segment. USAS representative, Patricio Cambias, said the protest was intended to put public pressure on President Mark Becker.
"We understand that many of his [Becker's] important business partners were present in the room, and we want to make sure that they're aware that Georgia State students are protesting their university president," Cambias said.
Becker is a member of the CAP executive committee, but was not in attendance during the town hall.
Ryann Elizabeth Flynn, Georgia State student and USAS member, claimed that Becker would have attended if he hadn't supposedly gotten wind of the group's protest.
"[Becker] literally hid today because he knew something was going to happen," Flynn said. "They were talking about the stadium project, so he would have had to come see what was going on, and he would've flashed his smile and acted all happy about the money he's taking from students."
Cambias told The Signal that USAS has more actions planned for the future, and that they "will get a response" from Becker. The group also made an appearance at the university-wide Student Government Association meeting later the same day.
The town hall continued with discussion about the new stadium at Turner Field and new apartment complexes under construction this year. Robinson also hinted that Marta stations may see recreational developments similar to the new soccer field above the Five Points Marta station.
CAP/ADID has also been working to create an arts and entertainment district that would reach from the Georgia World Congress Center east to Piedmont Avenue, and from Ivan Allen Jr. Boulevard south to Underground Atlanta. The project would illuminate the city's core with large, neon signs, bright lights and video boards that, according the CAP website, would be similar to Denver's Theater District or Times Square in New York.
"We don't want this to be your everyday billboards with old technology, we want this to be more like an art project," Robinson said. He added that no new signs have been added to downtown since the 1996 Olympics.
CAP/ADID has been pushing for legislation that would remove restrictions on signage height limits and allow light projection on empty building walls. The proposed district could become a reality as the city prepares to host Super Bowl 2019.
Casino Pros and Cons
Pros:
A new gaming facility would presumably capture leakage of Georgia's gambling spending out-of-state.

Georgians are currently estimated to spend between $570 to $670 million/year at casinos in adjacent states; Under the recently proposed legislation, this translates into $90 – $107 million/year in potential tax revenue.
Cons:
Out of the four case cities studied, most stakeholders reported that the majority of casino demand was from regional residents. Casino attendance was flat or declining despite broader increases in tourism in the city.

There are several types of social impacts that need to be considered and planned for including problem gambling, crime, bankruptcy, political corruption, and other quality of life issues.