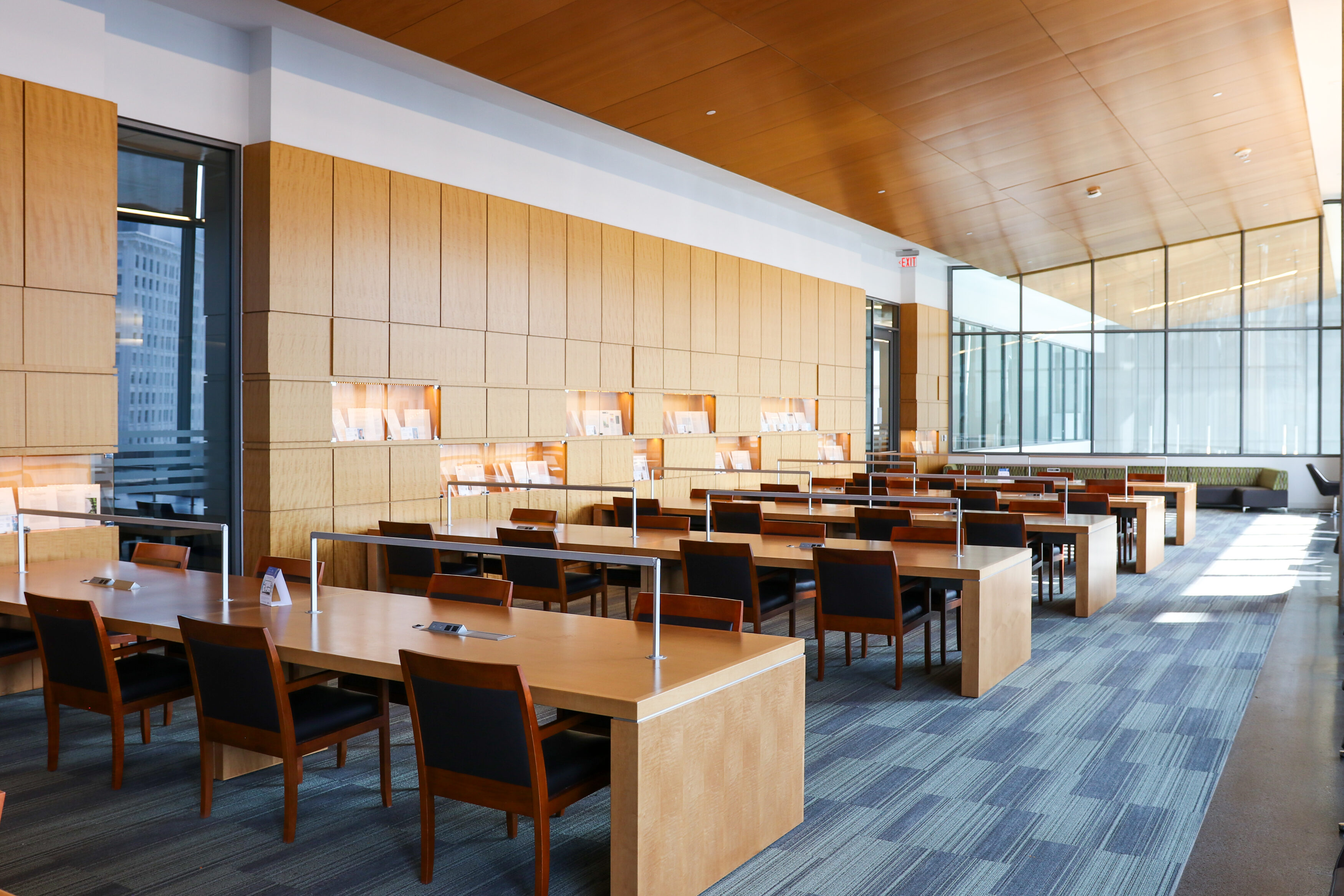 Georgia State's campus holds a variety of people and places to study. A downtown campus can be overwhelming with the city's noise and busy life, especially for freshmen and new students. This guide offers a new perspective on study spots that some students aren't aware of. These unique places provide a serene environment conducive to concentration and productivity, allowing students to fully immerse themselves in their studies. 
Library  
Starting simply, a beloved spot for many students on campus is the library. Library South and Library North can easily confuse many new students, as they expect two different libraries based on the name. However, Library South and North are the same library but hold two separate entrances. There are five floors, with each floor designated for students' preferences. If a student is looking for a place to study with a bit of noise to hang out with friends, the first four floors are preferred. On the flip side, if a student is looking for a strictly quiet place, the fifth floor is considered the silent floor, which is the busiest during exam season. 
Starbucks 
The campus provides two different Starbucks locations, which are often very busy as it is a favorite treat and place to study for many Georgia State students. One Starbucks is held in the Hurt building, which can be found right in front of the green space. The other Starbucks can be found in front of the Aderhold building. Both Starbucks locations are near classes for most students, so it is the most convenient place to visit for students to study. In addition to being conveniently located near classes, the Starbucks locations on campus offer a wide variety of beverages and snacks to fuel students during their study sessions. The cozy atmosphere and free Wi-Fi provided by Starbucks make it an ideal spot for students to relax, socialize and focus on their academic tasks. 
Law Library 
Georgia State's law library is a hidden gem that many non-law students often don't know about. The law library provides much different scenery for students; it is a taller building with serene views of the city and quiet places to study. Aside from its unique architecture and peaceful atmosphere, the law library offers an extensive collection of legal resources and research materials. Students can access a wide range of legal databases, journals and books that are essential for their studies and academic success. 
55 Park Place 

When students hear about 55 Park Place, they often think of organizational holdings, important meetings and a parking spot, however, it offers a much greater value. 55 Park Place has various study spots that students enjoy, including a beautiful view of the campus and private rooms to rent. These study spots provide a peaceful and conducive environment for students to focus and enhance their productivity. Additionally, 55 Park Place offers amenities such as high-speed internet access and comfortable seating arrangements, further enhancing the overall study experience for students. 
Green Space 
During the warmer seasons, most students can be found in the green space, either studying or hanging out with friends. The green space allows students to study while nourishing themselves in the sun and the weather. It provides a peaceful and refreshing environment that enhances concentration and productivity. Additionally, the green space offers an excellent opportunity for students to take breaks, relax and socialize with their peers, creating a sense of community on campus.