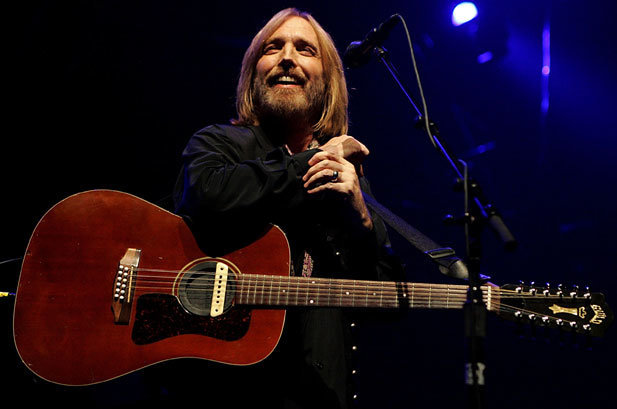 Tom Petty is an American icon, to say the least. His songs have a certain weightlessness to them that make the listener feel each song in its own unique way. In their simplicity lies its accessibility, just some feel good rock and roll songs that will be stuck in your head for weeks. If you aren't familiar with his songs, his legacy is not going anywhere, and it is never too late to get on Spotify or pick up an album.
My introduction to Tom Petty came from a skateboarding video in 2010. In terms of his life- long career, 2010 is for a Petty fan is a pretty late bloomer, but I'm glad his music caught my rushing, 14-year-old attention span. In my youthful search for being cool, having a Tom Petty song stuck in my head seemed very uncool at 14, but I could not deny its driving guitar riff and Petty's voice.
To be completely honest, classic rock wasn't "cool" in 2010, but Tom Petty made it cool for me and other aspiring artists. He created a sound that was so simple and relatable that it created a lot of "Okay, bear with me, but check this Tom Petty song out" moments amongst me and my friends. He had a timeless sound and the songwriting abilities to draw an audience even 25+ years into his career, which speaks to his legacy the most.
My interaction was all after classic hall of fame songs like "American Girl," "Breakdown," "You Don't Know How It Feels" and so many more. Tom Petty and his band the Heartbreakers had endless hits straight from their inception in the early 70's in Gainesville, Florida. From then on they spread their influence to all walks of musical life.
Musical Influences
Tom Petty and the Heartbreakers had a couple different modes. They could fly through the clouds on an acoustic driven ballad, they could turn it up to a fast paced barn burner or they could melt the audience with a blues tinged riff session. Never overstaying their welcome, they rode each musical moment for as long as it felt fresh. This is all paired with the raspy, rough but light voice of Tom Petty himself, which solidified the band's sound—always with a guitar solo included.
Dave Grohl, founder of the Foo Fighters and former drummer in Nirvana, was offered a job to drum for Tom Petty and the Heartbreakers after Nirvana disbanded due to the death of Kurt Cobain. His wild, aggressive drumming style fit well on their performance on Saturday Night Live, but Grohl ended up not taking the job. However, he regularly covers the band in the Foo Fighters.
Petty also had a heavy influence on The Strokes. Their style of simple but potent songwriting of rock and roll music was taken straight out of Petty's pages. Driving guitars with just the right amount of grit with a signature sound of singer Julian Casablancas who gives his take of the American rock singer complete with attitude and style. The Strokes admitted at one point  more or less that they took the format of "American Girl" in their song "Last Nite" in a Rolling Stone interview, but Petty could not have cared less.
For the People
Tom Petty was for the people before he was for the industry. Examples like The Strokes taking the format of his song and his more or less shrugging it off is not a sign of negligence, but of the carefree attitude that is responsible for most of his songs. This carefree attitude was turned off in the case of MCA buying the ABC- owned record label Shelter records, which Petty put his first two albums on. He was included in the buyout as property of Shelter records, but he refused to be traded carelessly. Petty filed for bankruptcy and set himself free of contracts. This allowed him to actually make money when he signed next to an MCA subsidiary. There he released his hit-packed album "Damn the Torpedoes."
This smart business planning and measurable effort to seek the profits of your own intellectual property served as an inspiration in the future for artists stuck in a bad deal. He knew the value of his work from the very beginning and he showed that having control in that sense allowed others to take their band seriously financially.
The loss of Tom Petty is an incredible blow to the musical landscape and American culture. His songs have become iconic. His look and attitude are often replicated but never measure up. The lanky, big tooth side grin while he chugs along to hits such as "Refugee," "Learning to Fly," and "Free Fallin'" will be missed deeply.
Tom Petty had hits. There is no denying that. However some of the true bangers lie on the b-sides of his timeless records.
Top five deep cut Petty songs (in no particular order):
"Time to Move On"

"Even the Losers"

"Shadow of A Doubt"

"Honey Bee"

"Anything That's Rock N Roll"