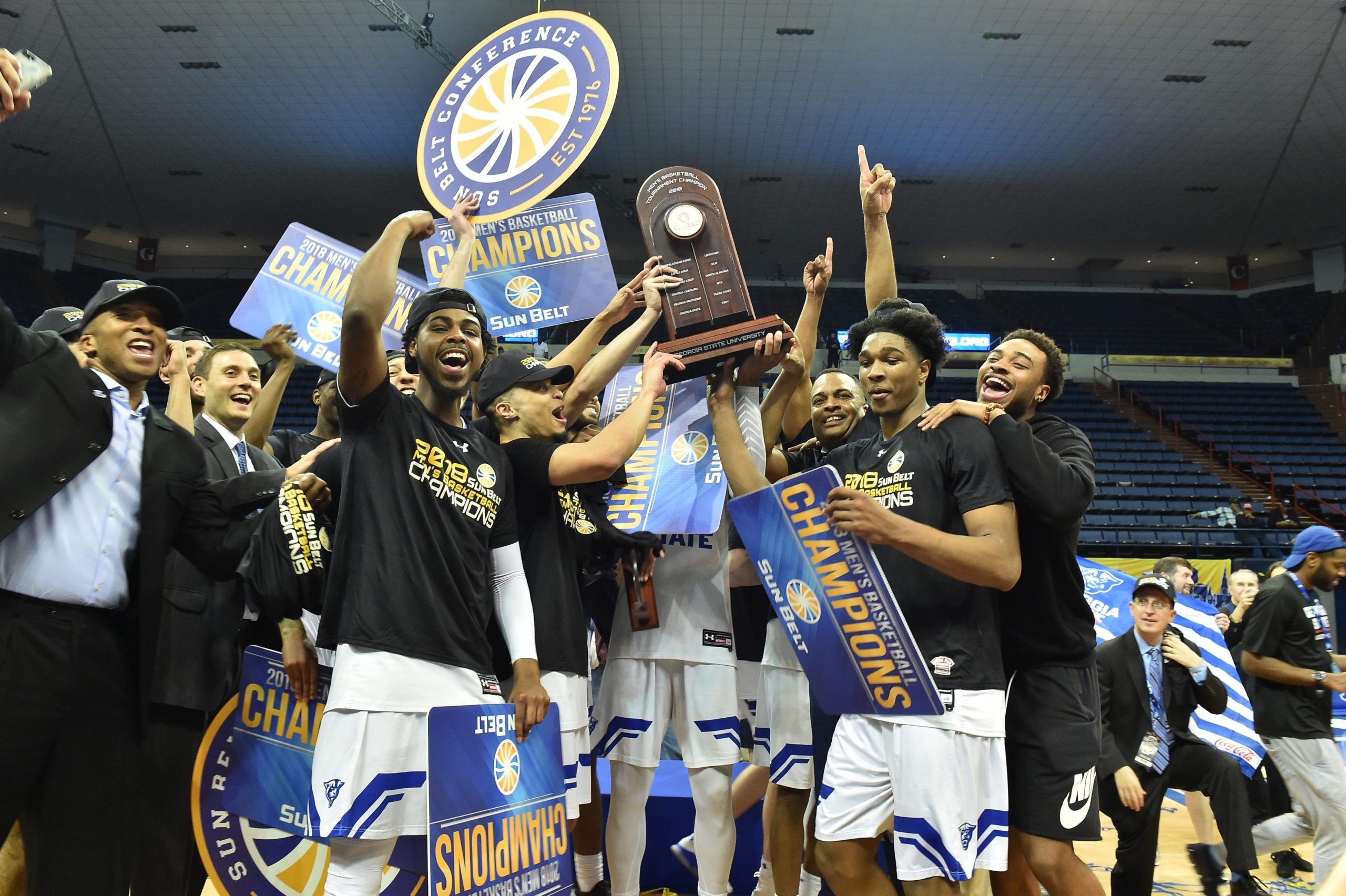 Head coach Ron Hunter did it again. Georgia State (24-10) is heading back to the NCAA Tournament after winning the Sun Belt Conference Championship 74-61 over Texas Arlington.
As the No. 15 seed in the South Region, they'll face No. 2 seed Cincinnati (30-4) on March 16 in Nashville, Tennessee.
Sun Belt Conference Player of the Year D'Marcus Simonds scored 27 points and was named the most outstanding player of the tournament. The Panthers' smothering zone defense held Arlington to 29.8 percent shooting and under 40 percent, a feat they've reached in their last four games.
"This is just unbelievable," Hunter said. "I told our guys that if they played defense the way they were capable of we could come down and win this championship. I'm so happy for our seniors, for our team, for our University and for the city of Atlanta!"
There was no Achilles injury for Hunter during this year's celebration like there was in 2015.
"I'm healthy, I didn't break anything today," Hunter said.
The Panthers jumped out to an early 9-4 lead behind seven points from Simonds. After the Mavericks got things going offensively, Georgia State opened up a 30-18 lead, highlighted by two three-pointers from Devin Mitchell.
Arlington climbed back into the game again and made it a 33-30 going into halftime. The much smaller Panthers were outrebounded 25-16 in the first half and went on to lose that battle 43-31.
The day before in the semifinals, Georgia State watched their 15-point halftime lead over Georgia Southern become three. History didn't repeat itself– the Panthers locked in after the break and went on a 24-8 run, pushing the score to 57-38.
Simonds put a stamp on the win by dunking on 7-foot Johnny Hamilton with 3:45 remaining. The wire-to-wire victory, clinches State's fourth NCAA Tournament berth in program history.
Mitchell finished with 13 points including three three-pointers. Gel of the team Malik Benlevi stuffed the box score with 11 points, six rebounds, five steals and one block.
Georgia State's two NCAA Tournament appearances are the most of any program in the state of Georgia since 2012. Behind 'The Shot' from R.J. Hunter in the 2015 NCAA Tournament, Georgia State upset No. 3 seed Baylor as his father fell coaching from a rolling chair.
The first round matchup is the first meeting between Georgia State and Cincinnati. Tipoff is Friday, March 16 inside Nashville, Tennessee's Bridgestone Arena at 2:00 p.m. EST.