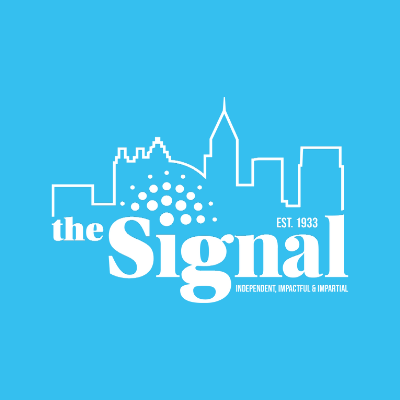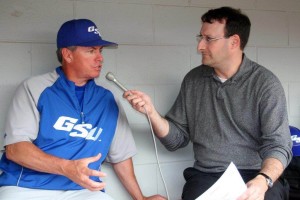 If anyone has listened to 1340 The Fan 3 or WRAS-FM, they've probably heard Dave Cohen, the 18 year broadcast coordinator veteran who calls all of Georgia State's baseball, football and basketball games.
Cohen has been involved with Georgia State radio broadcasting going all the way back to his college days doing the sports updates at WRAS-FM, which is the student media radio station.
Cohen has been involved in the business now for 33 years, previously calling football games at Furman University for 12 years prior to coming to Georgia State.  
Cohen is mostly seen at Georgia State basketball homes, opposed to being in press boxes for baseball and football. Cohen has the tallest chair at the media desk on the side of the court, similar to Los Angeles Lakers head coach Phil Jackson.
He still remembers when he called his very first game and explained how every bit of it was a learning experience.  
"A Canadian basketball team was playing at Cobb County Recreation Center in 1983 and that was the first game I remember doing," Cohen said.
"It was a learning experience from the get go as—I tell people now who want to get into doing play-by-play, you can read about in a book, you can watch and listen to people do, but the only real way to learn how to do it is—to do it," Cohen said.
Previously and still some today, there are radio play-by-play announcers who have a loud deep voice. The commanding sound of the deep voice was essential to have going back to the 1960's. Now there has been somewhat an evolution to where everyone does not need a deep voice to make it in the radio broadcasting industry.
"Back before television and before ESPN, where they televise every game, the radio announce was the voice and the outlet for the team," Cohen said. "Whether it was radio play-by-play at University of Georgia Larry Munson, former radio voice for Georgia Tech Al Cilrado — all of these southern colleges really have well-known guys who were there for years. A lot of them who have what you would call 'booming' radio voices. I don't think you really need that as much now."
The industry has changed to where everyone needs a familiarity in all facets of broadcasting, from radio to television. The necessity of having the old-fashion voice is no longer an asset to hold.   
Radio broadcasting is more descriptive and tedious than television broadcasting due to the inability to see what's going on, which Cohen points out talking more and 'painting the picture' is important to do.
"You have to describe more in radio than you do on television," Cohen said. "For basketball, it's always what's the score, how much time is left, who has the ball and where the ball is on the floor."
"At times I have to remember to take it down to 80 [mph] down to 60 [mph] because I do not have to paint the picture in television," Cohen said. "In television you can see who has the ball and where, as for radio I have to explain where the player is and who has it. You've got to tell a whole lot more when you are on radio."
Cohen's wife sometime tunes into listen to Dave Cohen call the games and she critiques him at times, even when she's not paying attention.
"My wife will be doing something around the house and then I'll get home and she'll say, [you] didn't give the score enough, but I'll say yeah I did you're just not listening," Cohen said.
Some people who are not the industry believe the T.V and radio jobs are easy and not a real job. The preparation and immense amount of information that's required to be aware of is certainly not an easy task.
"I do what is called meticulous preparation and I've done the same preparation for years," Cohen said. "For every basketball game I do the same sheets that I've been doing forever. I've got a Georgia State sheet and I've got a sheet for the opposing team."
The sheets he use is to write down the information and statistics of every single player for both teams. For example, the heights, names weights and pertinent information that is needed to call a game.
Cohen alluded to the amount of manual work he does: calling the game, keeping the score in his stat book.
"It's not like I have a stat monitor like Turner Field does for the announcers in the press box," Cohen said.
Dave Cohen was a sociology major at Georgia State University, but had a strong interest in radio and was involved with WRAS-FM (student media radio station).
"WRAS is a lot different than today, then when I was there than it is now. It was ran like a professional commercial radio station," Cohen said. "It was a very strictly formatted schedule, you know we did sports three times a day, morning afternoons and evenings."
If any students who aspire to become involved in radio play-by play or even television broadcasters Dave Cohen has a piece advice for those:
"You can take all the classes that you want (not saying don't take them), but you have to get out there and do games. Sometimes being in Atlanta it's hard to get that radio experience, so you may have to go outside of a large market to get that level of experience," Cohen said.