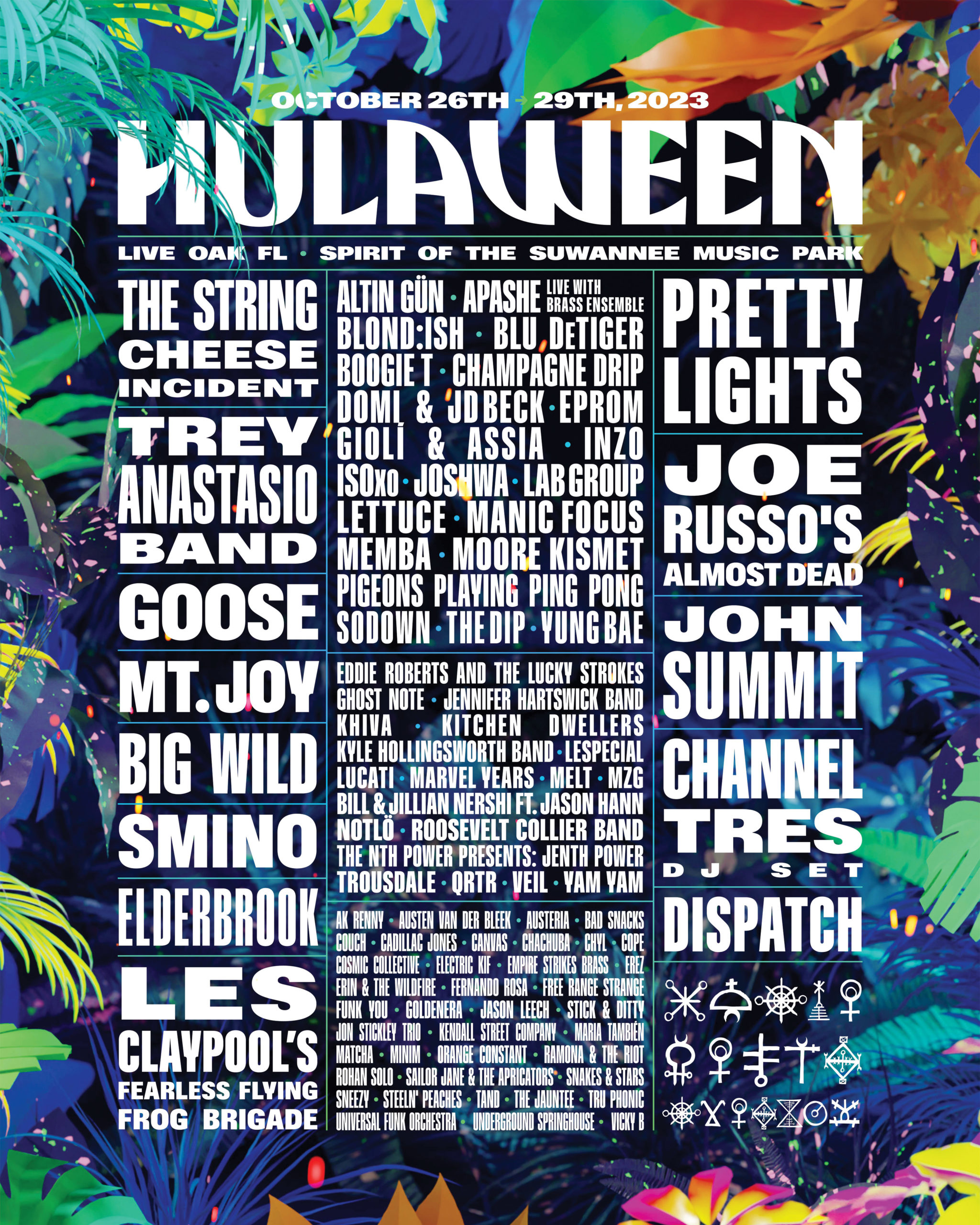 In a small, wooded town just on the outskirts of the Florida/Georgia line, Suwannee, Florida is transforming once again into a playground for the imagination. With a plethora of stunning art installations, a genre-crossing lineup and a milestone anniversary to celebrate, Hulaween is the perfect destination for Halloween lovers who are eager to spend a weekend dancing under the light of a full moon. 
To celebrate the excitement of a decade of Hulaween, the festival did not skip out this year on the lineup, making sure that some of the best artists in the EDM community would be present to bring life and light to the North Florida woods. Here are The Signal's top ten acts to see at Hulaween this Halloween weekend, and they are not acts to be missed. 
Big Wild
Vocalist and instrumentalist Big Wild is a trailblazer in the EDM world. Daring to mix genres such as indie, electronic music, pop and more, Big Wild creates music that feels almost as etherall as it is groovy. In his most popular song "6's to 9's," he creates sounds that are almost impossible not to dance to. His genre-defying music keeps listeners on their toes, as multiple of his songs are wrapped in completely different sounds and ideas. As a master of buildups and big beats, Big Wild creates funky, psychedelic music that engulf listeners, making for the perfect Hulaween headliner. 
2. Dispatch
One of the more successful roots-rock bands that have emerged out of mainstream music, Dispatch has over 25 years of music industry experience under their belt. The band's life experiences, as well as their deep interest in the divisive political climate, make their music stand out amongst some of the other artists in this year's Hulaween lineup. The five-piece band released their 8th studio album, Break Our Fall, in the summer of 2022, when they hit the road with O.A.R., another highly acclaimed roots-rock band. With heavily emotional lyrics and personal anecdotes sprinkled all throughout their songs, this is a can't-miss act this year at Hulaween for fans of heartfelt storytelling and easy, laidback rock. 
3. Goose
With small-town friendship chemistry and an indie/folk feel, Goose became popular after fans discovered their catchy, pop-friendly music that resonates well with anyone who has a genuine love of music with a groove. The American jam bands' trippy riffs and mellow lyrics transport listeners into an alternate dimension of musical ecstasy. As the band continues to climb up the industry ladder, they stay true to their original roots and sounds, which can be seen in their surprise EP Autumn Crossing, which released this past september. 
4. John Summit
Chicago native John Summit shot up like a rocket these past couple of years within the global electronic dance community, reaching about five million monthly listeners on spotify this past year. His mix of deep house, techno and progressive house creates the perfect space for high-intensity dance parties that could last all night long, which is perfect for Hulaween festival-goers. 
5. Mt. Joy
With great influences of mountain-folk and twists of alternative indie, Mt. Joy brings a brilliant mixture of lyricism and mellow melodies to Hulaween. With popular songs such as "Astrovan," which pokes fun at a doobie-loving, deadhead Jesus and "Strangers," which more seriously dives into what it feels like to find love in unfamiliar places. The Philly-based band intertwines themes of life, love and tragedy into their music, which resonates deeply with a lot of listeners all the while keeping a mostly upbeat musical style. 
6. Pretty Lights 
After taking a five-year hiatus from music, Pretty Lights is back and better than ever at Hulaween this year, taking the stage and performing a plethora of songs that feed into the "dubtronic hip-hop" scene, which is a widely unexplored genre that features real-time data and creation, making for a wildly innovative take on Electronic Dance Music. Apart from the musical aspect of their performance, Pretty Lights also designs a breathtaking light show to accompany their sets, which make for an overall unforgettable experience. 
7. Smino 
Hip-hop artist Smino creates space for experimentation in his music, bringing new, innovative sounds to modern day hip-hop. With two studio albums under his belt, Smino is soaring as he continues to expand in his career. The rapper has collaborated with a number of decorated artists, including J. Cole, who is featured in his hit song "90 Proof." With dashes of comedy and intensive lyrics about love, Smino is bringing a truly unique act to Hulaween. 
8. Blu Detiger 
With hits like "Figure it Out" and "Vintage," Blu Detiger is trailblazing in the indie-alternative-pop scene, making a name for herself as a Bass prodigy, DJ and killer vocalist. NYC born and raised, Blu Detiger has played in a plethora of bands from a young age, however she made a name for herself in 2020 as she started to write and produce her own music. She currently has around 120 million global streams, and she is continuing to rise to stardom as she travels, tours and plays major festivals all over the globe. 
9. Boogie T
Since the age of 8, EDM artist Boogie T has created music that stays in tune with his swampy, southern Louisiana roots. His music combines funk, riddim, dubstep and more to create a high-energy, intense, loud and electrifying EDM experience that leaves audience members headbanging and foot stomping. Apart from Djing, Boogie T also proves his wide musical abilities through playing a multitude of instruments during his performances, including the guitar, piano and bass, as well as his use of lyricism, vocals and rap. 
10. Champagne Drip
Rooted in bass and dubstep, Champagne Drip's diverse musical deviations and sonic textures make for an all-around immersive musical experience. Wonky beats mixed with ethereal rings make Champagne Drip an artist that defiantly breaks stereotypes surrounding modern day electronic music. His rave-ready music is perfect for the Hulaween crowd, and his genre-bending experimental sound will have festival-goers eagerly awaiting his set.