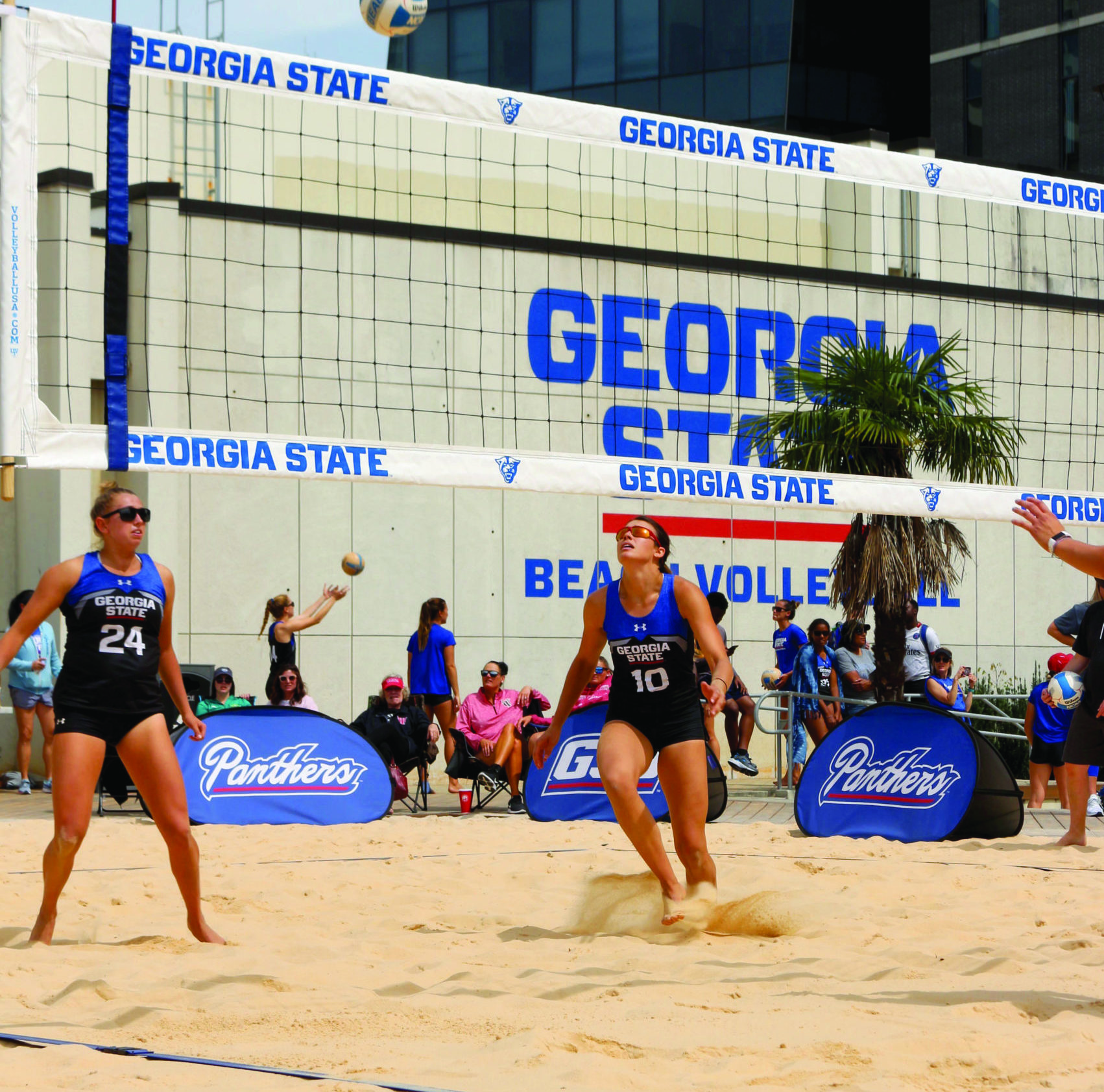 As the semester rolls on and edges closer to spring, Georgia State will welcome back beach volleyball. With familiar faces returning, new and exciting freshmen joining and players returning from injury, fans can expect a very exciting season from the Sandy Panthers.
The 2019 season was a successful one, behind multiple successful tournaments and an almost perfect record at home (5-1). The season ended with a semi-final loss to Florida State in the CCSA Tournament and falling just short of a bid to the NCAA tournament. The team graduated three ladies, leaving a large leadership role in the air for the taking.
"I am incredibly excited and also a little nervous because it's the last go-around,"  senior Georgia Johnson said. "I want to make the most out of the season every opportunity we get."
Along with Johnson, three other seniors will look to take the leadership role: Maddie Gordon, Kate Novak and Olivia Stasevich. All four ladies know the importance of leading the team and want to make the most of their final season as Panthers.
"I think that this last year is going to mean so much for all of us … we've been a team for so long," Gordon added. "We're leaders of our team, so I think that's really exciting for all of us."
Apart from soaking up the sentimental value of the season, the long off-season has fueled the drive to compete even more.
"Our off-season is so long, so there is so much build-up to the season; I think we're all so ready to play other people," Novak said.
Additionally, the long lay-off has meant persistence and hard work.
"I think we're all excited to go into the season; we've worked so hard in the off-season and pre-season," Gordon said.
The Panthers, despite losing three seniors last year, will welcome two new freshmen to the team. Jessica Maxson from Florida and Elise Saga from Norway will look to hit the sand and make an immediate impact for head coach Beth Van Fleet. 
The coaching staff will see a new face as well: assistant coach Wayne Holly. Holly joins the staff after a long six-year run as head coach at Tulane University. For Van Fleet, she enters her 7th year as head coach and is excited to pick up where they left off last season.
"Each day for practice, this team shows up with grit, passion and commitment. They are an inspiring group of humans, and it is thrilling to do this work on a daily basis," Van Fleet said. "We are excited for the competitive portion of our season to begin, especially the CCSA duals."
Both Van Fleet and players have been putting in the work, and the goals are set in stone for this season.
"The goal is to be one of the top three teams on the East Coast, and we will get there through consistent and thorough preparation," Van Fleet said.
The Sandy Panthers open their season up on Feb. 21 at the UNF Beach Invitational in Jacksonville, Florida. The team will look to get off to a hot start right away, with games against Florida International, North Florida, Mercer and Florida Atlantic.
"This team can go really far this season," Johnson said.