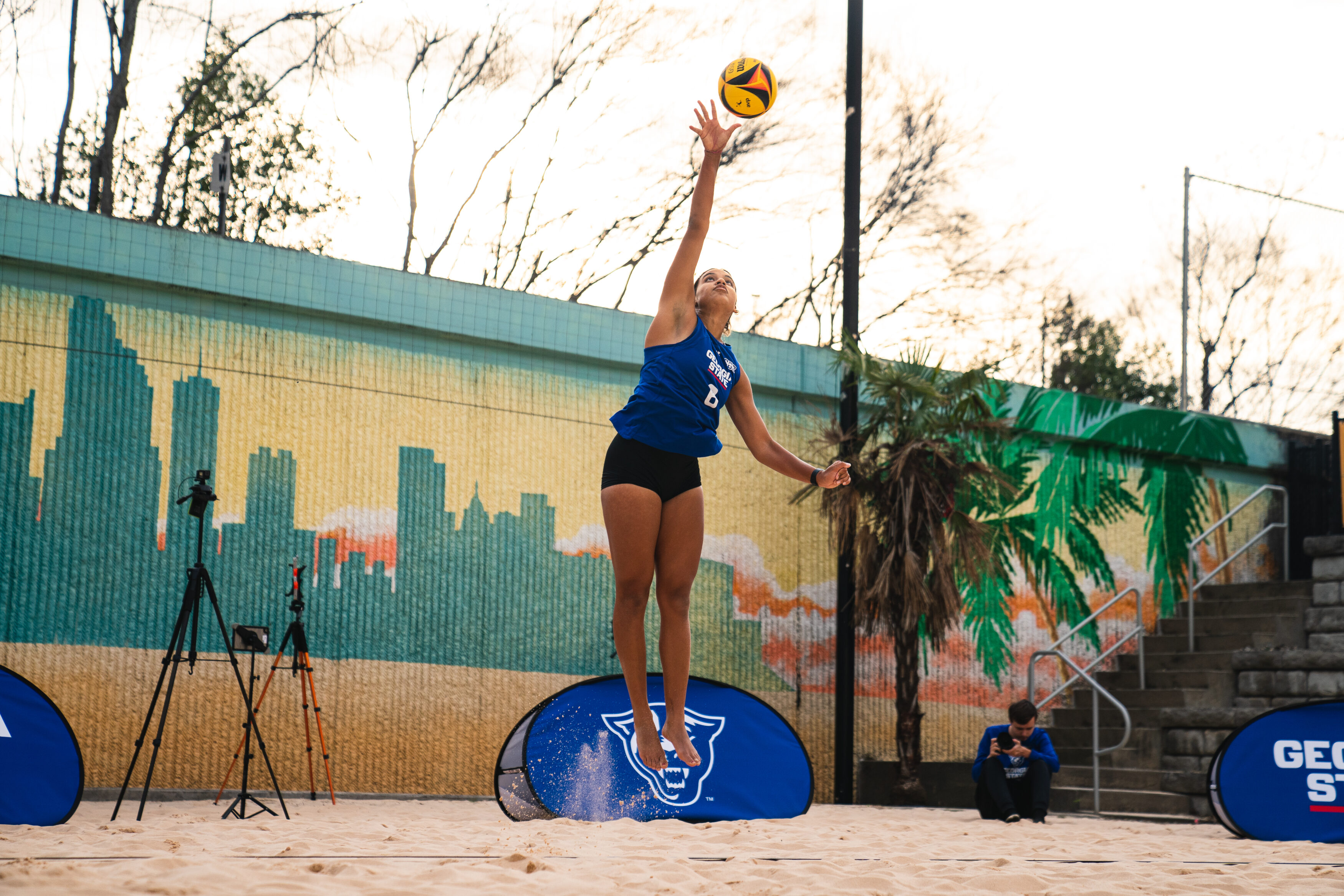 With a month left in the beach volleyball season, Georgia State holds the fourteenth rank in the nation with a 15-13 record, having just the Hawai'i Invitational and Sun Belt Conference Championship before their attention turns toward the NCAA championship.
Last season the Sandy Panthers finished tenth in the nation, and made it to the third round of the NCAA volleyball tournament where they fell three to zero against third-ranked UCLA. This season, Georgia State is hoping to make a deeper run in the tournament, and they're not far off.
Georgia State is heading into the Hawai'i Invitational with momentum as the team is coming off a 5-0 win against UAB at the GSU Diggin' Duals with players Maddy Delmonte and Ayla Johnson taking home Sunbelt Volleyball pair of the week. This is the third time this season a Georgia State duo has taken the weekly award as Destiny White and Aliisa Vuorinen won it in week two, and Angel and Bella Ferary won it in week five.
When asked about how she felt about the team, head coach Beth Van Fleet felt very strongly about how her team competes.
"We're a really good team, and we're going to be competitive on the national level, but there's more to this program than that," Van Fleet said. "We're setting our players up to go on for greatness and to continue to be great later in life." 
Van Fleet also spoke proudly when describing how her team performs against high level competition. "I think we do a great job of making the most of our place here, we don't look around at the things we don't have and worry about it," Van Fleet said. This has proven evident as the Sandy Panthers have been ranked 58 straight weeks in the AVCA polls. 
The road ahead for the Panthers isn't easy though as they face 20th-ranked Arizona and eighth-ranked Hawaii in the Hawai'i Invitational this upcoming weekend. The Panthers faced off against Hawaii once earlier in the season but fell short in a one-to-four loss against the Rainbow Wahine. After thriving in Georgia State's Diggin' Duals, players and coaches are confident in their ability to have a strong performance in Hawaii, and even the score against the nation's eight-ranked team.
Fifth-year senior Kelly Dorn from Trophy Club, Texas spoke on how well the Panthers adapt to playing against different teams. "I've been here five years, and the way we played my freshman year I don't feel like is the way we play this year," Dorn said. "Every year, we're adapting. We're seeing what other teams are doing. We're seeing what we can do better. We're trying weird options. We're trying new defenses. Like, it just grows every year." The Sandy Panthers have shown they can adjust to playing top-end talent as they have notched five top-20 wins so far this season.
Overall, Georgia State is expected to make a run for the beach volleyball championship as they did a season ago, with players and coaches showing they are more than confident to do so, with many others expecting the same.