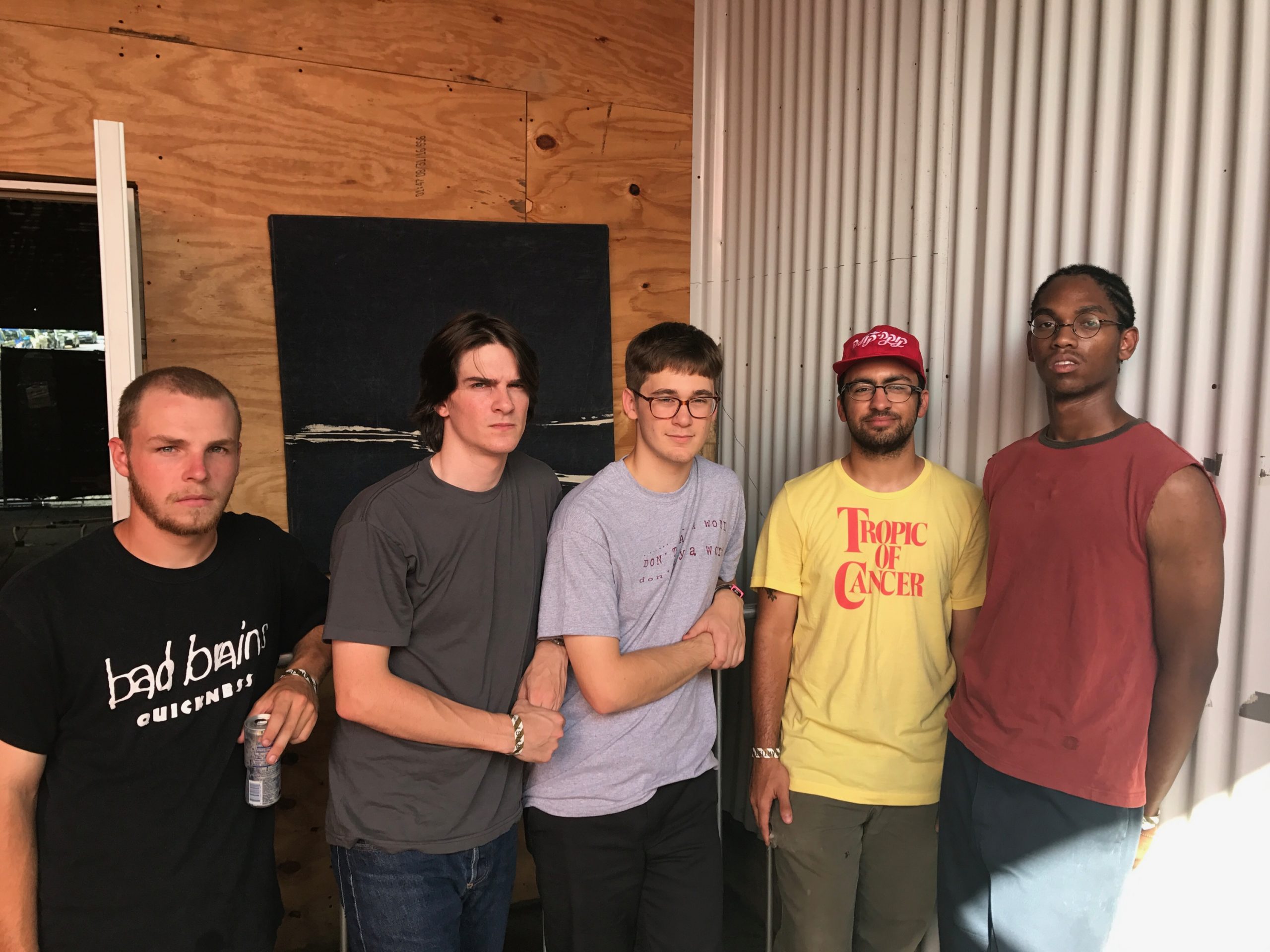 *Disclosure: Jalen Jenkins is a member of the band and also a staff reporter for The Signal.
On Oct. 15, my band Pay to Cum played at Afropunk in Atlanta. This festival puts emphasis on the creativity and culture of African Americans in the punk community while promoting a safe environment for both the people performing and festival attendees.
The festival has had some pretty big headliners including Solange, SZA, Tyler the Creator, Flying Lotus, and Lauryn Hill, just to name a few. So we felt lucky this year to play in both Brooklyn and Atlanta, and this is the road to how we got there.
The way there
Pay to Cum has been an idea longer than it has been a band. My friends and bandmates, Travis Arnold and Hunter Pinkston, toyed with the idea of starting a punk band like Bad Brains with Travis on the mic. I came into the picture after I met Hunter and booked his band, Dope Fiend, at a venue in Columbus, Georgia.
We all hit it off quickly and became good friends. After high school, Hunter went to the University of Georgia and Travis went to Georgia State. The idea of us being in a band started as a joke amongst friends – until it actually came into fruition when Hunter's older band came to an end.
Hunter was itching to start another band, so he approached me to perform a Bad Brains song with Dope Fiend playing and Travis on vocals. This was the first Pay to Cum show.
Cuming together
The name Pay to Cum strikes people hard. Maybe its because of the context, but it's not as graphic as people take it. The name comes from the first Bad Brains record with the song "Pay to Cum" on one side and "Stay Close to Me" on the other. This record began the legacy of what people might say is the greatest punk band of all time.
Combining lightning fast guitar work with vocalist Paul 'H.R.' Hudson's almost primal vocal delivery, there was something unbelievably raw about the Bad Brains. Every member of Pay to Cum relates to each other in our love and admiration for them.
In the spirit of Bad Brains' rawness, we thought it would be a good idea for Pay to Cum to be the name of the band. We set out to make music in a similar style because nobody in the punk scene was doing that at the time. So we started writing songs.
Travis had two ideas and as we hashed them out, we tried to make them sound like our influencers. We started recording on Travis' iPhone and sent them to Hunter where he went on to format them in his home/practice space in Athens. Then, we recorded the demo and released it early September.
After our first couple shows, things were looking good. Everyone seemed to dig our music and enjoyed coming out to our shows. We made a lineup change and took Hunter off the kit and into his natural habitat with a guitar in hands.
Curtis, who actually recorded our demo, started playing drums. The shows got bigger, and we started getting noticed by people outside of Atlanta, most notably by Afropunk. They featured us on their website early on, and would write about us as we would put out more music.
Then we got an email that rocked our world.
On the road to Brooklyn
Afropunk wanted us to play in Brooklyn. We were insanely excited because there's an Afropunk in Atlanta, yet they wanted us to play the festival in Brooklyn. We would also be playing at a festival that was hosting Solange, SZA, Gary Clark, Jr., and Princess Nokia, with other great, effortlessly cool, talented artists performing as well.
By this time, we had an LP out called "Band in Atlanta" and a live tape of a session in Athens. We also had a single, off the LP, titled "Moonlight You."  
We had the songs, the attitude and were ready to go and show them what's up.
We (a.k.a Hunter) drove the 15 hours to Brooklyn from Atlanta in one straight shot, all packed in a Honda Accord. We were so excited that we didn't even complain about how uncomfortable we were.
We had no home base once we arrived. We had a lead on a place to stay but as life goes, that fell through so we had to get crafty. Five of us all threw in money and squeezed into one hotel room.
Looks like we made it
The festival was a thing of beauty. A cultural melting pot filled with incredible people from all walks of life. Everyone had a smile on their face, even with the sold out festival being packed to the brim. We played early so we sound checked, waited a bit, got on and did our thing. We were a little nervous before we went on, but once we were up there it was just another show.
After playing and going through an interview, we were totally spent. We were worn out from the day and the hotel fiasco the night before, so a couple of us just chilled out in our tent. We caught a bit of Sampha and SZA and then headed to a hardcore punk show (not affiliated with Afropunk) that just happened to be in town that same night.
After coming back home, we saw online that they were using our music to promote the Atlanta Afropunk so we emailed them to see if we could play the festival in our home town as well. To our surprise, they responded and welcomed us back to the festival for Atlanta.
The road to Afropunk has been a crazy journey that none of us expected. The festival fully embraced us and our sound, and we're thankful for the opportunity to get up on stage and represent the Atlanta punk scene in a different medium.
Pay to Cum discography
"Demo" – 3 tracks and a cover
"Moonlight You" – Single promoting new album
"Transmitting Live from Athens" – live tape recorded live on UGA's WUOG on February 14th, 2017
"Band in Atlanta" – Full length LP
All music available at paytocum.bandcamp.com
Come see Pay to Cum on Oct. 31 with Abuse of Power, Slowfire Pistol, Except and more at Marlons Mansion, 559 Winton Terrace NE.