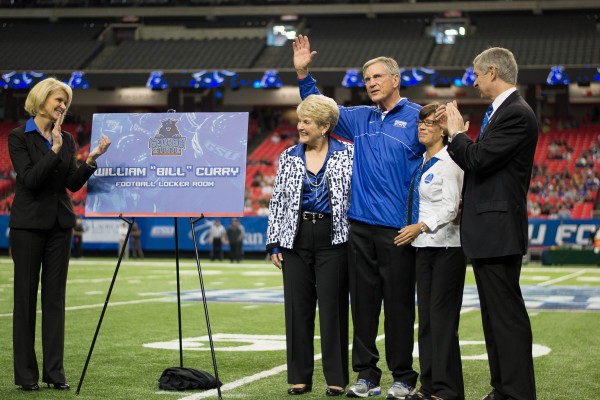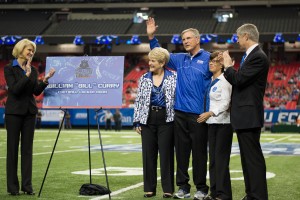 Bill Curry, the first and only head coach that Georgia State has ever known, coached his last game on Saturday.
Curry was hired in 2008 by Georgia State to launch the football program and led the Panthers onto the field for the first time in 2010, a 41-7 victory over Shorter in the Georgia Dome.
His three-year record on the field may not be remembered in the years to come, but the memories that he helped make will never be forgotten by those who shared them.
The 2013 season opener will mark the first game of the post-Bill Curry era at Georgia State.
You can add that to the mile-long list of firsts that Bill Curry helped create at Georgia State.
ACHIEVEMENTS 
• 20 years of head coaching experience.  Curry patrolled the sidelines as the head coach of Georgia Tech (his alma mater), Alabama, Kentucky and Georgia State.
• Curry received the Bobby Dodd Coach of the Year Award in 1989 after leading the SEC champion Alabama Crimson Tide to a 10-2 record.
• Named the ACC Coach of the year in 1985 and the SEC Coach of the Year in 1987 and 1989.
• Career coaching record: 93-128-4.
• Final record at Georgia State University was 10-23.
• Notable players that Curry coached- Ken Wisenhunt (GT), Cornelius Bennett (ALA), Derrick Thomas (ALA), Chirsto Bilukidi (GAST).
• Curry is a member of the Georgia Sports Hall of Fame.