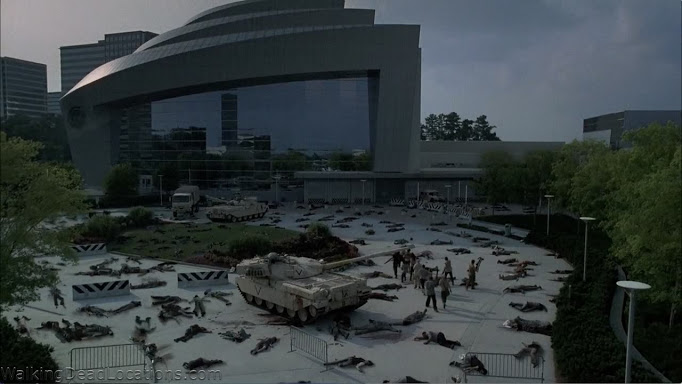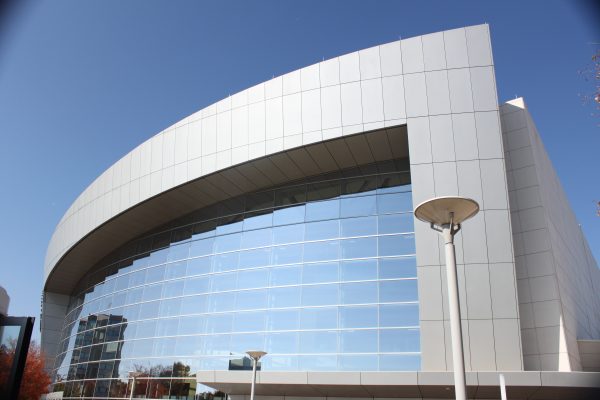 Atlanta is becoming a boom town for films and television shows. If you go back and look at season one of The Walking Dead, you may notice a few Georgia State logos hanging around, but have you ever wondered where the other scenes of The Walking Dead were filmed? Or maybe where scenes from The Hunger Games were shot?
The Atlanta Movie Tours is a company centered on just that, showing tourists and residents of Atlanta the precise filming locations of The Walking Dead, The Hunger Games, Gone with the Wind and much more. Those who purchase their tickets will be able to take a ride on a luxury bus for about 3 hours and get an in depth look at the very places they've seen their favorite characters in.
The tour is led by a guide who knows Atlanta movie and television history. They have knowledge about what it's like to be an extra on set, where scenes were filmed and what characters were involved in each.
Patrons don't sit on the tour bus and take pictures through the window either. There are several opportunities to get off the bus. The amazing feeling of knowing that where you're standing is right where your favorite characters stood is better than the closeup shots you can get of your favorite scenes. Replaying the each in your head will even amp up the excitement.
What You Need to Know
The Atlanta Movie Tours building is located at 377 Nelson St SW, Atlanta in the neighborhood of Castleberry Hill. Each tour is 65 dollars plus a 3 dollar ticketing fee and are 3 hours long.
There are three different tours to choose from. First is the Atlanta Film Sites Tour. On this tour you'll be able to see places that were filmed from movies such as What to Expect When You're Expecting, Good Deeds, Driving Miss Daisy and some of The Hunger Games: Catching Fire spots.
The Big Zombie Tour Part 1 and 2 focus on The Walking Dead locations and a little bit of Zombieland's. During Part 1 you'll see the downtown areas that were used as well as some spots in Cobb County. Part 2 is a tour of where they shot scenes in Senoia, Georgia.
The Gone With the Wind Tour takes you to locations of Atlanta seen through the eyes of Margaret Mitchell, the author of Gone with the Wind. You'll get a chance not only to see The Margaret Mitchell House, the place where she wrote Gone with the Wind, but also see important belongings and achievements of Mitchell.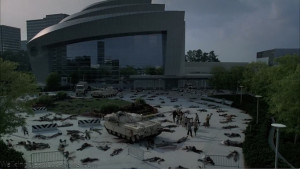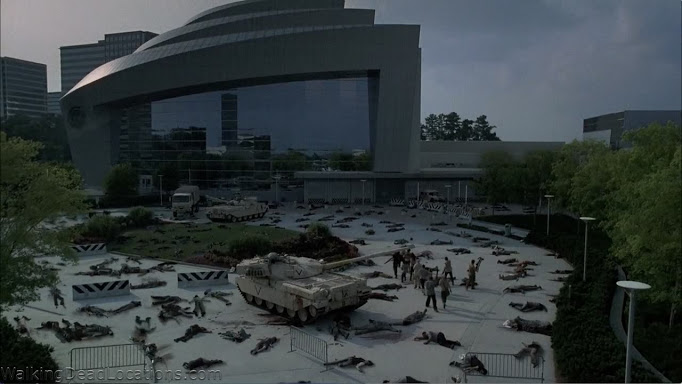 Quick Facts about The Walking Dead courtesy of the Zombie Tour Part 1
1.) Zombie extras in the Walking Dead are ranked from A to D. Zombies who are A's get the best make up and more on screen time, whereas D zombies are farther away from the camera, and if you look closely, most of them don't have any make up on, just dirt thrown on them.
2.) If you want to be a zombie extra in The Walking Dead, you probably won't be getting paid that well. It's close to minimum wage and the summers are brutal.
3.) If you look closely at the clocks in The Walking Dead, one hand will be at the 5 and the other will be at 4. The clock indicates that this is Season 5, episode 4.
4.) Zombie replicas from Dawn of the Dead, as well as 1980s horror movie props can be found hidden throughout episodes of The Walking Dead.
Q&A
I was able to talk with co-owner Patti Davis about the Atlanta Movie Tours and get a little more insight into the company.
How did the idea form to start The Atlanta Movie Tours?
Patti Davis: Carrie Sagel Burns and I decided to check out a new restaurant in town on Jan. 4, 2012, when we started discussing our mutual love of The Walking Dead. Carrie told me that when friends were in town for DragonCon, she would take them around to the filming locations. I thought that was a great idea for a business, and the next day we incorporated Atlanta Movie Tours. We ran our first Big Zombie Tour on March 21, 2012 and opened to the public to a sold out tour on March 31, 2012.
When did you realize Atlanta was becoming a boom town for Films?
P.D.: When we started Atlanta Movie Tours we were already connected with film crews, as Carrie is the liaison between the film crews shooting in Castleberry Hill, and the neighbors. And we've always enjoyed picking out the local filming sites of movies and shows we know are produced here in town. With the tax credits starting in 2002, Georgia is now just third in our nation's filming, behind California and New York.
Out of all the tours, which one is the most popular? Why?
P.D :The Big Zombie Tours are our most popular tours right now, but our Atlanta Film Sites and Margaret Mitchell's Gone With The Wind are gaining plenty of fans, too. You can't deny the massive appeal of The Walking Dead, and we are giant fans, too.
How does the company find the scenes that were shot in TV shows and movies?
P.D.: We watch everything we can that's filmed in Atlanta. We have a massive database of filming locations which we have curated by watching shows and movies, folks approach us with info about filming and we're constantly searching what's filming where.
How do you advertise this business? How do you get people to know about The Atlanta Movie Tours?
P.D.: When we first started, we hosted a media tour and the initial word went out. TripAdvisor has been a massive marketing tool for us. With a start up you need to get creative. We've engaged zombie and horror fans on Facebook, Twitter and Instagram.
Let's speak about your title, "Head Television Fanatic." It's quite ingenious. Why did you choose to go with that title rather than say CEO or President?
P.D.: Our business is all about fun. We wanted our titles to reflect that. My title, "Head Television Fanatic" fits me to a tee. I love television and seeing Atlanta on show many programs, from Constantine, Red Band Society to Chrisley Knows Best and so many more. It never gets old!
Do you offer a discount for students?
P.D.: We certainly do! GSU students can use promo code: PANTHERS for $5 off each ticket.