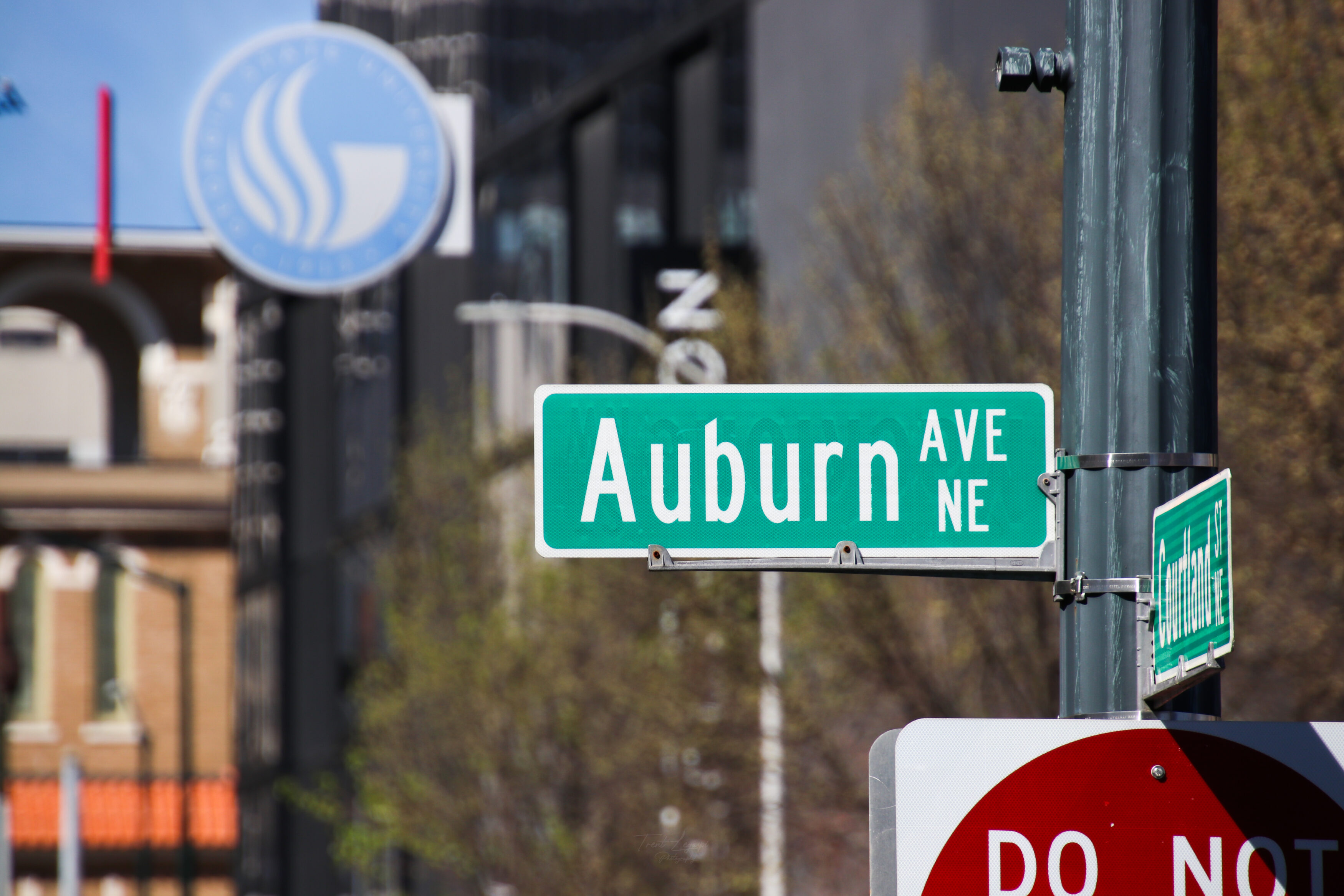 In 1956, referred to by Fortune magazine as the "richest Negro Street in the world," like Tulsa, Oklahoma's Black Wall Street, Georgia State University's campus now surrounds Auburn Avenue. 
Having been a conglomerate of entertainment venues, churches and Black-owned businesses, after being renamed "Auburn Avenue" in 1893, in the 20 years that followed, the area became home to the up-and-coming Black middle class. "It's key to its success lied in the development of numerous businesses/institutions that allowed the financial growth of Black Atlantians."  
With Black wealth uncommon for its time, an active civic and social life gained the area the  nickname "Sweet Auburn" by Auburn Avenues' "unofficial mayor," John Wesley Dobbs.
The wealth may not be as dense now, but traces of its unique history remain, with the building that belonged to the Atlanta Life Insurance Company as one example. 
The architecture of the now vacant building that served as the company's headquarters from 1920-1980 tells the story of something grander. 
Pictures of a series called "Windows Speak," a project dedicated to honoring those who built the company, are seen on boarded up windows. One person honored includes Alonzo Herndon – a freed slave who became Atlanta's first Black millionaire. 
Beginning with a capital investment of $5,000, the company's assets later amounted to a financial standing of $84.5 million, shifting the way Black wealth was viewed in the south and making it one of the strongest Black financial institutions of its time. 
When Herndon died in 1927, he was Atlanta's wealthiest Black citizen, owning more property than any other African American.
Across from this building sits another with a rich history that belonged to the Atlanta Daily World. Originally the Atlanta World, this paper has covered the Black community since its foundation in 1928, making it the oldest African American Newspaper in Atlanta.
"The responsibility of a Negro newspaper is to dispense to the public good wholesome information to enlighten our people. . .and to serve as a guide and organ of expression for the community, " According to founder William Alexander Scott II in the New Georgia Encyclopedia. With white media outlets perpetuating harmful stereotypes about Black people, it was imperative to have a media outlet stand up for Black people. From reports on lynchings to police brutality and discriminatory laws, the Atlanta World used its voice to oppose racial injustice.
A few doors down sits the African American Panoramic Experience (APEX) Museum. Founded in 1978, this museum allows visitors to learn the often-untold history of African Americans. According to its website, "The mission of the APEX Museum is to…present history from an African American perspective to help all Americans and international visitors better understand and appreciate the contributions of African Americans to America and the world." 
Changing its exhibits quarterly to diversify its displays, the museum also hosts various events and productions.
At the corner of Auburn Avenue and Courtland Street NE, a few doors down from the APEX Museum, is the Auburn Avenue Research Library. 
Founded in 1994, the library has  not been around for as long as most buildings on Auburn Avenue, however, the library can compensate for its newness with its surplus of resources that even farther back than the rest of Auburn Avenue's establishments. 
"It is the first public library in the Southeast to offer specialized reference and archival collections dedicated to the study and research of African American culture and history and of other peoples of African descent." According to fulcolibrary.org. 
With more than 20,000 books, 250,000 photographs, manuscripts and more, the AARL consists of  multiple divisions that focus on African American history.
On the opposite end of Auburn Avenue are religious sites, including Ebenezer Baptist Church and Big Bethel AME Church.
Ebenezer Baptist Church was where Dr. Martin Luther King Jr. was baptized, preached and where his funeral was held. A "spiritual home" for many within the Sweet Auburn community and a prominent site of the civil rights movement in Atlanta, United States Senator, Dr. Raphael Warnock is the current Senior Pastor. 
Big Bethel AME, distinguishable by its "Jesus Saves" sign, was founded in 1847 and is the oldest predominantly African American congregation in Metro Atlanta, according to its website. In 1957, the church hosted an NAACP rally where Dr. King appeared after the Montgomery bus boycott.  
Though the area and sites may have changed, attending Georgia State University where its core has such defining and trailblazing history is quite a unique experience.