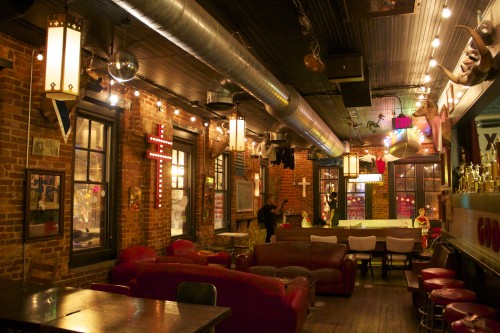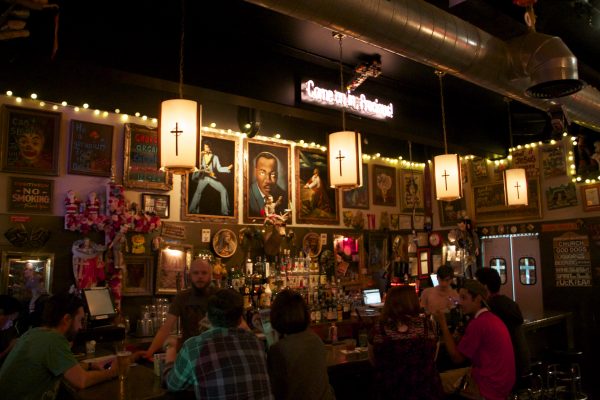 Sister Louisa's Church of the Living Room and Ping Pong Emporium has quickly become a combination of a neighborhood bar and a kitschy tourist attraction. Sister Louisa's features a wide range of original art, all produced by the bar's owner, Grant Henry.
It's a bar!
Grant Henry considers his bar an extension of his former art gallery, Sister Louisa's Art Gallery and the Church of the Living Room.
"I had an art gallery for years, and when I opened this up, […] I decided to combine my art gallery and the bar," Henry said. "To me it's more … it's truly more of an art gallery that sells alcohol instead of a bar that sells artwork."
But when it does come down to selling alcohol, Church has it covered. The signature drink at Church is Sister Louisa's Spiritual Sangria.
"I sell more sangria than anything," Henry said. "It is a pint glass full of booze, steeped in all kinds of fruit that soaks up the alcohol. A lot of people say they get drunk off of just the fruit that's floating in the sangria."
The recipe is Henry's own and he has been serving it at art shows for almost 20 years. A few restaurants in Atlanta even sell the drink, including Bone Garden Cantina on the Westside.
Although popular, Sister Louisa's Spiritual Sangria isn't Church's only calling card; Church prides itself on building a community above everything else.
"Most people in Atlanta go to bars because you want to escape life a little bit, have a drink, forget you had a hard day," Henry said. "Church is a bar that people go to because they want to get into life. It's a hangout for everybody. It's sort of become Atlanta's living room."

In its first year of operation, Sister Louisa's Church won the 2011 Atlanta Downtown Design Excellence Award for restaurants and bars. It wasn't long before Henry saw the impact that winning the design award would have on his business.

"That night at 5 [p.m.] when we opened up, people were in suits and coming from jobs. So that sort of gave us the stamp of approval for a different kind of clientele," Henry said.

The man behind the woman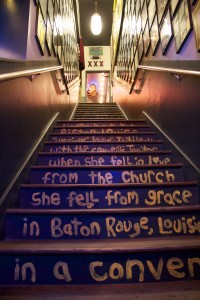 Sister Louisa's story is actually a variation of Henry's life. Before opening Sister Louisa's Church, Henry attended seminary school to become a Presbyterian minister, much like Sister Louisa was part of a convent.
"It's an opposite story. It's about a woman, but it's really me. And it's not a convent, it was about me being in seminary school," Henry said.
In addition to attending seminary school, Grant Henry received his Bachelor of Arts in hotel, restaurant and travel as well as a Masters of Arts in education from Georgia State.
Unlike Sister Louisa, Henry voluntarily exited the Church because he couldn't bring himself to fulfill one of his final requirements.
"They wanted me to say, 'Only through Jesus Christ is salvation possible.' I couldn't really say that because I didn't believe it," Henry said.
Henry has a background in several fields but got into the bar business when he was a classic "starving artist."
"I was selling a lot of art but it was more an 'artist's life,'" Henry said. "But I sustained my life by being a bartender."
Who is Sister Louisa?
Some patrons of Sister Louisa's Church of the Living Room and Ping Pong Emporium may be surprised to know that Sister Louisa doesn't really exist. Grant Henry made up the persona of Sister Louisa when he was preparing for an art show after traveling in Europe.
"When I was making the bio before the art show … I wanted to have a pseudonym. I wanted to have an alter ego. I want to be Sister Louisa's art agent."
Sister Louisa is more than an alias for Henry. She has her own backstory.
"Sister Louisa was a nun in a convent outside Baton Rouge, Louisiana," Henry's story goes.
She was kicked out for falling in love with the school's janitor, so she turned to making art in her airstream trailer.
The inspiration for Sister Louisa, however, did not come from an artist. Louisa is a small woman Henry and some friends stayed with while traveling through Prague and Amsterdam.
"We stayed with this woman; her name was Louisa. But she was a little spiritual bird. She was an attorney […] and she had this long grey hair, and she was brilliant. I fell in love with this woman," Henry said.
Henry took the idea of Sister Louisa and ran with it. Even before Henry opened his bar on Edgewood Avenue, he received press inquiries from people who wanted to interview Sister Louisa. Henry set up interviews only to dupe the reporters once they arrived in Atlanta.
"I said, 'Oh, her 1974 Ford Pinto broke down in Tuscaloosa, Alabama, and she is not able to come. She's in Tuscaloosa on the side of the road waiting for me to come. I've got to go rescue her,'" Henry said.
Sister Louisa's sister bar
Henry opened a second Sister Louisa-themed bar in Athens, Georgia about six months ago. This bar, "Sister Louisa's Church, It's a Glory Hole," is decorated almost identically to its twin to the west. Henry decided to open the location after several trips to Athens with his friend, the owner of King of Pops.
"I started liking Athens, and it was only like an hour – an hour and thirty minutes away. I started looking for a space over there, sort of as a joke. I didn't think I was really going to do it," Henry said. "But then I found the perfect space, and for some reason I signed the lease."
Henry is considering the possibility of opening a third Sister Louisa's Church in Nashville.
"It'll be the biggest Church," Henry said. "It'll be called Sister Louisa's Country Church of the Living Room."
This new location would serve food but will continue the current Church concept of being a no smoking, no television bar.
"What [Sister Louisa's Church] does is it encourages community," Henry said. "We don't have any distractions. The art's the distraction."