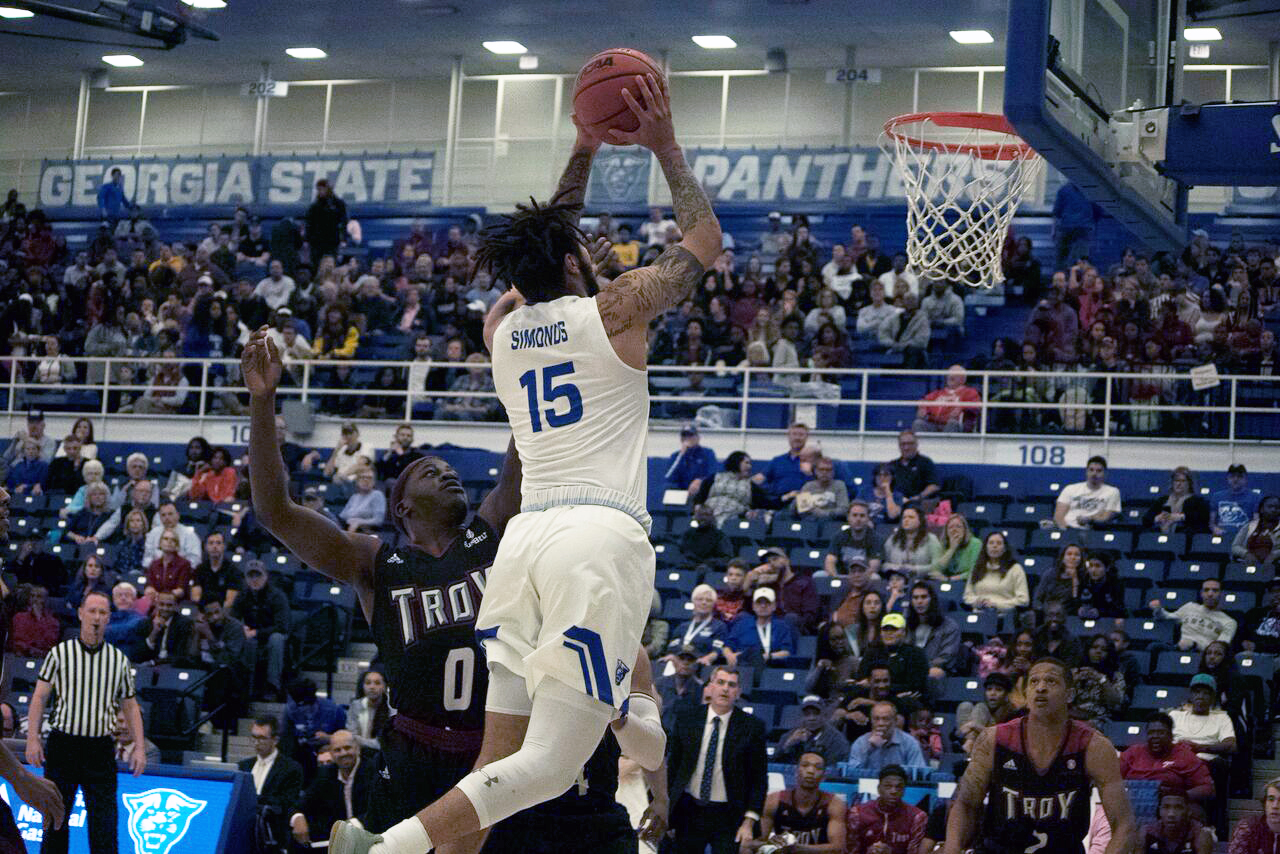 The Georgia State men's basketball team finds themselves in a gifted position to win the Sun Belt Conference tournament as they are the No. 2 seed and have Sun Belt Conference Player of the Year in D'Marcus Simonds (21.5 ppg and 5.9 rpg). However, the Panthers do not necessarily have an easy route to being champions and punching their ticket to the big dance.
The No. 2 seed Panthers will face either Troy or South Alabama on March 9. Ironically, both teams have beaten the Panthers in the regular season, with Troy completing a series sweep.
Head coach Ron Hunter will not admit this because he says that any team in the conference poses a threat to the Panthers' ultimate goal (winning a championship), but on paper the Troy have more talent than the South Alabama.
It's also worth noting that if they do face Troy, this is a team that understands what it takes to win the tournament being that they are the defending champions.
If the Panthers win their first match of the tournament, they will either face a Georgia Southern team that has a star in Tookie Brown, who put up 23 points and five assists to beat the Panthers on Feb. 16, or a Louisiana Monroe team that snapped the Panthers' then 10-game winning streak on Feb 10.
Monroe is a team that doesn't have a particular player that can dominate the game at any given moment. Nonetheless, they have four players that scored in double figures and shot over 50 percent from the floor as a team during that game.
And since March Madness is full of surprises, Arkansas State, who lost by just four points to Georgia State (79-75) on Jan. 6 can very well spoil the Panthers or the Eagles' chances of advancing to the final round of the tournament. Their highly coveted player is Ty Cockfield (14.8 ppg), as Deven Simms (17.1 ppg) was dismissed from the program in February. They finished the regular season on a high note by beating Louisiana Monroe 83-79.
Both Louisiana (No. 1 seed) and Texas Arlington (No. 4 four seed) have great talent and are perhaps the two most talented teams in the conference. Each have legitimate chances to advance to the final round of the tournament, but only one of those two teams can advance.
This year's tournament will almost certainly be more competitive than last year's. Moreover, the Panthers could be matched with the onerous task of facing either Louisiana or Texas Arlington. Arlington has two 2018 NBA Draft prospects in Eric Neal (16.2 ppg and 7 apg) and Kevin Hervey (21.1 ppg and 8.7 rpg). Louisiana is led by Frank Bartley (17.4 ppg) and Bryce Washington (10.6 ppg and 10.7 rpg).
"It's a lot of goods teams. I feel really good about going into this tournament. If you wanna play Georgia State, we're ready. 5 o'clock. We'll be ready Friday. I don't care who we play. We're gonna be ready to play at 5 o'clock on Friday," Hunter said.
Whichever team the Panthers face during the tournament, victories will be earned, not given.