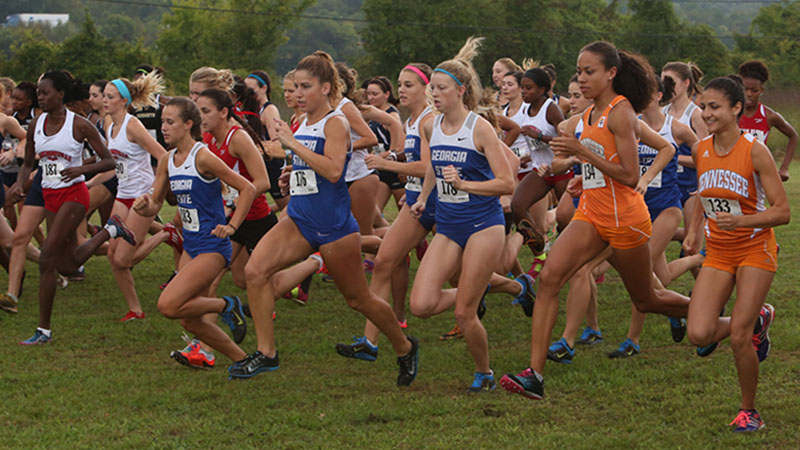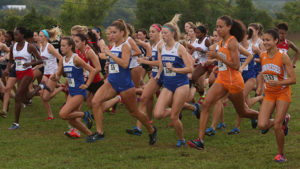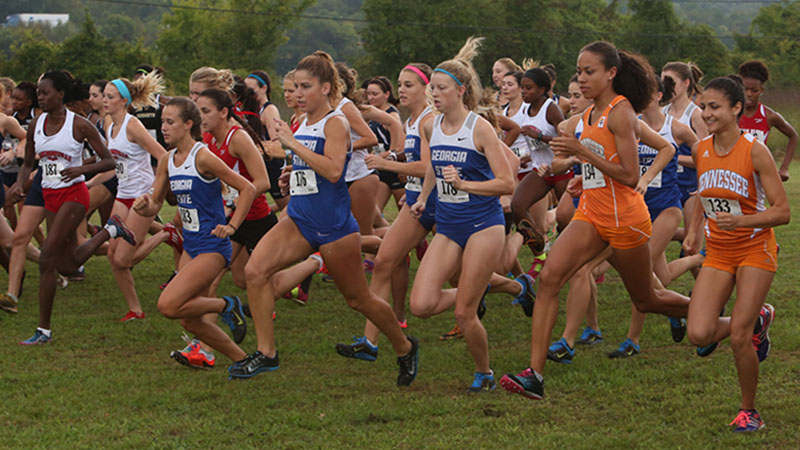 The women's cross country team will have its biggest competition of the season on Oct. 29 in Dothan, Alabama with the Sun Belt Championship Meet. The best attribute this team has is how close knit they are as a group, and they will be relying on that for success.
"Very close knit," is what Coach Chris England used to describe his team this season. "We have nine runners on the team, and they're very close, they motivate each other, and when a runner's down, they pick her up mentally. To be successful as a team, you're only as good as your other teammates. Our runners aren't selfish, even though everyone wants to have individual glory, they make sacrifices for their teammates and the team as well."
Not only does Coach England feel this way about his team, but the runners themselves also believe that this close-knit team is what makes them so special this season.
"Perhaps the best attribute is that we bring the best out of each other, friendly competition at its best," Senior Sammi Donovan said. "We all contribute something different to this team, and we share a mutual respect for each other and recognize each other's strengths and weaknesses. We also are not afraid to challenge one another in workouts and meets."
"We support each other a lot and try to help in everything we need," freshman Angela Alonso said. "I feel really comfortable with all the girls of the team, personally and sportingly."
Cross country doesn't always come down to just running. It is also about the runner's mentality and focus when they are competing. Coach England wanted to install that mentality early on and so far it has been working.
"Runners are very delicate and have delicate psyches and they could have a bad day and to them, their season is ruined," Coach England said. "But you have to keep the big picture in mind, don't look at the individual practices, look at the whole big season and if they're improving every week then they're on track to do something big."
The runners believe in running with a purpose and keeping a good mindset when entering different competitions. That mindset has been installed from the seniors on this team, all the way down to the freshman.
"We have developed a culture of discipline, and we hold each other accountable," Donovan said. "Having a sense of purpose is also the reason we have been excelling. We are all focused on a collective goal and we keep this purpose in mind every day at practice."
Playing at the collegiate level can be tough for a runner, compared to the high school level. Alonso has learned to control those nerves she has competing at a different level than she is used to.
"I am focused on continuing how I am doing so far, I felt good in all the races so I want to have the same feelings in the important dates," Alonso said. "I have controlled my pre-race nerves better than in other seasons, so I would like to continue in the same way this season."
The cross country team peaking at the right time
The Panthers finished all five of their competitions in fourth place or higher this season. In fact, they even defeated Troy head on at the Trojan Invitational. The team is peaking at the right time, and that is all thanks to Coach England's preparation for the upcoming Sun Belt Championship Meet.
"We treat every meet the same, the day of the championship should be no different than the first day of practice," Coach England said. "I preach all season long that the Sun Belt meet is the most important competition of the season. We have some big and some small competitions in the fall, but all knowing that none of those meets matter except for the one on Oct. 29. We could win all the meets and do poorly at the Sun Belt or we could lose all the meets and do well at the Sun Belt. That's the one that matters."
All the runner know how important the Sun Belt meet is compared to the other meets. In addition, they understand that each practice and competition is one step in preparing for the big meet.
"Each day at practice is us preparing for the Sun Belt Championship," Donovan said. "Every workout and each day is a piece of that preparation. We prepare by not losing sight of our goals and expectations as a team. We placed fourth last season, but in no way is that a prediction of what we are capable of this year."
"We are working a lot in practice, making our best and supporting each other's during hard workouts," Alonso said. "All the races that we have done so far are also very important in the preparation because they make us feel the nerves that we will have in the important race. Furthermore, almost all of them have been 5k, as in the Sun Belt Championship, so we are getting used to the distance."
This team is not the same team that finished in fourth place at last year's Sun Belt Championship meet. There's a lot of differences between the teams, one of them being the depth they have according to Coach England.
"We have a lot more depth this year, last year we only had six runners and only five of them scored at the championship," Coach England said. "We also had a lot of young runners, we were relying heavily on young blood and runners that weren't used to competing at the college level. This year we have a lot more upperclassmen and a few transfers and more maturity as well. Physically they're much stronger and better than last year."
Coach England isn't the only one confident in this team's abilities compared to last season, so are his runners.
"We lost our top runner from last year, Stephanie Berger, and she contributed to the team in more ways than one. Having to replace her contributions were difficult to imagine, but everyone worked really hard during the offseason to be mentally and physically prepared for the beginning of this season. Our team this year is stronger than we ever have been. I am really excited to see how well we perform at conference."