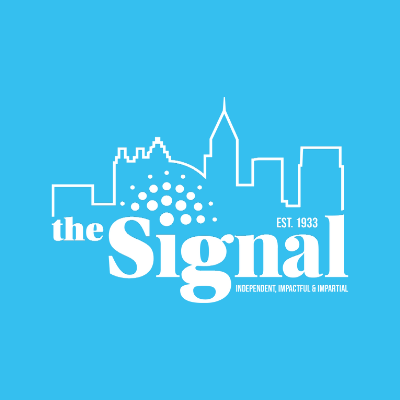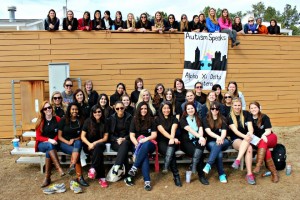 Greek students at Georgia State volunteered in Atlanta, addressing a wide range of issues including general health, children's health and social causes this year.
There are more than 25 fraternities and sororities at the University, each focusing on a specific issue such as autism or domestic violence. In addition to hands on volunteering, the fraternities and sororities also raised money for their partner organizations.
Greek students reported raising more than $6,200 for local causes this year. One sorority said its national organization has raised $8 million for Children's Miracle Network.
General Health:
Alpha Omicron Pi and Delta Zeta participated in philanthropy events geared towards adult health issues.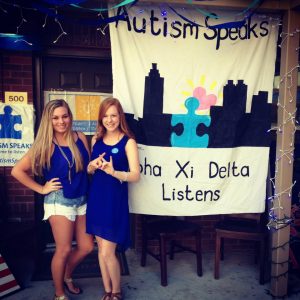 Alpha Omicron Pi said their main focus is raising money for the Arthritis Foundation. This year they held a bowling event called Strike out Arthritis.
"Philanthropy played a huge factor in my decision to join a Greek organization," said Alpha Omicron Pi sister Jordyn Hebert.
"AOII's philanthropic efforts to raise money for The Arthritis Foundation have been a fun and meaningful part of my college experience and help us raise money while also establishing relationships with other Greek organizations on campus," Hebert said.
The sisters also hosted events during Philanthropy Week.
"Organizing these events was stressful, of course, but it was all worth it when everyone was so eager to donate to our philanthropy (the Arthritis Foundation), and everyone had a great time at the events," said Sarah Lopez, Alpha Omicron Pi's philanthropy chair.
"It was a great feeling when people would come up to me and told me they plan on coming to the event again next year," Lopez said.
Delta Zeta's local philanthropy is to raise money for ovarian cancer research. Delta Zeta hosted a dodgeball tournament to raise money for the cause along with teams from GA Tech, North Georgia and Emory.
"This is a great time. It brings together so many different organizations and it always proves to be successful," said Delta Zeta sister Keelie Bolton.
Children's Health:
Multiple fraternities and sororities focused their efforts on causes devoted to children's health issues.
Delta Epsilon Psi is a South Asian fraternity that focuses its volunteer efforts working with juvenile diabetes organizations.
This semester they raised over $1,700 for the Juvenile Diabetes Research Foundation (JDRF) at their first annual event called Dodging Diabetes. They also raised $1,500 in fall 2013 at their second annual Who's Got Game: Basketball Tournament Event, according to Yogi Patel, philanthropy service chair for Delta Epsilon Psi.
"Doing service is a priority for us. Every brother is required to complete 20 hours every semester, but we average closer to 30 hours per brother," Patel said.
The Theta Beta chapter of the Phi Mu sorority volunteered with Children's Healthcare of Atlanta, making arts and crafts with patients every month this semester. During their spring fling week, they raised money for Children's Miracle Network with events like the Mr. Miracle Man Pageant and FTK Carnival, according to Phi Mu Philanthropy Chair Nikki McDaniel.
"We are so privileged to not only help such a great organization like Children's Miracle Network, but we actually get to do hands-on projects with the organization, too," said Phi Mu sister Hannah Thompson.
McDaniel said The National Phi Mu Organization raised $8 million working with Children's Miracle Network.
"Working hands-on with patients has been my most favorite part of our philanthropy," sister Sara Blumsack said. "You really see how you can make a difference in the Atlanta community."
Alpha Xi Delta focuses their philanthropy efforts around Autism Speaks. They hosted several events this semester, such as Football FrenXi, Autism Speaks and Alpha Xi Listens. They also hosted events Xi Marks the Sport and Light it up Blue.
"I love our philanthropy because it gives us the opportunity to raise awareness for a disorder that affects so many children and their families. Our chapter works closely with the Georgia chapter of Autism Speaks so it's cool to see how our efforts and fundraising directly impact the organization here in Georgia," Philanthropy Chair for Alpha Xi Delta, Paige Tanaka, said.
In total, the sisters raised over $3,000 this semester for Autism Speaks.
"I didn't know what autism was until I joined Alpha Xi Delta. Through Autism Speaks, our national philanthropy, I have met so many children and families who are affected by autism," said Alpha Xi Delta sister Nikki Wilbanks.
"It feels so good to know that we can directly benefit those children and families, whether we are just raising awareness or raising money for more research and hopefully a cure," Wilbanks continued.
Alpha Xi Delta also said they hope to exceed fundraising goals set each year through events such as Xi Marks the Spot and Football Frenxi.
"Our main goal is to raise as much awareness for Autism Speaks as possible throughout the GSU campus and Atlanta community," Tanaka said.
Sisters of Delta Zeta's national philanthropy is Speech and Hearing. This semester they held their annual turtle race week, which raised money for The Painted Turtle, a camp-based program for children with serious medical conditions.
They also decorated hearing aid gift baskets for children in hospitals in partnership with the Starkey Hearing Foundation.
Lambda Theta Alpha sister Daniela Natal said they have also raised funds for the Epilepsy Foundation of Georgia and St. Jude Children's Hospital, volunteered with Discover Atlanta and helped children with their school assignments.
Social Causes:
Latin sorority Lambda Theta Alpha volunteered with the Latin American Association of Atlanta to raise funds to help Latino families. They donated backpacks with school supplies to children in need and volunteered at SafeHouse Outreach for a Backpack-palooza event.

Sigma Sigma Rho focuses on raising awareness of domestic abuse. This year they held their candlelight vigil event, where a guest speaker discussed domestic abuse with a class. They then held candles for a moment of silence for those who have suffered from domestic abuse.
"This event is absolutely touching, because the entire Greek community at GSU comes out to show their support for those individuals affected from domestic violence," sister Anokhi Parkih said.
Sister Jenny Boccardi said it was great hearing people speak up about experiences involving domestic abuse.
"Although we aren't directly stopping domestic violence, we are raising awareness in our community and honoring the men, women and children who lost the battle of domestic violence," she said.

The sisters of Delta Zeta also volunteered with the Foster Care Service Foundation, helping to hang free clothes for foster families.
Psi Upsilon is a co-ed fraternity at Georgia State. This semester Psi Upsilon worked the Georgia Safe Schools Coalition at the Gay-Straight Alliance Youth Summit, according to Philanthropy Chair Lauren Major.
The organization also volunteered with Wandering to Nourish Atlanta, providing food and clothing to local homeless shelters, according to Major.
Future Involvement:
For more information about future philanthropy initiatives by fraternities and sororities at Georgia State, individuals may visit the official websites and Facebook pages.
Lambda Theta Alpha Latin Sorority