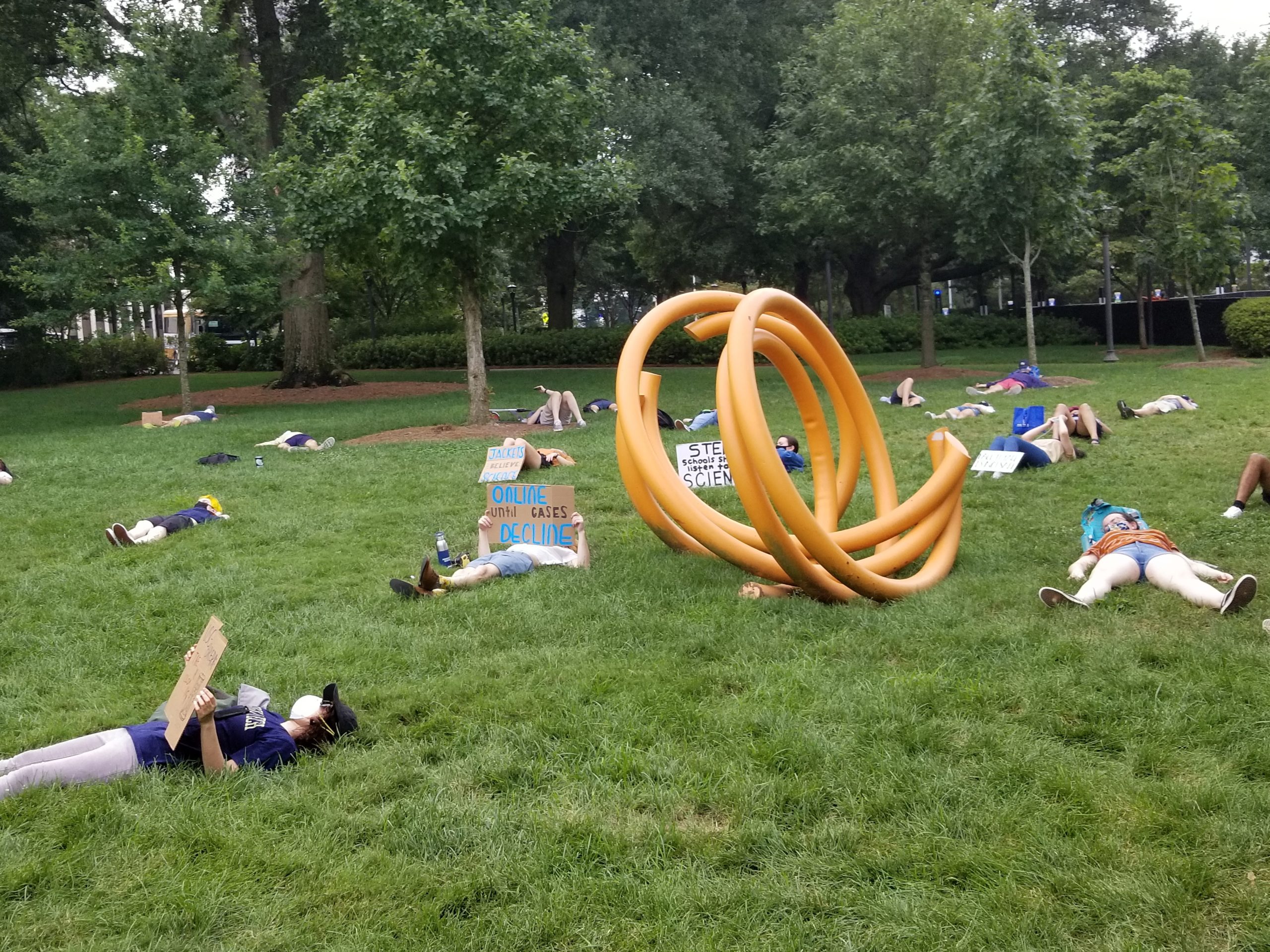 The month of August consisted of several protests against institutions that planned to reopen amid the pandemic. Die-ins from the University of North Carolina, the University of Georgia and other University System of Georgia institutions persisted, as students demanded that schools reconsider their plans for the fall.
Students and faculty members from each institution laid in the center of their campus for an hour to silently protest the universities.
Similar to a sit-in, a die-in or a lie-in is when protesters simulate being dead as an act of protest. In this case, it was the reopening of campus.
University of Georgia
On Aug. 6, the demonstrators wore masks as they laid on the university lawn. Many were silent throughout the entire protest as they posed as dead bodies, resembling what they believed could happen upon return to campus.
Students and faculty gathered together with signs ranging from "I can't teach when I'm dead" and "UGA's New Chant: Sick 'em! Sick 'em! Sick 'em!" Some cardboard signs were even designed as gravestones as they laid on the protestor's chest.
According to 11Alive, the die-in occurred on the same day that UGA confirmed to the Atlanta news station that a faculty member had died from COVID-19.
"We are deeply saddened by the loss of a member of the University of Georgia community," a UGA spokesperson said in an email to 11Alive. "Our sympathy goes out to our co-worker's family and friends."
Students are required to wear masks and social distance when taking part in face-to-face instruction this fall; however, petitions and protests emerged in opposition to the university's plan. Many believe that the university is showing "callous disregard" for the safety of the community.
The United Campus Workers of Georgia organized the die-in.
Accompanying the die-in, demonstrators attempted to present an open letter to the University of Georgia President Jere Morehead.
The letter, written by UGA graduate students, expresses that the university community stands in solidarity with the United Campus Workers of Georgia. The letter also presents demands for the administration.
According to the Red and Black, Union Marshal Savannah Downing attempted to enter the administration building with the 1,000-signature open letter, but the doors were locked due to COVID-19.
All protestors were required to wear masks and remain 8 feet apart. This is farther than the CDC guideline of 6 feet. The socially distanced die-in was one of many that followed.
Georgia State
On Aug. 17, Georgia State students lay in a white chalk outline on the concrete to protest the reopening of campus.
Organized by Georgia State's chapter of the United Campus Workers of Georgia, a speak out was held at the University Commons before heading to the Centennial Hall building at 1:10 p.m. About 20 demonstrators showed up.
According to Panther Report News, Georgia State has identified 107 COVID-19 cases between March 19 and Aug. 14. Cases quickly rose to 132 on Aug. 28. This comes only four days after the start of the fall semester.
Becoming involved through his work with the United Campus Workers of Georgia, Georgia State graduate student Daren Fowler participated in the event.
"There was a call for a statewide day of action to protest the inadequate and dangerous reopening plans of USG universities," Fowler said. "I and many others at [Georgia State] were outraged over the role of Corvias, a private corporation, and their threats of litigation if the USG diminished dorm capacity. The financial interests of corporations … were prioritized over the lives and well-being of students and workers."
Panther Report News posted an Instagram photo of the event as some students responded with their uncertainty of the event's effectiveness. Comments ranged from "you are scared so you came on campus to lie on the pavement which is germ infested? Clearly not scared enough" to "so [you all] come to campus to protest being on campus?"
Georgia State student Athena Moore echoed Fowler's sentiment when commenting on the social media post.  
"[You all] are mocking the protesting when they're doing this for [the] students' benefit," she said. "USG wants our tuition money so they can send us home, and [they] don't care who they hurt in the process. Just like civil rights leaders put themselves in danger to fight for their rights, these students are merely doing the same."
Georgia College and State
On Aug. 28, Milledgeville's Georgia College community added to the list of die-in protests. Students were spread out in the quad for two hours as they demanded the USG and Georgia College to modify fall 2020 plans.
According to the Georgia College COVID-19 reporting, there were "495 cases of COVID-19 in its community of approximately 7,000 for an infection rate of 7% as of [Aug. 27] at 8:49 a.m."
There are 686 total reported cases as of Sept. 11 at 8:33 a.m.
Graduate student Denechia Powell helped organize the event and expressed her disappointment in the number of Coronavirus cases.
"That's unacceptable for us," she told GPB. "We are demanding that the administration and the University System of Georgia do more to protect us."
Each chapter of the United Campus Workers of Georgia demanded specific things from their university, but they all reflected the common goal of keeping campuses closed.
Daren Fowler said that the Georgia State community demands items like free and easy access to COVID testing on campus, protection from being laid off and furloughed for all employees and hazard pay for our frontline workers who have been on campus throughout the pandemic. 
"Georgia State has not responded to our demands. USG has also failed to respond to [United Campus Workers of Georgia's] demand for robust testing and contact tracing for all USG campuses," Fowler said. "This fight will continue at [Georgia State] and around the state until the lives of workers and students are actually prioritized by the USG, the Board of Regents and the state government."