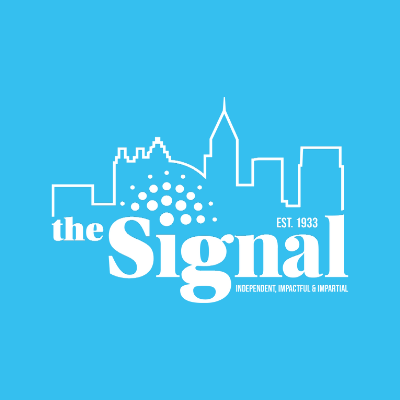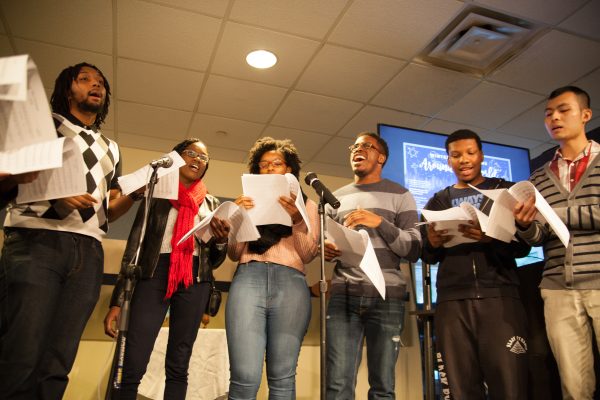 Students didn't have to go any further than the Courtyard Stage to see the world, as the Multicultural Center brought together cultures from all ends of the earth to talk about what the holiday spirit means to them. The "Winter Celebrations Around the World" event, in its third year, helped highlight cultures that are often looked over this time of year.
"There's a lot of unique winter holidays that happen between November and January that celebrate all of our cultures," Tonya Cook, the event coordinator and Programs Specialist for the Multicultural Center, said. "We represent the cultural thread of humanity through the holidays and that is special. This was a great event to attend to get exposure to how other cultures celebrate their winter holidays."
While some major holidays, like Hanukkah and Kwanzaa, were represented at the event, lesser known celebrations were also given a spotlight, including traditional African holiday dances, led by Cook herself.
"I have 27 years of dance training, and it was nice for students to see the artistic side of me. I decided to just go for it and showcase what I can do, even though I am the event coordinator.," Cook said. "I rarely perform and plan in the same prep, but with this being the end of the semester I said, 'Let me just go for it.' I wanted to help create a buzz of 'Wow, Ms. Cook is dancing. We've gotta go to this performance.'"
Cook's performance certainly helped draw a crowd, with an estimated 100 students in attendance, double the number from last year, according to Cook.
Aside from dancing, students were also privy to a clarinet performance by Brian Roberts, a senior at Morris Brown College, who played some contemporary and classic European holiday pieces, and a poem recitation about Jubilee Day by Ari Jones, a member of the Georgia State chapter of the National Association for the Advancement of Colored People (NAACP).
Students Get Hands-On Holiday Experience
There were some interactive elements of the event, too, allowing students to get directly involved with the celebrations. Students were allowed to come up to the mic during the presentation about the Chinese Spring Festival. Alondra Cruz, the vice president of the Latin American Student Association, even won a prize for her Chinese pronunciation.
Students also got to hear the history behind Hanukkah, while Flora Rosefsky, a local Jewish artist, provided a tutorial on how to make a menorah out of paper, scissors and glue. Rosefsky explained that a menorah can be made out of anything.
"I knew someone who made a menorah out of potatoes. They took eight little potatoes and put candles in them," Rosefsky said.
The potato menorah wasn't the only wild story of the afternoon. Christina Wan, another staff member at the Multicultural Center, recounted her memory of Junkanoo, a Jamaican tradition celebrated on Boxing Day and New Year's Day. The holiday is celebrated across all the Bahaman Islands with huge party parades, ringing in the new year with a carnival vibe.
Wan remembers the most striking aspect of parades being the masks adults wore, however. She described the event as "scary," from a child's perspective, because adults would chase children around the parade with masks. While it might have been scary for children, the event has deep roots as a form of resistance by slaves on plantations, making it one of the biggest and most culturally significant holidays in Jamaican culture.
Cook hopes to continue expanding the event as it gets older.
"We want to just continue to see it get bigger and better, and we'll go from there. This is still new to Georgia State, so hopefully next year we can have more sponsorship. I'm proud of the participation, and I'm sure next year it will grow even bigger and better," Cook's said.
As the holidays draw closer, students can swing by the Multicultural Center to learn more about global culture. There are also several events in and around Atlanta to get people in the holiday spirit, so keep your eyes peeled and go easy on the eggnog.
A German Take on Christmas: Germans don't just have one big holiday event on Christmas, but spend the whole month enjoying small celebrations leading up to the Big Day:
Advent:a 24-day celebration leading up to Christmas. Most American grocery chains sell Advent calendars like those in Germany, but those are typically paper doors that children can open for chocolate, while German Advent calendars are typically cloth and hold small toys.
Sankt Nikolaus Tag (St. Nikolaus Day): A night for children to leave a boot by the door for ol' St. Nick to fill with chocolate. If you've been bad, though, expect a switching from Krampus.
Christmas Markets:, The biggest market is held in Cologne every season and draws thousands of tourists to get a taste of the season in Germanic countries, through toys, pretzels and beer. Atlanta is currently hosting its very own Christkindl Markt:
Hours:
Dec. 2 -24
Monday – Friday: 11 a.m. – 10 p.m.
Saturday: 11 a.m. – 10 p.m.
Sunday: 1 – 8 p.m.
The event will be held at Atlantic Station and admission is free.