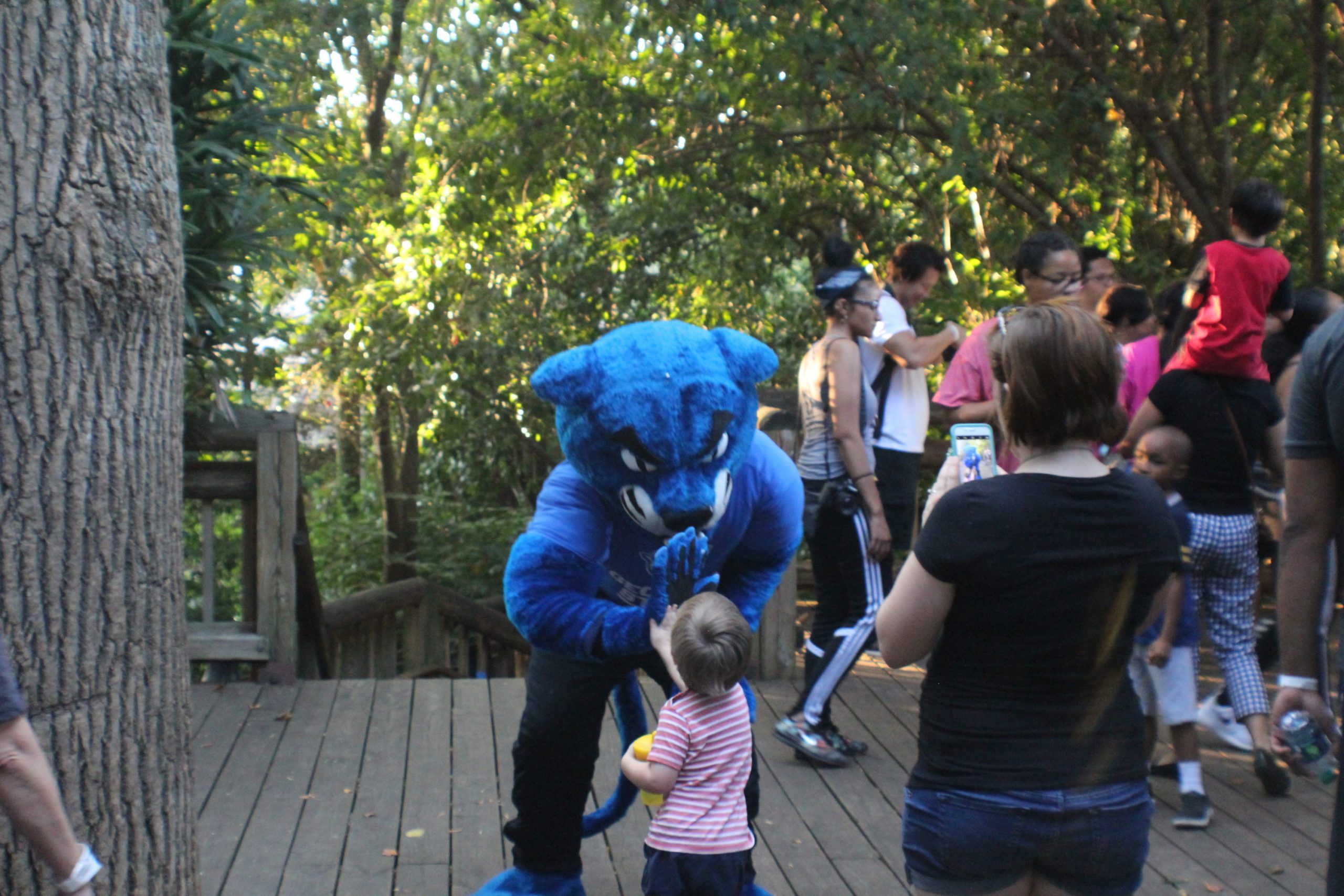 Spotlight took over Zoo Atlanta for the annual Blue at the Zoo event. The event promised students a fun Friday night out on a discount. The zoo closed to the public in the late afternoon, around 4:30 p.m., for Spotlight to prepare for the night ahead.
Georgia State's Spotlight Programs Board is a university-sponsored and student-supported offshoot under the department of student affairs. The board has organized student-focused events to promote student life at Georgia State since the 1990s.
Ashley Cobb is Spolight's co-marketing director, and she is proud to be a part of student outreach.
"Student involvement is amazing. We do some of the largest events on campus," Cobb said.
Cobb is right—Spotlight has organized some of the most popular events at the university, like Georgia State Night at Six Flags, Panther Prowl, Panther Palooza and the Distinguished Speakers Series, just to name a few. They focus on getting students outside and involved on campus. Spotlight tries to organize activities students wouldn't normally have access to.
Blue at the Zoo was a night for faculty, staff, students and even guests. Spotlight sold student tickets discounted from the original $21.99 to just a measly $7.
The night was jampacked with events such as face painting, a bounce house, live music and much more. There were educational guides at the gorilla and monkey exhibits with facts on the animals, including their species and geographic origins.
And Spotlight didn't forget to bring the snacks. Patrons of the event received two snack tickets for popcorn, water, cotton candy or popsicles.
While this was his first time attending, student Justin Nguyen used the opportunity as a date night. "This is my first Blue [at] the Zoo and I think the event was great overall," Nguyen said. He and his partner walked around hand-in-hand, happily taking in the scenery.
Many of the students The Signal spoke to knew about Spotlight, because they had heard of or came to the Spotlight event at Six Flags. Georgia State student Alexis Hill raised concerns about there not being enough events around Atlanta planned by the organization.
"I wish Georgia State would have more events that are like this, like outings around Atlanta," Alexis said.
Upcoming Spotlight events include "Prowling through Midterms" on Oct. 9, Georgia State's Got Talent on Oct. 24 and Georgia State Night at Netherworld on Oct. 30.