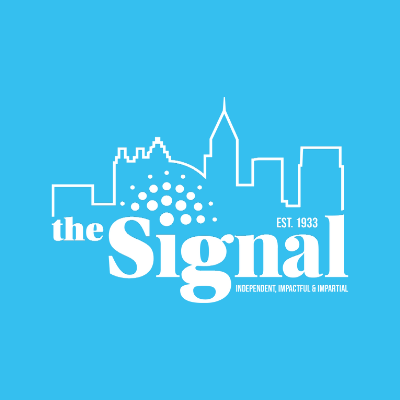 The preservation of the Religious Freedom Act, a bill currently making its way through the Georgia General Assembly, has stirred controversy for its potential to give those in power the ability to discriminate against individuals who do not adhere to their religious values.
Students of Georgia State's diverse community have given their opinion on the bill.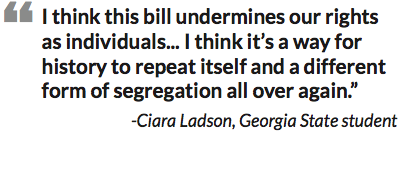 "I think this bill undermines our rights as individuals… I think it's a way for history to repeat itself and a different form of segregation all over again," Shanakay Watson, a sophomore and Middle Education Major, said.
Ciara Ladson, another Georgia State student, also expressed her opinion on the bill.
"I think that the bill reflects the stereotype that the South is still, for the most part, intolerable of people that differ from the typical southern, conservative mindset," Ladson said.
The bill protects a person who denies another individual of services, benefits or employment based on religious beliefs from lawsuits. A business owner would have the ability to refuse to hire a person whose lifestyle is deemed unacceptable by their religion.
The bill states that the word 'person' means an individual, corporation, partnership, firm, business, joint-stock company, association, group or any businesses not a part of a corporation. These are all of the entities that the bill would protect.
"I think individuals who assert their right to refuse service because of the bill will be negatively impacted. The majority of people will look unkindly to blatant discrimination and that will more than likely impact the revenue of [a] business," Ladson said, referring to the impact this bill could possibly have on businesses.
Watson believes the bill will affect every aspect of an individual's life because they will not be able to live the way that they want to live nor be able to go the places that they want to go without being discriminated against.
Jessica Harden, a sophomore and early childhood education major at Georgia State, believes the bill will not promote equality but rather move the country backwards.
"If this bill is affecting people of the LGBT community, that's one group being discriminated against but how long is it going to be before [it causes] women, black men, white female professionals [to be discriminated against]?" Harden said. "If we implement this now, what are we telling our children?"
A similar bill in Arizona was vetoed on Feb. 26 by Gov. Brewer because of the controversy that the bill brought on.
Organizations and businesses have spoken out against the bill.
"HB 1023 and SB 377 must be stopped! This legislation would allow business owners in Georgia to refuse service and employment to gay and lesbian individuals based on religious beliefs. We strongly believe in the freedom of religion and fairness, but HB 1023 and SB 377 go too far. The language in this law is too broad and unclear and could open the door for serious and even harmful unintended consequences for all Georgians," Georgia Equality, an LGBT advocacy group, stated on their website.
Coca-Cola released a statement on Feb. 27 stating "As a believer in an inclusive world, Coca-Cola values and celebrates diversity. We believe legislation that would allow a business to refuse service to an individual based on LGBT, or any other, status not only violates our Company's core values, but would negatively affect our consumers, customers, suppliers, bottling partners and Associates."
Delta Air Lines also spoke out about their opposition of the bill on their website.
"As a global values-based company, Delta Air Lines is proud of the diversity of its customers and employees. …If passed into law, these proposals would cause significant harm to many people and will result in job losses. They would also violate Delta's core values of mutual respect and dignity shared by our 80,000 employees worldwide and the 165 million customers we serve every year."