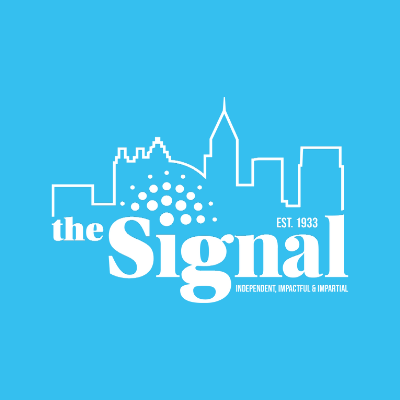 Georgia State volleyball ended in defeat as the Panthers lost in straight sets to the Appalachian State Mountaineers on Saturday at the Sports Arena
The Panthers finish with a record of 10˗19 in the season in addition to an 8˗12 mark in the Sun Belt.
"Some nights, we play Georgia State volleyball, but on others, we're not good at playing other team's speeds," Head Coach Sally Polhamus said after the match. "We have to start off a match strong and we cannot give up that many points to a good team like Appalachian State."
Prior to the start of the match, Georgia State recognized the team's two seniors in Andrea Book and Andrea' Ezell.
Book's match on Saturday night was her 100th in her Panthers career.
"It didn't really hit me until that moment that this is my senior year," Book said after the match. "It's just been such a great experience and I just felt overwhelmed by the support of my teammates and my coaches and my family being here today. It was incredible."
Set One
Georgia State jumped out to an early 2˗1 advantage with both of the Panther kills coming courtesy of Eliza Zachary. Emily Corrigan's first kill, a pair of Bohannon errors, and Jess Keller's first kill equaled a 4˗0 Mountaineers run as they went ahead 5˗2.
The Panthers would come to within one with Deidra Bohannon's first kill of the match and an ace from Natalia Nieto before Keller's second kill and a Georgia State error made the score 8˗5 in favor of Appalachian State.
The Mountaineers would maintain their 3 point lead at 10˗7 before the Panthers were aided by two Appalachian State miscues to once again close the gap at 10˗9. Corrigan's second and third kills of the match extended the Mountaineer advantage back out to three at 12˗9.
Georgia State and Appalachian State would exchange the next pair of points with both Panthers scores coming courtesy of Bohannon kills. Appalachian State's two points came off a Zachary error and a kill from Brooke Lyons.
With the tally at 14˗11 in favor of Appalachian State, Georgia State called timeout. Off the timeout, the two teams traded the next pair of points as the advantage for the Mountaineers became 16˗13.
With the score at 18˗15, the Mountaineers would get their next two points off Lyons' second kill and a bad set on a ball in which two Panthers struggled to keep the ball in play prior to reaching the ground. This made the score 20˗15 in favor of Appalachian State, prompting the second timeout of the set for the Panthers.
Corrigan was involved in the next two plays as an attacking error and her fourth kill made the score 21˗16. A service error from Nieto was followed up by Bohannon's seventh and eighth kill to cut the Mountaineers' edge to 22˗19 as Appalachian State called their first timeout.
After calling time, the Mountaineers saw kills from Hailey Kerr and Jess Keller to force set point at 24˗19. The scores were the first for Kerr and the fifth kill for Keller. Brianna Jones contributed her first kill to bring the tally to 24˗20 before Kerr's fifth won the first set for Appalachian State, 25˗20.
Set Two
Zachary got the Panthers off to a fast start with her fourth kill and her fist block of the match, giving Georgia State an early 2˗0 lead. Appalachian State tied it up at two apiece with a Zachary error and Lyons' third kill. The lead would become 4˗3 for the Panthers after Kristina Stinson's first kill, a Lyons error and Corrigan's sixth kill.
After trading the next two points with kills from Bohannon and Corrigan, Bohannon's 10th along with a pair of Appalachian State errors equaled a 3˗0 Panthers run as the Mountaineers called timeout with Georgia State leading 8˗4.
The Mountaineers responded off the timeout with five consecutive points including two Keller kills, one each for Lyons and Meghan Mahoney and a Bohannon attack error as Appalachian State went ahead by one at 9˗8. Bohannon's 12th kill knotted the two teams up at 9 apiece.
With the score at 10˗10, a Keller error and Zachary's fifth kill gave the Panthers a 12˗10 lead before Keller's ninth kill and a Nieto error knotted the tally again at 12˗12.
Both teams were tied again at 13 before a 3˗0 Appalachian State run that included kills from Corrigan (her seventh), Jacqui Spurgeon (her fifth) and a block by Lyons and Spurgeon that made the score 16˗13.
After a Panthers timeout, Appalachian State extended its run to 4˗0 with another block credited to both Spurgeon and Lyons. That made the score 17˗13.
The next two points went to Georgia State with a Nieto kill and a service error charged to Olivia Reed. Spurgeon also put in her fifth kill. With the score at 18˗15, scores from Corrigan and Keller extended the Mountaineers' lead to 20˗15, leading to a Panthers timeout.
The ensuing two Panther points came off of Bohannon kills. In sequence of plays, Keller contributed her 11th kill and Kitan Ajanaku committed an attacking error.
Ajanaku's second kill plus a Spurgeon error closed the gap to 22˗19 before Keller's 12th kill and a Stinson error forced set point at 24˗19. Corrigan then committed an error which was followed by Zachary's 6th kill to bring the Panthers to within three again, but a service error from Molly Shonk ended the second set with Appalachian State prevailing 25˗21.
Set Three
The third frame commenced with both teams trading the first pair of points before kills from Zachary and Bohannon gave Georgia State a 4˗2 lead. Two of the next three points would be awarded to Appalachian State as both of the scores went to Corrigan as the fifth Panthers point came courtesy of Zachary's eighth kill.
This was followed by a 3˗0 Panthers run that included Bohannon's 17th and 18th kills along with Stinson's fourth kill to give Georgia State an 8˗4 lead. Appalachian State then went on a 5˗0 run that included three Panthers errors and two kills from Keller. Her kill score was upped to 14 as the Mountaineers went ahead by one at 9˗8.
Stinson's 5th kill, and one error from both teams would bring the tally to 10˗10. A 5˗2 for Appalachian State that saw three more Corrigan kills plus a pair of Georgia State errors would bring the score to 15˗12. The two Panthers points came off a Spurgeon error and a Nieto kill.
Appalachian State maintained their lead at 17˗14, and it grew to 21˗14 as Keller upped her kill total to 16 with two more kills. Kerr's third kill and a Zachary error completed the 4˗0 run.
This led to a Georgia State timeout. The next two points for each team came from a pair of kills each from Stinson and Kerr. Stinson's kill total was upped to seven while Kerr's became three. Appalachian State would get its final two points off Spurgeon's 6th kill and a Stinson attack error to seal a 25˗16 win in set three and the match.
"This was a wake up call," Polhamus said. We have to play our best every point of the match. We can't just flip it on when we want to and we can't just rely on one player."
Final Stats

| Georgia State | Appalachian State |
| --- | --- |
| Bohannon: 18 kills, 12 digs, .311 hitting | Zachary: 10 kills, .300 hitting |
| Keller: 18 digs, .455 hitting | Corrigan: 15 kills, 12 digs |
With the regular season in the books, the Panthers will now prepare for the Sun Belt Tournament in San Marcos, Texas.