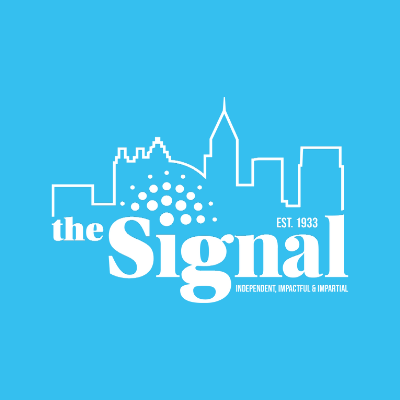 The Sweet Auburn Curb Market is one of Atlanta's best-kept secrets and has been serving the downtown community since 1918.
Barriga llena, corazón contenta–Happy stomach, warm heart
The creator of Arepa Mia, Lisbet Hernandez, was an immigrant hoping to share her cuisine with those who weren't familiar with it. Hernandez moved to the United States from Caracas, Venezuela in 1998. After trying out New Orleans and North Carolina, she finally settled in Atlanta in 2003.
Prior to stating Arepa Mia, Hernandez worked as a chef, specializing in Italian food. She became familiar with the market because of an Italian sandwich that was in business there at the time.
In 2011, Hernandez took a chance on a friend's advice and began serving arepas at The Curb Market's Open Picnic. "I would make them at home and bring them every Friday," Hernandez said. After a year and a half and countless sold-out days, Hernandez decided to buy a stall just beside the doors where she got her start.
Arepa Mia's signature dish is the arepa, a staple in Venezuela culture and cuisine. Arepas are cornmeal cakes that are cooked on a griddle. They are then cut in half filled with shredded meat, onions, peppers, cheese, black beans and other ingredients–not with sour cream or guacamole. As it says on Arepa Mia's wall, it is to be eaten like a burger. Additionally, Arepa Mia serves traditional empanadas, cachapas and the Venezuelan national dish pabellon: shredded beef, black beans, fried sweet plantain and Venezuelan white cheese.
The most unexpected thing about Arepa Mia for Hernandez has been the positive feedback from the Venezuelan community. Customers have brought their Venezuelan family members straight from the airport to have Arepa Mia. "[I think it surprises] every Venezuelan to see a little Venezuela outside our own country because we never really immigrate… It's a great compliment. I feel very humble for that," Hernandez said.
Hernandez has always felt that the market was home and has no plans to change professions anytime soon. "I love to teach people about my culture and my cuisine. They love to learn and they are curious."
Should Hernandez ever choose to expand, the original Arepa Mia would remain. "This is my beginning. I don't want my beginning to go."
Joy. Comfort. Warmth.
The Sweet Auburn Bakery opened shop in the Curb Market around five years ago with the mission of being a neighborhood bakery. Owner Nathan Johnson had a vision of good, consistent products served at a place with an intimate feel for customers.
The bakery is unlike others around Atlanta in that is focuses on classic bakery finds: cookies, brownies, bread and cupcakes. There's no emphasis on finding the next big food trend. Johnson chose the Sweet Auburn Bakery because he enjoyed being about to create something people enjoy. "There's something very visceral, very immediate about seeing somebody get excited over cookies and baked goods," he said."
Sweet Auburn Bakery pastry chef and Georgia State alum Mark Bishop went to the bakery from the Four Seasons. "It doesn't matter to me if it's a $19 cheesecake or a $20 layer cake or a $400 wedding cake. I still think ou should use the same measuring stick and have the same standards in your product," Bishop said.
He recommends the key lime cheesecake and key lime tart. But the menu also houses generously-sized cupcakes of various flavors. Regardless of which dessert customers choose, everything is made in-house from fresh ingredients. "I make everything from scratch…and that's what I love about it because I'm very passionate about making things from scratch."
What many people might not know about the Sweet Auburn Bakery is that they also serve coffee. The bakery acquired Café Campesino from a stand that was previously in the market. According to assistant manager and coffee expert Amanda Smoker, the unique South American and Indonesian blends are best enjoyed either alone or with one of the bakery's various cheesecakes or danishes. The danishes bring out the subtle flavors of the coffee "because there are so many different levels of flavor in our danish[es]," Smoker said.
The consensus at the Sweet Auburn Bakery is that the pumpkin cheesecake is currently the best thing offered. Everyone at the bakery is committed to creating an experience to show customers they are valued, and a "moment to enjoy," in Johnson's words.
Authentic African and Caribbean cuisine
The owner of AfroDish Ralph Sarpong came to Atlanta from the West African country of Ghana. A Georgia State alum with a degree in finance, Sarpong recalled the earlier days of his business. Getting started 16 years ago was only a challenge because African and Caribbean cuisine had not yet been brought to the area. "With time it started getting a little better… It wasn't that bad."
Sarpong shares the business with his wife and their son. The only time AfroDish faced hardship was during the recession. The economic climate had a negative impact on the flow of customers to the market as a whole.
AfroDish's menu is composed of a mix of traditional West African dishes, including seasoned jollof rice, goat and oxtail stews and egusi, a spinach stew. Additionally, Caribbean favorites such as jerk chicken, curry chicken and fried plantains are served. Sarpong said there is no single dish that is customers' favorite. "Now when we cook, it's not enough," Sarpong said. "I sell out of everything every day.
Men die for it, women cry for it
The majority of the shops and stalls in the Sweet Auburn Curb Market exist only within the market. However, Grindhouse Killer Burgers found second, third and fourth homes after getting started in the market.
Head cook Carl Johnson has been working at Grindhouse since its humble beginning on Edgewood Avenue in 2009. Johnson, a "Grady baby," was born and raised in Atlanta. Though he's never received a formal culinary education, Johnson has 30 years of cooking experience under his belt. This experience is present in the food that Johnson serves from 11 a.m. to 3 p.m. every Monday through Saturday.
Although Johnson also has a position at the Grindhouse on Piedmont Avenue, the Sweet Auburn Market is home. "Over there, there's a wall between you [and customers]. Over here, we've got a window," Johnson said.

Johnson maintains that his burger is better than what can be found at any other Grindhouse because of the experience provides. "I talk to you through your whole meal. It creates a sense of friendship and camaraderie, he said."
Everything on the Grindhouse menu is good, but Johnson recommends a specific meal. "I'm a Coke drinker, so of course, Coke. I'm a barbecue dude so [the] Cowboy [burger]. And, of course, onion rings, because it's my recipe." The turkey burger is also his own recipe at the Sweet Auburn location.
What really makes the market special for Johnson is the people. "The best thing is the different people. I like my customers. I like seeing different people all the time."