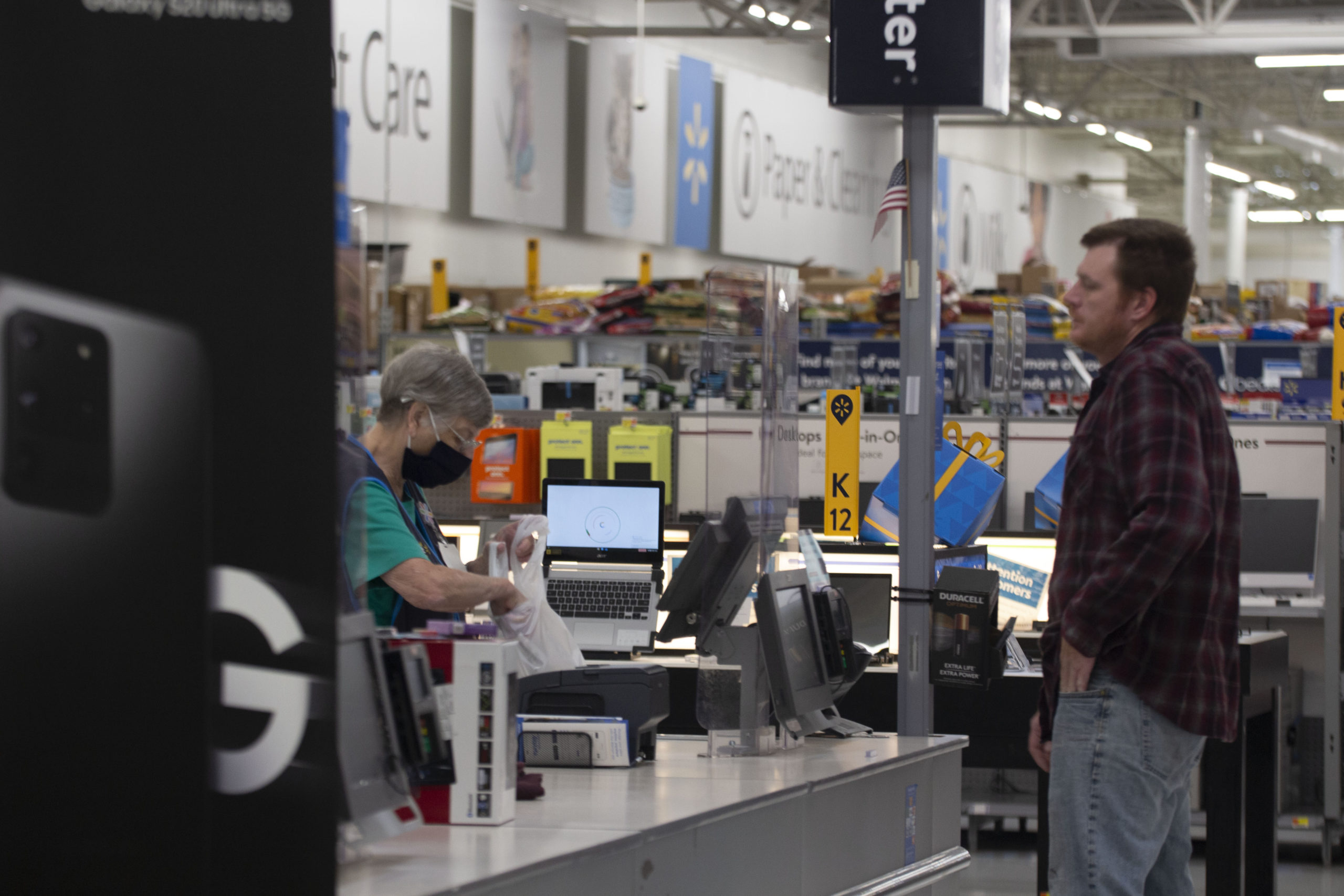 After spending Thanksgiving with friends, family and a plate of food, many look to wrap up the holiday fun with Black Friday deals. 
Black Friday deals cover everything: toys, gadgets and apparel. It's not hard to find something for everybody in the family to enjoy.
Some of the most popular big-name brands that Black Friday shoppers empty their pockets for are Walmart, Target and Best Buy. These stores are well known for their great Black Friday deals and outrageous lines stretching out the door. 
Walmart brings in crowds every year with some of their discounted doorbusters such as televisions, headphones, tablets and gaming consoles. With such low holiday prices, Walmart has saved its shoppers a decent amount of money.
Year after year, people line up outside of these big-name stores overnight and wait to buy their discounted products. Now, masked holiday shoppers are filling the lines six-feet apart from each other.
Many stores, including Walmart, Target and Best Buy, will extend their sales to online, in-person and curbside pick-ups. With these new options, stores hope to cut down on the crowds and promote more contactless shopping.
Although this time of the year is especially exciting for shoppers, it can also be stressful for those behind the register. 
From impatient shoppers to lengthy lines and even longer shifts, working at a shopping center during the holidays can be notably difficult compared to the offseason.
Walmart employees take on Black Friday
Senior Taniya Paylor has worked at Walmart for four months. Although she hasn't worked there during Black Friday, she has experienced the event while working at Target and has an idea of what to expect.
"I usually worked the morning shifts during Black Friday, and that was super hectic because the lines would always be super long, and once we opened the doors, our inventory would be sold out in no time," Paylor said. "I know that I will be working more evening shifts this year, so I'm hoping that I don't have to deal with as much mania and craziness that the morning crowds bring."
Co-worker Dymesecia Taylor has worked at Walmart for only a few weeks, and she already has an idea of what she will be facing during her long shift.
"The shift that I will have is a night shift, but [I] probably won't leave till later because of how messy the store will look after the chaos," Taylor said. "I will still be doing some Black Friday shopping for my son because I want to get all of his Christmas gifts early."
Paylor and Taylor understand the risk of working through the COVID-19 pandemic and described some of their employer's steps to ensure that both customers and employees are safe.
"Walmart is having more in-person deals compared to online, so I already know the crowds and lines are going to be outrageous," Taylor said. "Luckily, we have staff that focuses primarily on cleaning and sanitizing the store around the clock."
Although cleaning is a necessary part of the job, people like Paylor are essential to maintaining the store's cleanliness so each guest can feel safe to shop.
"My task for that day was called 'touchpoint,' meaning at every other point of contact that guests had with the store, I would go behind them and sanitize that area," Paylor said. "It's a tedious process, but if it ensures that everyone is safe and clean, then it has to get done." 
Target employees tackle the holiday excitement
Unlike Walmart, Target has already started to roll out their Black Friday deals weeks before Thanksgiving. They have not only given shoppers an early start on their Christmas lists, but they are continuing their sales throughout the whole month of November.
This head start has already brought in crowds, but nothing will compare to Black Friday. 
Senior Summer Borders has worked at Target for almost two years and feels that it has given her enough experience to work her way through the holidays.
"I work at a Target in Atlanta, so it is always busy, especially with it being a college town. I get to see a lot of people, but around the holidays, the amount of people I see is multiplied by ten," Borders said. "It is not my favorite time to work, but as a struggling college student, getting paid time and a half is always good."
Working during the holidays can be hard to handle, especially for people like Borders, who work long shifts back to back. Although Target is celebrating Black Friday all month long, she will finally be able to see her hard work pay off once the excitement dies down.
Yakzari Cantillano has worked at Target for over a year and feels equipped to get through her Black Friday shift.
"I've worked every Black Friday since I got my first job," Cantillano said. "Whenever it comes around, it hasn't mattered what retail store I work in because one store is pretty much the same as all of them," Cantillano said. "I grew up going Black Friday shopping with my aunt and cousin, but after working so many of them, it has really made me dislike the consumerism of it all."
Student shoppers Black Friday plans
Now that some big-name stores have extended their Black Friday deals online, shoppers can fill up their carts in-store or in the comfort of their own home.
Junior Givanna Romero hasn't always been an extreme Black Friday shopper, as she prefers the Cyber Monday deals, but this year she will participate in both occasions.
"I hardly ever shop [on] Black Friday because I can't deal with the lines and all the people, so online shopping is my go-to," Romero said. "This year, Black Friday deals are mainly online, and I will most likely do my shopping like that simply because we're well into a pandemic, and it would be irresponsible to go shopping during this time."
Junior Mya Amos similarly plans on catching these deals in-store while taking advantage of the deals online.
"My mom and I are mostly shopping for Christmas gifts, so we are only going in-person shopping for the deals that aren't available online," Amos said. "The deals are so spread across different days, so it makes managing social distancing much easier. Masks are required, so I'm expecting to see some big changes from the previous years."
As easy as it is to forget that COVID-19 still exists, shoppers and employees need to mask up and avoid getting caught up in all of the holiday chaos.
"If you plan on going in the store to do your Black Friday shopping, please wear a mask because Ms. Rona is still in the building," Paylor said, referring to the coronavirus.