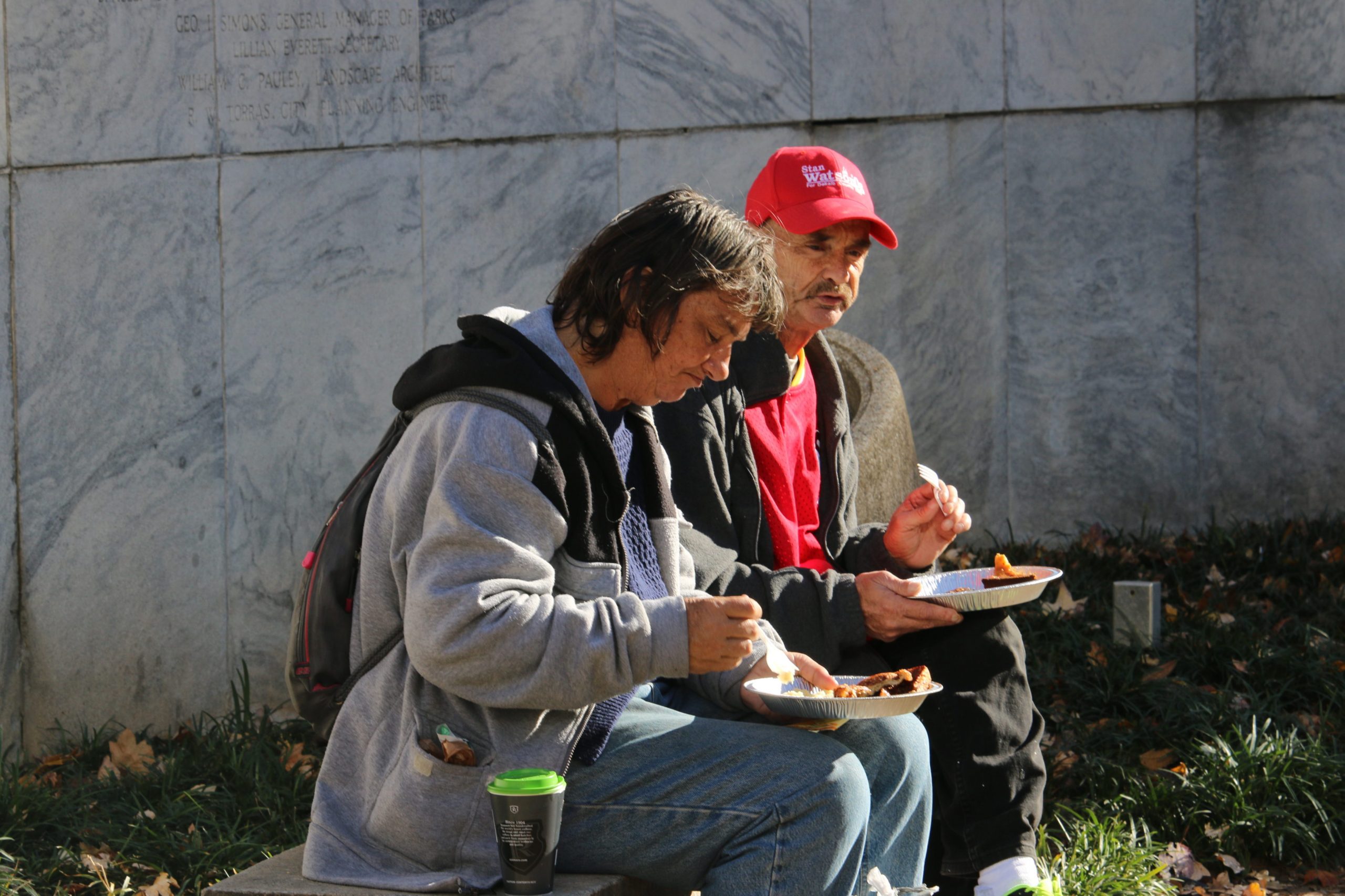 Georgia State Police issued a ticket to charity group Food Not Bombs in Hurt Park last week for a 'food service violation' after they began handing out food to the city's homeless population as they've done for eight years.
In the past month, GSUPD have been enforcing a city-wide, almost forgotten legislation which prohibits food donations without a designated, and expensive, permit from the city.
State law 511-6-1-02 was originally intended for food trucks and other public food vendors, but police are now enforcing it to require would-be charitable givers to apply for a city permit for any public food service. Many groups come to Woodruff and Hurt park from all over the metro area, including church groups and Atlanta's own Food Not Bombs.
The right kind of good
According to Georgia State Police Chief Joseph Spillane, the recent increased enforcement was at the request of the mayor's office and the Parks Department to the Homeless Outreach and Proactive Engagement (HOPE) teams of Georgia State's and Atlanta Police departments.
Efforts to feed the hungry can be a drain on resources when trash is left and security is required, according to Chief Spillane.
"The shift is to try to make people feel like they're doing some good and actually have them do some good," Spillane said.
Chief Spillane said the goal is not to discourage charitable giving, but to direct people towards donating to more complete and stable environments like churches or shelters that are officially recognized and approved by the city. These places can offer the homeless daily food sources and more services like counseling, showers and internet access.
"So what we're trying to do is get the people who come feed in the park more assistance than just throwing some food at them," Spillane said.
This statement comes after the closure of Atlanta's largest homeless shelter, The Metro Atlanta Task Force for the Homeless, known as "Peachtree Pines". After the shelter's closure, many homeless researchers, including Georgia State's Eric Wright, saw an increase in the street level visibility of homelessness. The area surrounding the former shelter is already set for property development.
Fighting the ordinance
Food Not Bombs however, do not plan on complying with the police's agenda. Food Not Bombs is a loose-knit group of independent chapters that serve vegan and vegetarian food in almost every major city. The Atlanta chapter is hosted by an organization called The Teardown, who released a statement on Nov. 21 after they were issued a ticket for food service violation, stating their intention to continue their services. According to their press release, the city has other motives in the increased policing of food donations.
"I think they want to make Downtown as inhospitable to homeless people as possible in the hopes that, if they make it uncomfortable enough, they could force homeless people to go elsewhere," said longtime Food Not Bombs volunteer Earthworm.
In response to the ticket, Food Not Bombs organized another food drive in Hurt Park on Nov. 26.
According to Earthworm, Food Not Bombs has great reach in the community of Atlanta activism. Soon after the designated 2 p.m. start time, the Food Not Bombs van arrived and unloaded tables, pots, drums and flyers. Volunteers put out boxes of clothes and shoes and scoured the park to pick up litter.
According to one volunteer, many were wary about police interference. A crowd had already gathered and some had been served by organizations that had arrived earlier. A line of more than a hundred people formed in front of the tables of stew, rice, bread, and boxes of food donated by participants.
The service Food Not Bombs provides is necessary, according to some of the homeless people being served. One woman, who found herself in the streets in 2015, said she didn't believe donating to shelters could adequately meet the needs of the homeless. The shelters are often too far to be accessible, and too many require proof of income which she did not have.
She said she appreciates the work Food Not Bombs has done in the area. She sees them as fighting for people like her.
"The police are trying to run them away last weekend and they were like 'No, we're not going nowhere,'" she said. "You know they're very sincere in what they do."
Volunteers from Food Not Bombs see their role as fighting for the homeless as well. According to Earthworm, who organized Sunday's event, they came out to "teach the city a lesson about feeding hungry people."
To continue feeding people in the future, Earthworm said, Food Not Bombs will have to be more careful with their strategies. That means more cameras and more volunteers.