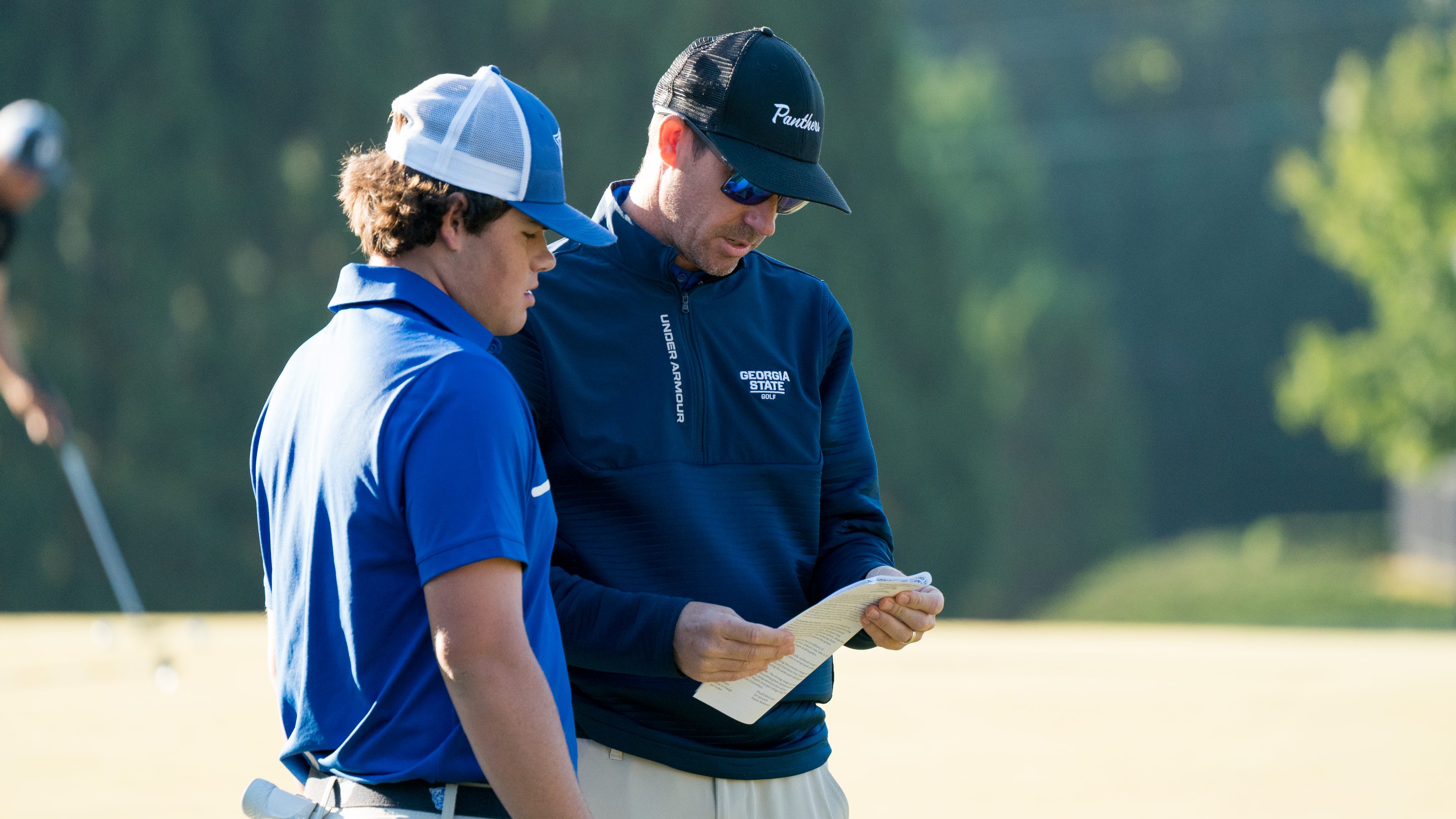 After advancing deep into the Sun Belt championship tournament last season, the Georgia State women's golf team is ready to get back into the swing of things. 
The women's team achieved eight top-10 placements and shot 306, just five shots behind Troy, to finish sixth in the championship. 
With the 2021 campaign complete, it was time for the 2022 season to get underway. Entering her third season, coach Jessica Steward is looking to build off last season's momentum.
The team began the season traveling to Mobile to compete in the USA Intercollegiate tournament. 
Day 1 
Graduate Student Ari Acuff led the Panthers, placing ninth by shooting (-2) with a score of 70. Junior Mahina Leveau placed in the top 25 with a score of 72. Overall, Georgia State tied for tenth with a score of 293 heading into day two.
Day 2
The Panthers continued to shoot well, with Acuff moving up to the fifth shooting (-4) and scoring 70. Leveau advanced to fifteenth place after scoring 71. The team finished at par and was able to advance three spots into seventh place.
Day 3
Georgia State made school history by setting the lowest three-round tournament score with 867, surpassing the previous record of 876. Acuff made history of her own, as she finished the day with a 68 score. The three-day total of 70-70-68 is the lowest three-round total in school history. 
The Panthers scored 286 in the final round resulting in a seventh-place finish.
"This is an incredible way to start the season," Steward said. "The competition is always tough at this event, but the ladies fought hard, and it paid off. Seventh place is a solid finish within this field and we beat some historically strong teams."
Up next for the women's team was the Furman Paladin Invitational in South Carolina.
Day 1
Freshman Noemie Boulbes led all Panthers, shooting (-1) and finished with a 71 score. Boulbe's score had her in a tie for eighth place. Overall the Panthers shot 295, which was good enough for sixth place and to build on over the next two days.
Day 2
Boulbes, along with Acuff, shot 74 and 72, respectively, placing both in the top 15 in the overall competition. 
"Today was another great performance by the Panthers," Steward said. "Although our rounds weren't perfect, they found a way to keep our scores where they needed to be. We've got some room to improve on the par fives, so that will be one of our goals tomorrow."
Day 3
The Panthers last day at the Invitational was also one of their worst as they did not shoot well and finished with a final round of 299. Sophomore Aubri Braecklin was a bright spot as she shot a career-low 69 to vault her into seventeenth place overall. Georgia State finished seventh overall with a three-day total of 888.
"Today wasn't exactly the day we were hoping for, but this was still a tremendous tournament for us," Steward said. "This is the toughest field we will face all season, so finishing in the top half is an accomplishment to be proud of."
Up next was a journey to Arkansas for the Little Rock Women's Golf Classic.
Day 1
Braecklin led all Panthers, shooting 72, and senior Kelly Strickland was not far behind, shooting 73. The team shot 297 overall to place them in fourth place.
Day 2
Braecklin broke her own career low by shooting 66 and was six under par, which was the best of the day. Strickland continued the great shooting as she placed within the top five with a score of 71.
"We got off to a rough start, but the ladies kept their heads in the game and made a great comeback," Steward said. "It got pretty windy towards the end of our first round and that made conditions difficult, but we were actually able to make more birdies in the afternoon."
With a score of 297 in the first round and 283 in the second, the Panthers were finally at the top in first place.
Day 3
Strickland, Braecklin and Acuff all tied for third-place shooting (-1). The finishes secured Georgia State their first victory of the season.
"This is a big step forward for our program," Steward said. "We've been working very hard for several years to accomplish something like this and it's very rewarding to travel home with a trophy."
Next up for the Panthers are the Mercer Invitational in late October and the FAU Atlantic Invitational in February.