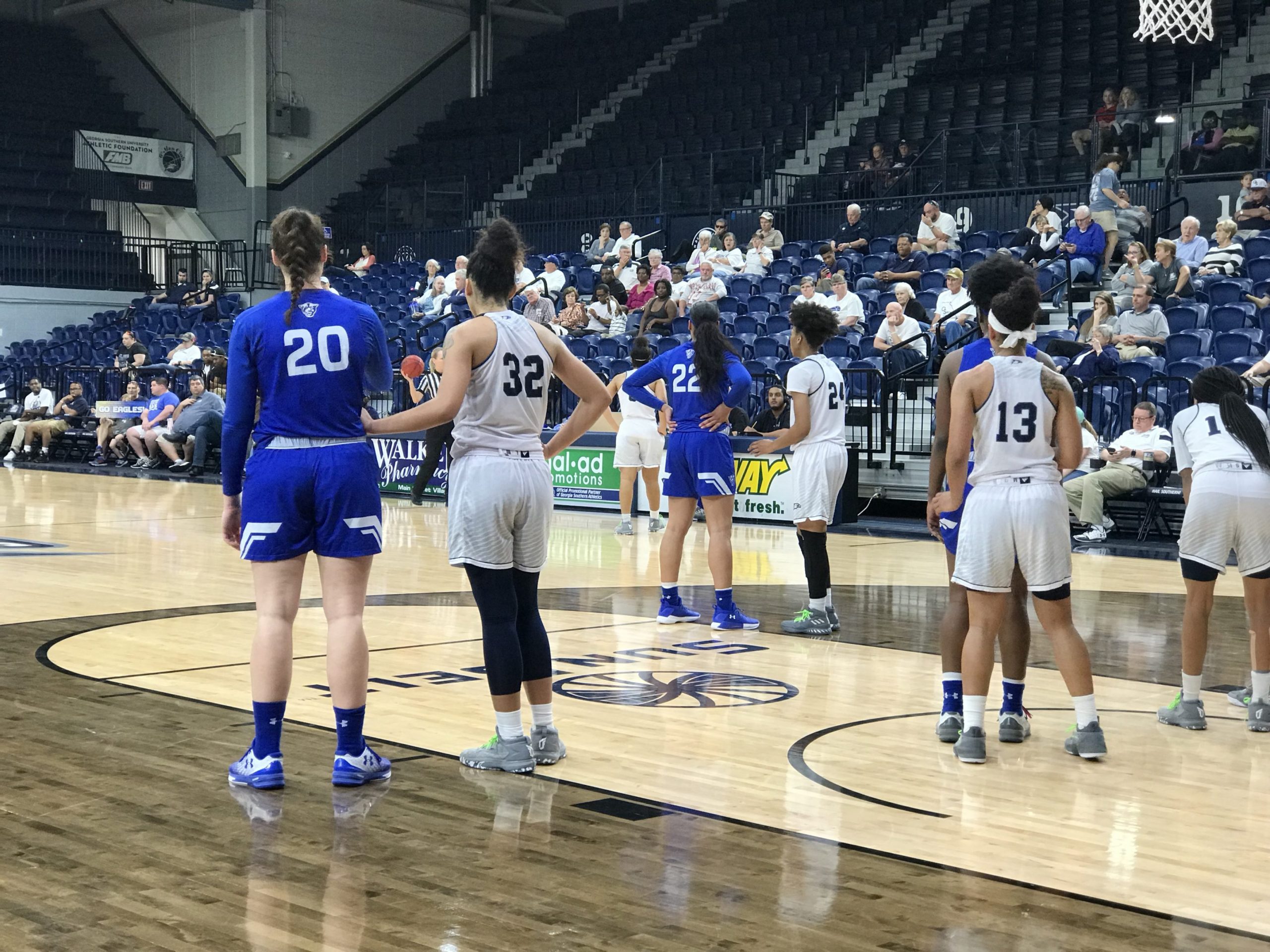 Georgia State (7-18, 3-11) is on a rare winning streak. The Panthers defeated Georgia Southern (5-20, 2-12) 66-58 on Saturday, their second consecutive win. This is the Panthers' first winning-streak since Dec. 10, another two-game streak.
This win secures Georgia State's second consecutive regular season-sweep of Georgia Southern, including the fifth straight in the rivalry series.
The Panthers held off the Eagles' comeback during a point in the game that didn't look bright. A media timeout usually comes within the final five minutes of the game– it came before and the winded Panthers had to fight through exhaustion.
"We wanted to win. The game was getting close, so it wasn't about who was tired and who wasn't tired. It was about getting the win. We had to win," said Madison Newby "I don't think people were thinking about fatigue. I think they were just focused on winning."
Newby scored a game-high 21 points to go along with four assists and four steals. Janessa Murphy snatched a season-high nine rebounds and dropped 16 points.
For the second consecutive game, the refocused Panthers' defense held their opponent to under 40 percent shooting. Southern shot 33.9 percent, the lower of the two opponents.
After a back-and-forth first quarter, Newby gave Georgia State a 19-18 lead on a buzzer beating layup. Georgia State held that lead all the way until Rhein Beamon drilled a three-pointer with 5:07 left in the fourth quarter– right around the time a media timeout is usually called.
The Panthers could have folded but they stayed strong with Newby manning the charge.
"I thought Madison did a good job of really running things and making sure people were in the right spots and doing what they needed to. I thought she made good decisions on when to push the ball and when not to. Obviously, she was aggressive and went to the free throw line," head coach Sharon Baldwin said. "She played 40 minutes, I'm not sure how she did that."
Moments after Georgia Southern took the lead, Janessa Murphy silenced the crowd with a three of her own. Southern was behind the 8 ball from then on out and never recaptured the lead. Every time the Eagles scored, the Panthers had a response– which was ultimately the theme of the game.
"You want to play your best basketball at this time as we get ready to go down to the conference tournament. I think people are understanding what we're doing a little bit more; playing together, taking care of the basketball as well, which makes a difference," Baldwin said.
On Thursday, Georgia State goes to San Marcos, Texas to face a Texas State (18-8, 10-4) squad who left the GSU Sports Arena with 83-63 win in January. Since then, Texas State has gone 4-1, with their only loss coming to Texas-Arlington (16-10, 10-5). Georgia State takes on Arlington on Saturday.