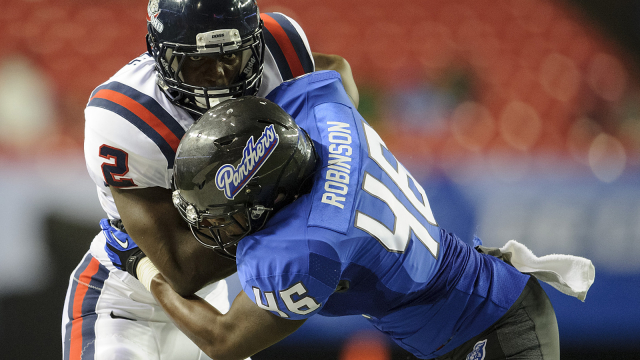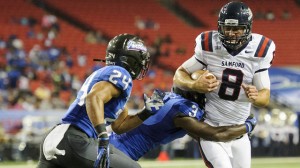 Georgia State loses their football opener 31-21 Friday night against the Samford Bulldogs.
For weeks, head coach Trent Miles increased the anxiousness of many by revealing limited information on who will be the starting quarterback for the Panthers this season.
However, it wasn't until redshirt sophomore Ronnie Bell's name and visual showed up on PantherVision Jumbotron as the starting quarterback that the crowd and media alike at the game could finally breathe a sigh of relief.
Miles may have deceived everyone to think that picking the quarterback starter was a game-time decision, but Bell said he knew he was starting for quite a while.
"I know Ben McLane and I have been working with the [first team offense] until the end of camp . . . I guess it got finalized towards the end of camp," Bell said.
Samford won the coin toss and chose to receive to start the game.
The Panthers kicked off to Samford's Fabian Truss who returned it for a 102-yard touchdown.
"It was a tough start," Miles said. "When I saw [Truss] going to score, the first thing that came to my mind was [to] get the kickoff return team ready," Miles said.
The Panthers' offense took field on the first drive hoping to respond, but went three-and-out as running back Gerald Howse had a one-yard run and Ronnie Bell had two incomplete passes.
The Panthers' offensive line held their own against a heavy-set Bulldog defensive line, including 309-pound freshman Michael Pierce, to allow more time for Bell to find his open receivers.
The extra time helped Bell connect with wide receiver Kelton Hill for a 21-yard touchdown pass on third-and-13 on the Panthers' second drive.
"With coverage, I got what I wanted, and [Hill's] a go-getter. He likes the ball. So I knew if I threw it where he's at, he's gonna go get it," Bell said.
Bell connected with Hill again early in the second quarter with a 17-yard touchdown pass to put the Panthers up 14-7, a score that would carry over to halftime.
"Those were my first receiving touchdowns ever. [It] felt great to finally get that kind of stat," Hill said.
The Bulldogs threatened the Panthers' lead half way through the second quarter when the Bulldogs' defensive back Cody Brooks blocked Georgia State's Matt Hubbard's punt putting Samford in great field position to start their next drive.
Summerlin connected to receiver Gavin Sinclair for a 15-yard gain on a third-and-15 play followed by two carries by Stanley Robinson for a total of 13 yards to get the Bulldogs to a first-and-goal at the Panthers' 10 yard line.
The Panthers ended up forcing the Bulldogs to turn the ball over on downs by holding Truss to minimal gains on first, second and third down, forcing fourth-and-goal just outside the goal line that ended up having to be played twice.
On the first fourth-and-goal play, Georgia State's senior linebacker Allen McKay stopped Truss for no gain, but an offside penalty was called on the Panthers and negated the play.
On the second fourth down play Bulldogs' quarterback Andy Summerlin decided to take it upon himself to try and score by scrambling towards the left side of the end zone. However, outside linebacker Tarris Batiste barreled through the offensive line, tackling him for a three-yard loss while forcing a turnover on downs.
"If you do one thing, you can do it again," Batiste said. "That's how we took it."
Georgia State's offense was not able to capitalize on the momentum swing due to starting the next drive on their own four-yard line.
Both teams' running games were non-existent in the first half.
Samford's running back, Truss, averaged 2.5 yards per carry in the first half, totaling up to an underwhelming 28 yards. In 2012, Truss averaged for 5.2 yards per game.
Georgia State's running back Gerald Howse had seven carries for 13 yards in the first half and did not run for any first downs.
Georgia State had 242 total offensive yards in the first half compared to Samford's 141.
The running game continued to be non-existent in the third quarter as the game turned into a dominant defensive performance by the Bulldogs.
The Samford Bulldogs tied the game 14-14 after safety Jaquiski Tartt made an interception and returned it for a 33-yard touchdown.
The Panthers' offense immediately took the field following the pick six, but a short run and incomplete pass forced another third down. The energized Bulldog defense sacked Bell on third-and-three, forcing the Panthers to give the ball back.
The Bulldogs' offense went on to score with a 31-yard touchdown pass to Karel Hamilton.
On defense, Samford linebacker Bobby Wilson caught Bell's second interception of the game to put the Bulldogs' offense back on the field. The Bulldogs were unable to capitalize with another touchdown and had to settle for a 48-yard field goal to put the Bulldogs ahead 31-14 with 5:52 left in the game.
Georgia State did not quit before the final whistle. The Panthers' offense promptly responded from the turnover with a 40-yard touchdown pass to senior wide receiver Albert Wilson on a drive that lasted one minute and 45 seconds.
Wilson had eight receptions for 167 yards. His longest reception was 44 yards.
Bell threw for 391 total yards and had a completion percentage of 55%.
Bell said after the game he has never thrown more yards in a game.
"I didn't even know until I got the stats that I threw 51 times. If the game presents me to throw 51 times, I'll throw 51 times," Bell said.
In the future, Miles would prefer the offense to be more balanced between the passing and running games.
"51 times, that's a little much for us," Miles said. "We weren't able to get going on the running game to give ourselves a chance."
The Panthers rushed for a total of 72 yards in the game. Howse ran for 29 yards on 14 carries, averaging 2.1 yards per carry.
Miles's game plan did not get executed as well as he had hoped, but he said now he has seen what his team can do in a game and can teach them how to win.
"I saw a lot of film from last year—I never saw them compete like this," Miles said.
One of the areas he said the team seeks to improve is the offensive tempo.
"There's a tempo we want to play at and we're not there yet by any means. We'll grow from it from this first game and we'll be better the next game," Miles said.
The players knew the tempo was not up to Miles's expectations.
"In practice we run it a lot faster, but I agree with coach, it could be a lot faster," Hill said on the offense.
Miles was pleased with the defense, which only had 14 points scored against them.
"If you average giving up 14 points a game, you're going to be on the top five in the nation in total defense," Miles said. "I'll take that right now."
Georgia State (0-1) will host the University of Tennessee-Chattanooga (0-1) on Saturday, Sept. 7 at 2 p.m. at the Georgia Dome.