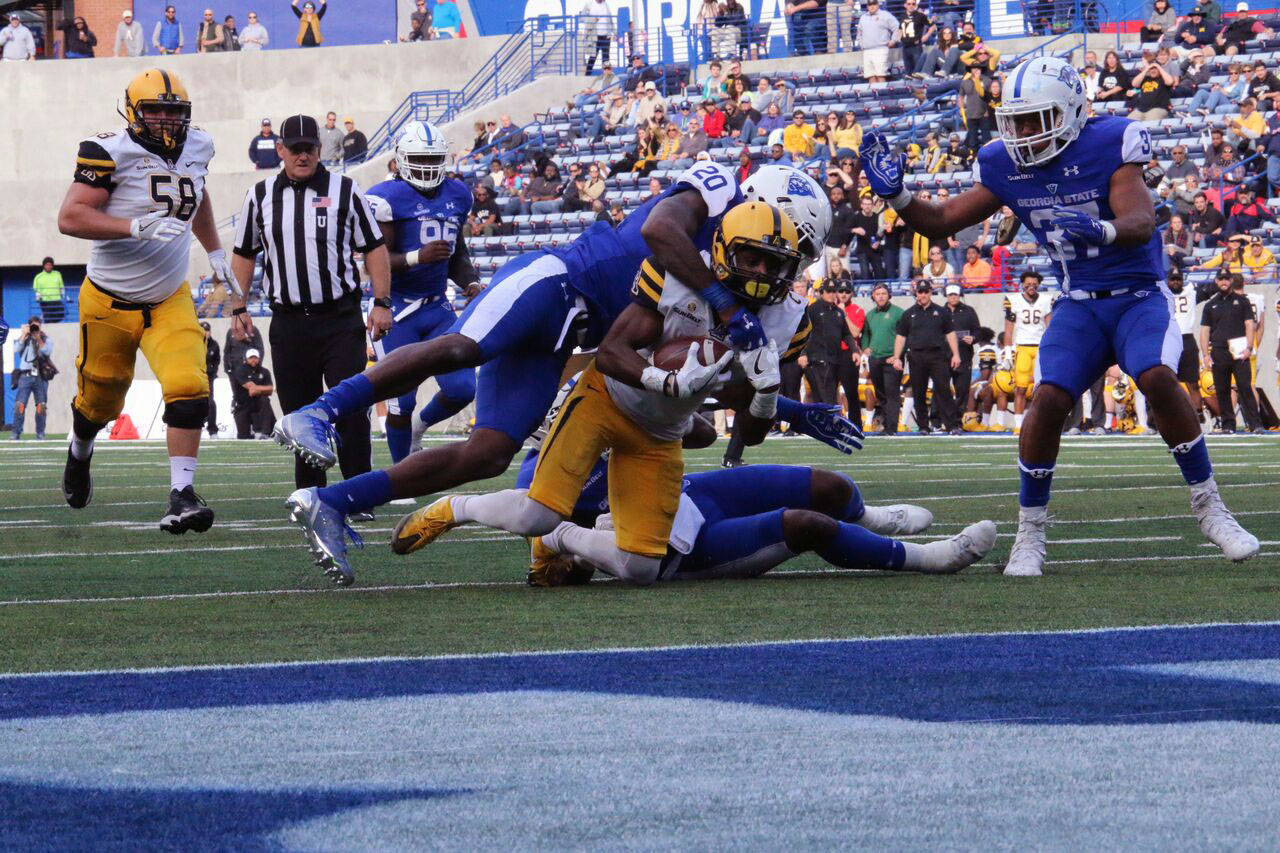 Georgia State (6-4, 5-2) never held a lead during their 31-10 defeat to Appalachian State (7-4, 6-1). Panthers Penny Hart and Bryan Williams led the game with 61 receiving yards and 10 tackles respectively. It was the 323-yard Mountaineer rushing attack which caused problems for Georgia State.
Both teams entered the game with 5-1 Sun Belt records and decent shots of taking home the title. Georgia State is now firmly out of the race to first place. They are standing behind Troy and Appalachian State, each who has only one loss and owns victories over the Panthers.
A modest start
After settling in Mountaineer territory on their first drive, Brandon Wright's blocked punt was returned at the Georgia State 34-yard line. The very next play, Chandon Sullivan picked off Appalachian State quarterback, Taylor Lamb. Lamb threw for 107 yards and a score and ran for another.
On the next possession tight end, Ari Werts left the game holding his arm, but eventually returned. Appalachian State took over after Wright missed a 45-yard field goal. They held the ball for the remainder of the first quarter, but a failed 4th & goal at the 11 yard line gave the Panthers the ball back.
Just over three minutes later, the Mountaineers took a 7-0 lead on a three-yard touchdown run by running back, Jalin Moore. Moore terrorized the Panthers with 239 yards on 111 carries against one of the Sun Belt's premiere run defenses.
"Playing defense, you've got 11 people. Everybody just has to do their job. We had a couple misfits here and there and he just took advantage of it and made good cut backs," said cornerback, Antreal Allen.
Conner Manning and the offense tied the game on a quarterback keeper after Allen intercepted Lamb. A 42-yard Chandler Staton field goal gave Appalachian State a 10-7 lead at halftime.
Out of reach
Down just three points with conference championship aspirations still active, the Panthers came out unenthused. The Mountaineers jumped on the Panthers during the third quarter. Moore burst through the first level of the defense for a 58-yard run, setting up a Lamb touchdown pass to Collin Reed.
Shortly afterwards, Manning's pass was intercepted and nearly returned for a touchdown by A.J. Howard. Lamb connected with Ike Lewis for Appalachian State's second touchdown in the second half at the 9:05 mark.
The Panthers only mustered a field goal the rest of the way, albeit the 50-yard kick was a career long for Brandon Wright. Appalachian State's rushing attack outgained Georgia State's total offensive unit 323-292.
Looking ahead to next Saturday
The demoralizing style of defeat is discouraging considering the circumstances of what was at stake for the Panthers. It was evident on the faces of Manning and Allen in the post-game press conference.
Head coach, Shawn Elliott verbally expressed his disappointment, but it was not worn on his face. On a grander scale, Elliott saw today as a measuring stick for football at Georgia State and his players.
"First of all, I want them to hurt. However you see it, this was a big ball game. I mean it really was. [The game was] probably one of the bigger ones in this school's history. I want them to hurt. I want them to understand why we lost and how we lost. And what separates our football program from Appalachian's football program," said Elliott.
"There's a lot of positive things that are happening with this football program. We certainly don't wake up every day and think every day is gonna be perfect. There's a lot of lessons to be learned. This is how football programs are built," Elliott asserted as passion oozed from his voiced. "You just don't wake up and everything's successful, everything works. You have to learn from the tough lessons. You have to learn from the losses. You have to learn from some of those things that hurt. I want it to hurt because then you understand how to handle those situations. You understand how to move forward."
The final regular season game is a home matchup against Idaho. The Georgia State punting unit improved upon a shaky start from both Wright and Oliver Holdenson. Each downed a punt inside the 20-yard line and ended the day with the games' two highest averages. Elliott said anything can happen in the Sun Belt, and that means anything.
Although Idaho (3-8) is 2-5 in conference, they can show up just as they did against South Alabama and Louisiana Monroe. Aspects as overlooked as flipping the field position through covering punts can change the game. The Vandals are last in the Sun Belt in punt return average as of Nov. 18, but an improvement in practice this week could go miles for Georgia State.
"We're still sitting here in November playing for something. That's one thing at this program that we haven't been able to do a lot. So we have to move on from this and we have to get a win at home, especially for these seniors. We're setting the tone for this new program, 'Be the Change' atmosphere. That means we have go out Monday and attack practice."