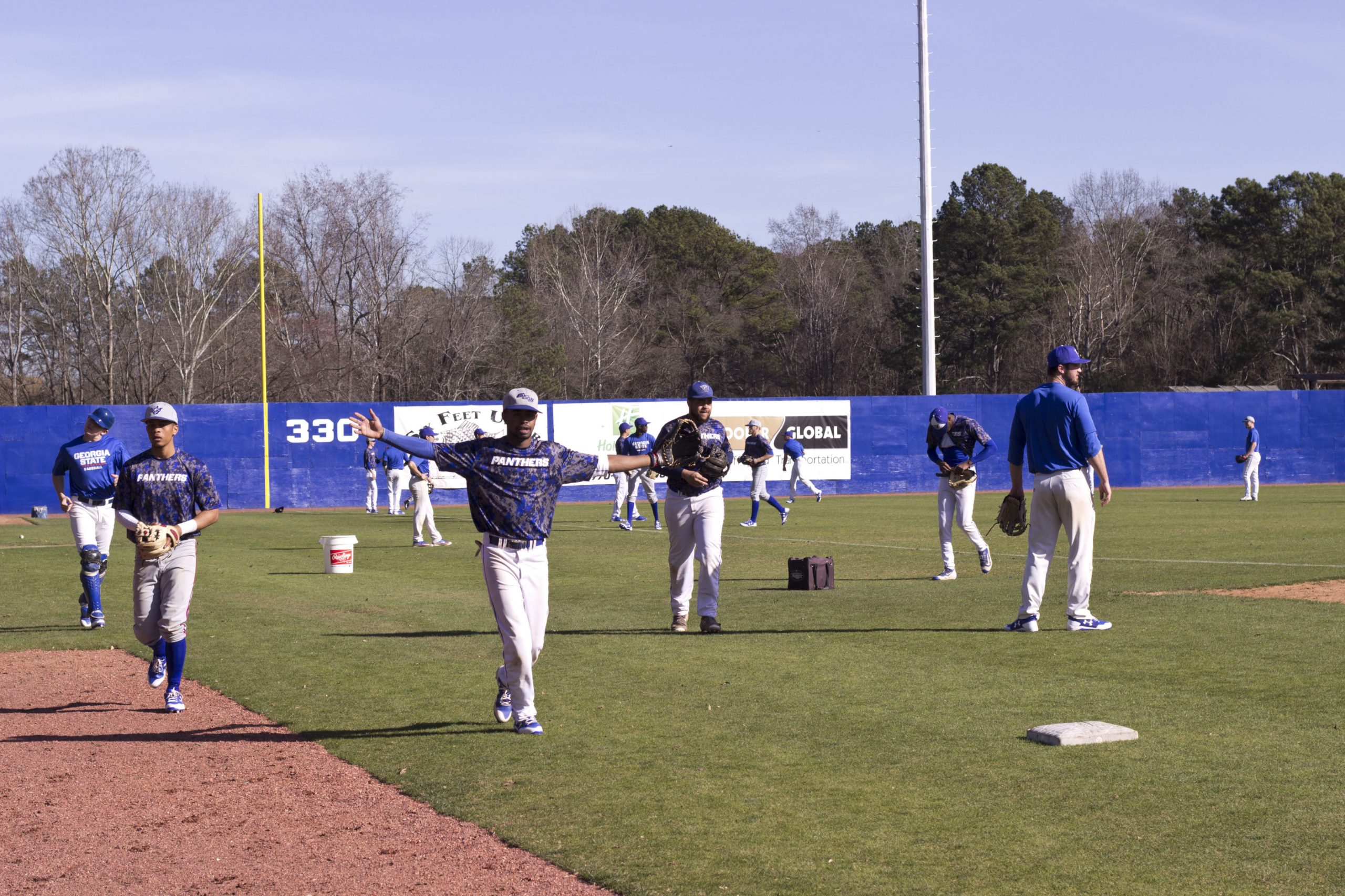 Georgia State's baseball team returns to the diamond this season after losing key seniors Joey Roach, Wayne Wages, and Cole Uvilla. In 2016, the Panthers finished the year with a 24-31 overall record and a 10-20 conference record to finish ninth in the Sun Belt.
The recent German Baseball Hall of Fame inductee and Georgia State baseball Head coach Greg Frady hired former major league pitcher Chris Bootcheck to coach the Panthers staff.
"His transition's been amazing," Coach Frady said of Coach Bootcheck. "Adam Pavkovich our recruiting coordinator and infield coach and Brock Bennett our catching coach, those guys, along with Chris Bootcheck have worked their behinds off. I think our players have benefitted from where they've been in their careers. I think between the three of them, that's 25 years of professional experience right there."
The team is still bringing back a lot of its now veteran talented players, but the Panthers are facing the toughest schedule in program history in Coach Frady's opinion. There are 30 of the team's 56 games that are against Top-25 teams or teams receiving votes for to be ranked in the Top-25. Team leaders such as Justin Jones are still keeping a positive perspective on the year, however.
"Is Omaha too far," Jones asked in response to how far he believes the team will go this season. "Who knows, we'll see how far we can get. I know we've got a great group of core guys coming back this year and I think we can definitely put together a good run this year."
Key Players
Justin Jones
The six-foot junior shortstop began gaining attention after he was named a Louisville Slugger Freshman Team member in 2015. In his sophomore year, his batting average was .290, with 24 RBI's and 33 runs scored. Jones had a .349 batting average during conference play, as he started off last year coming off of a thumb injury.
"I don't know if I've prepared any different that I have. At the end of the day it's just baseball, they throw the ball and I hit it," Jones said with a smile. "I just trust the talent God's given me and that's seemed to work out for me so far."
On the defensive side, Jones helped the Panthers finish second in doubles plays turned in the Sun Belt.
Ryan Blanton
This five-foot-11 outfielder's decorated college career is coming to a close this season as a senior. The 2015 All-Sun Belt first team member was second the team last season with six home runs. His most exciting day of the season was on April 2, when he hit three home runs in a doubleheader against UT Arlington. He also hit a game-tying home run against Arkansas State on March 19 that allowed Georgia State to win in extra innings and he threw out a runner at the plate in the 4-3 win against Kennesaw State on April 27.
"I'm just really happy that I can be here for four years and I'm ready to bring us to a championship," Blanton said. "We're carrying a little chip on our shoulder from last year not doing what we wanted, so we're kind of just done talking and ready to get after it."
Jarrett Hood
The five-foot-11 senior infielder is coming off of a second-team All-Sun Belt season in his first season with the Panthers after transferring from Walters State Community College in Tennessee. He led the Sun Belt with 20 doubles and two home runs, with the first long ball being a walk-off against Savannah State on March 22. Hood also hit a single walk-off in the bottom of the 11th inning against Appalachian State on April 25 and then he drove in the go-ahead runs in the 4-3 win against Kennesaw State one game later on April 27.
Jack Thompson
Thompson is a six-foot-three junior first baseman that tied with Blanton for second on the team last season with six home runs of his own. He was the only Panther to play in all 55 games last year,  starting in all but one game. Thompson reached base or drove in a run in 12 straight plate appearances in 2016 from March 14-18. He was ranked as the No. 1 first basemen in the state of Georgia coming out of high school in 2014.
The Sun Belt's newest team
The defending national champion Coastal Carolina Chanticleers joined the Sun Belt Conference last summer officially a couple of weeks after winning the title. The Chanticleers are so aware of the challenge of being the national champion holds, that the team even bought t-shirts with targets on their back to remind them to play their best game every game. Coastal Carolina and the t-shirts will travel to Decatur to visit Georgia State on the weekend of March 31 through April 2.
"I don't really care who comes to Panthersville, regardless," Coach Frady said. "I think it's the first time any defending national championship team has ever come to Panthersville, so I think that's pretty cool. But who's the best team and all that public talk is for fan talk. Who plays the best baseball? Those are the things that we stay focused on."
The goal of winning a Sun Belt championship remains the goal for this team that appeared to be unbothered by any new competitors in the last few days of pre-season practices and opening weekend games.
"You also have to look at it from their side, they have to make the adjustment to our conference as well," Blanton said.
The Panthers will travel up I-75 to visit Kennesaw State on Feb. 21 at 4:00 p.m. before heading to Jacksonville, Florida to face off against Jacksonville University from Feb. 24-26.
2017 season preview fun facts
Georgia State's lone appearance in the NCAA Tournament was in 2009.

The Panthers are returning 19 lettermen while losing 13.

Missouri transfer left-handed pitcher Brandon Baker makes his Panther debut in 2017.

Head Coach Greg Frady was inducted into Georgia Dugout Club Hall of Fame after being inducted into the German Baseball and Softball Hall of Fame in 2016.