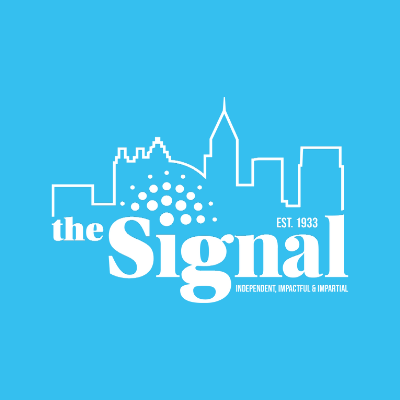 Dear readers,
Here it is, the last print issue of The Signal for the academic year. It's also my last print issue as editor-in-chief.
About a year ago, a group of student media heads chose me as the new Signal editor-in-chief. My feet were colder than a block of ice. I'm not married, but I hear stories of how that goes (having to leave your single life behind 'til death do us part). That's how it felt. I was marrying The Signal. You might think I'm being extreme, but the thing is, I'm not.
I've been with the paper for about three years now. I might have spent nearly every weekend in The Signal office. I might have had a few meltdown sessions to myself over those three years. I might have slept (overnight!) in the office a few times. I might have even lost some relationships over the commitment. And did I mention I went through all those things even when I wasn't editor-in-chief yet? … but I digress.
If I told you I was confident in myself, that I knew just what I would do to find my stride on day one of my role as editor-in-chief, I wouldn't be telling you the whole story. I had a plan, yes; I knew what systemic things I wanted to fix within the organization, yes — but dear goodness, I thought they made a mistake in choosing me almost all the time. I had hiccups every day.
When you step into a role like this, however, there's no time to think about that. There's no time to measure your anxiety; there's no time to wallow in what could have been if it weren't you.
I quickly realized I'm not working for myself anymore; I'm working for The Signal.
I swallowed the hiccups, and I kept the mission in mind: 1) Serve news of interest and significance to the Georgia State community, 2) Provide a forum for the public to engage in and 3) Provide students with an opportunity to work in professional journalistic environment.
Every day when I walk into the office, I see a cluttered space full of papers, pens, supplies, boxes full of props that come with inside jokes, and more. It might seem disheveled to one who isn't accustomed to a newsroom, but I know those things are marks of hard work and long nights perfecting what we publish in The Signal. I also know that years after me, there will be people coming in to leave behind their mark too, — people who are just bursting with potential and ready to have their passion ignited.
I've watched those come and go, and I've seen people graduate from The Signal with more talent than myself. I spent a whole year training a team of students — no, a team of professional journalists — with so much potential, and I knew that it wasn't about me anymore. It was about these people and what they could contribute to the craft of journalism. It was about the opportunity to include you, the readers in conversation on the big current events.
This year, it was about my team, and it was also about all of you: The readers.
We've come a long way.
This year, The Signal reached 1,000 likes on its Facebook page since its creation in 2011. We have over 2,000 followers on Twitter (and it's growing each day!). We also published the first-ever 40-page INCEPT magazine issue over the summer that served as a newbie's guide. We've successfully uploaded our issues back from 2011 to current at Issuu.com for the readers to look at on the go.
We've also covered a wide array of issues impacting the Georgia State community. That includes the Georgia Public Broadcasting partnership that took WRAS' (our student radio station) airwaves for more than 12 hours a day, the underreporting of sexual assaults on campus, the implementation of co-ed dorming to become more gender-inclusive, the big Panther win in the NCAA that united Cinderellas all across the U.S., and the consolidation of Georgia State and Georgia Perimeter College.
We even received quite a bit of response from you, our readers, in regards to our coverage on the topic of sex (Re: The Sex Issue and our sex column that ran in the fall). You also spoke up when you had some critiques about our portrayal of sexual assault. You voiced your thoughts on the WRAS-GPB deal as well as the GSU-GPB consolidation.
It's been a big year, and it's only going to get bigger.
Cheers to all the long nights. I know I wasn't the only one who broke down, pulled my hair out and (maybe) slept overnight in The Signal office. Our Signal staffers did it all, and we all know that darn well. We've all "married" The Signal.
And cheers to you, our readers, for keeping up with us.
This is not a farewell. This is a hello to the grand things to come in the future. This is me saying I believed in you, and I will always believe in you.
Anna Yang
2014-2015 Editor-in-Chief
P.S.
The Signal isn't dead over the summer! We'll still be publishing daily online.