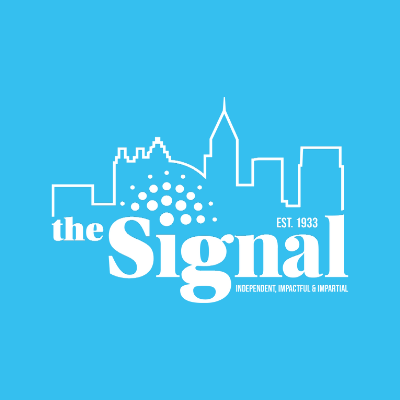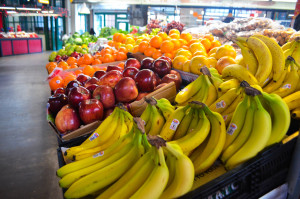 It is no secret that eating clean is important. But how to do it on a budget, now that's a mystery. For college students, ridding daily meals of over processed and fatty foods can be hard when you can barely live paycheck to paycheck. Here are a few tips on how to eat clean on a budget and recipes you can try out.
—-
Shopping Tips: Here are a few ways to save your money when you go to the store.
     

Buy in bulk:

It may seem like buying a lot at once can cost a lot of money, but by having foods that last a long time, on hand, you will save in the long run. Some good foods to purchase in bulk are dried foods like: rice, quinoa, grains, nuts, olive oil.

     

Purchase in season:

Buying fruits and veggies that are in season is a lot cheaper than purchasing out of season items.

     

Frozen produce:

Don't be afraid to buy fruits and veggies that are frozen. They are picked and flash frozen at peak ripeness. They are perfect to purchase in bulk. You don't have to worry about them going bad, but do watch out for freezer burn.

     

Meats:

When purchasing meats, try staying away from frozen meats. The best thing to buy is fresh chicken, it's healthier and cheaper than other meats. Also try staying away from deli and prepackaged sandwich meat.

     

Store Brands:

As college students, this should be a no brainer. But when you want to eat healthier, it can be easy to believe that name brand foods are better. However, that's not always the case, so don't waste your money.

     

Make a list:

Before you throw your cash on the counter, make sure that you have a plan in mind. Go to the store with items you know that you need and your know are healthy, don't just throw things into your cart. (I have provided a grocery list below.)
—-
The Dirty Dozen: This is a list of produce that should always be bought fresh and organic because they absorb pesticides easily.
     Apples

     Celery

     Cherry tomatoes

     Cucumbers

     Grapes

     Nectarines

     Peaches

     Potatoes

     Snap peas

  Spinach

  Strawberries

  Bell peppers
—-
Facts and Benefits of Eating Clean: Here are a few reasons why eating clean is beneficial to you aside from weight loss.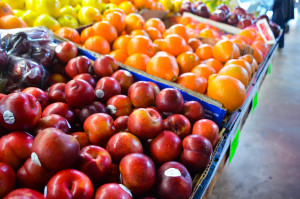 Eating more fruits and veggies can give you a more positive mood. That can be pretty necessary when you are cramming for finals.

       Eating better can help you fall asleep faster and sleep longer.

       Not only does it help your brain function, but it can help clear up your skin.

       Heads up ladies, eating healthier can even aid your breast health.

       Taking out processed foods and added sugars can increase your metabolism.
—-
What to Avoid: Foods that you should try and stay away from.
       Fruit juice

       White rice

       White bread

       French fries/chips

       Breakfast cereal

       Canned soup

       Flavored yogurt

       Granola bars

       Fried foods

       Salt

       Butter
—-

Grocery List for Beginners:
 Multi-grain bread

 Plain Greek yogurt

 Egg whites

 Brown rice

 Whole grain pasta

 Raw nuts

 Quinoa

 Chicken

 Fish


 Apples (fresh)

 Oranges

 Bananas

 Avocado

 Carrots

 Spinach

 Green beans

 Tomatoes

 Olive oil
—-
Clean Recipes: Get cooking with these easy, clean recipes.
  Avocado Egg Boat
Ingredients: ½ avocado, one egg, black pepper
Step one: Preheat oven to 350 degrees.
Step two: De-core the avocado and then crack the egg into the center.
Step three: Place on a baking sheet and cook for 15 to 20 minutes.
Step four: Top the avocado with black pepper.
—-
Avocado dip
Ingredients: ½ avocado, ½ lime, one clove garlic, 1 Tbsp. of fresh parsley, ½ cup of nonfat Greek yogurt, black pepper
Step one: Mix the avocado, lime juice, garlic and parsley together in a food processor or blender.
Step two: Then add the Greek yogurt and continue to mix.
Step three: Last add the pepper and serve with sweet potato fries or pita bread.
—-
Sunburst smoothie
Ingredients: One banana, one cup of frozen pineapple and mango mix, one Tbsp. of chia seeds, one cup of orange juice
Step one: Blend all ingredients together until smooth.
Step two: Drink (pretty easy)
—-
Chickpea chips
Ingredients: Chickpeas, olive oil, pepper
Step one: Preheat oven to 400 degrees.
Step two: Strain chickpeas and rinse them off with fresh water.
Step three: Lay the chickpeas onto paper towels and pat them dry.
Step four: Place the chickpeas onto a cookie sheet and cover them in olive oil
Step five: Add some pepper and a small amount of salt.
Step six: Place the cookie sheet into the oven for 15 minutes, then flip them and cook for another 15 minutes.
—-

Tips and Tricks:
       Make sure to read all the ingredients on food labels, there may be things hiding.

       Instead of using condiments, use spices.

       Prepare large meals so that you can save some for leftovers.
—-
Recipe Swap: Here are a few foods that can replace some of your ingredients when you cook.
       Oil= Apple Sauce

       Sour Cream=Non-fat Greek Yogurt

       Pasta=Spaghetti Squash

       Mayo= Mashed Avocado

       Pizza Dough= Mashed Cauliflower
Eating clean can be tricky, but keep your eyes peeled and get cooking.